News Release
Secretary Bernhardt Announces New National Park Service Leadership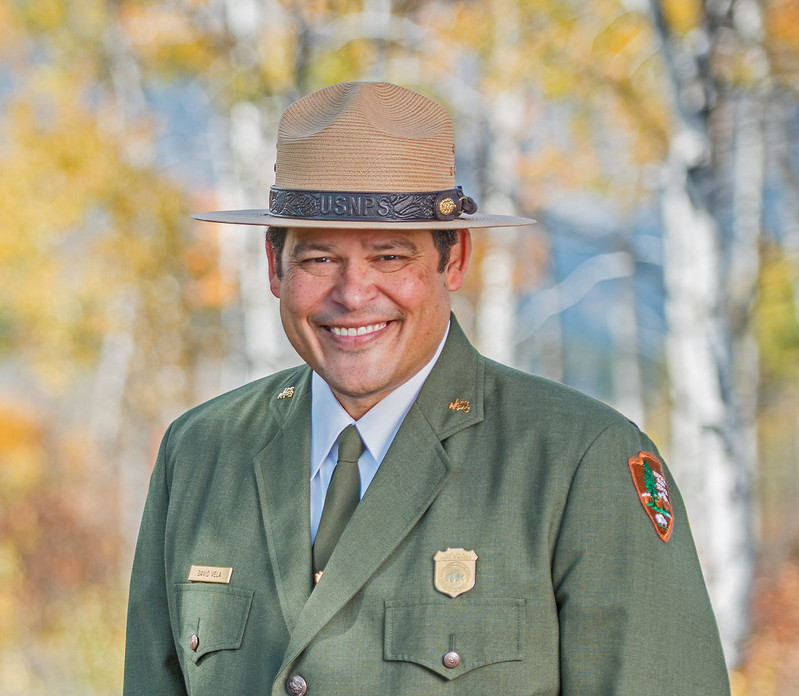 News Release Date: September 30, 2019

Contact: NewsMedia@nps.gov
Contact: Interior_Press@ios.doi.gov
WASHINGTON – U.S. Secretary of the Interior David Bernhardt announced that David Vela will serve as the deputy director for operations and will also exercise the delegated authority of the director of the National Park Service (NPS) beginning Oct. 1, 2019.
"David Vela brings nearly 30 years of valuable experience working for the National Park Service in a number of key leadership roles," said Bernhardt. "I am confident that he will continue to serve the American people well in his new capacity."
"The selection of David Vela to lead the National Park Service deeper into the 21st century is the right choice at the right time," said Assistant Secretary for Fish and Wildlife and Parks Rob Wallace. "I look forward to working with him and congratulate him on this extraordinary accomplishment in an already distinguished career."
"I am deeply humbled and honored for this opportunity to help prepare, support, and empower the National Park Service workforce for a second century of service," said Vela.
Vela has served as the superintendent of Grand Teton National Park & the John D. Rockefeller, Jr. Memorial Parkway since 2014. He previously served as associate director for Workforce, Relevancy and Inclusion in the NPS Washington headquarters offices. He also served for over four years as the NPS Southeast Regional Director and as superintendent of Palo Alto Battlefield National Historic Site, Lyndon B. Johnson National Historical Park, and the George Washington Memorial Parkway. Since April 15, Vela has served as the NPS acting deputy director for operations.
In the role of deputy director exercising the authority of the director, Vela will lead an agency with more than 20,000 employees, a nearly $3 billion budget, and 419 national parks. National parks attract more than 300 million visitors every year, generating over $30 billion in economic benefits across the nation.
Bernhardt also announced that Deputy Director P. Daniel Smith will lead NPS efforts on the 250th commemoration of our nation's independence. As special assistant to the director, Smith will serve an essential role in leading the service, its partners, and visitors through a national effort to commemorate the 250th anniversary. 
"It has been the highlight of my career to serve as the deputy director of the National Park Service," Smith said. "The 250th anniversary of our nation's independence is something I have been personally invested in since my superintendency at Colonial National Historical Park. I look forward to working with our parks, partners, and stakeholders to plan an inclusive commemoration for visitors from around the world."
 
About the National Park Service. More than 20,000 National Park Service employees care for America's 419 national parks and work with communities across the nation to help preserve local history and create close-to-home recreational opportunities. Learn more at www.nps.gov, and on Facebook, Instagram, Twitter, and YouTube.
Last updated: September 30, 2019