News Release
National Park Service Announces Grants for New Park Development and Improvement Projects in 18 Cities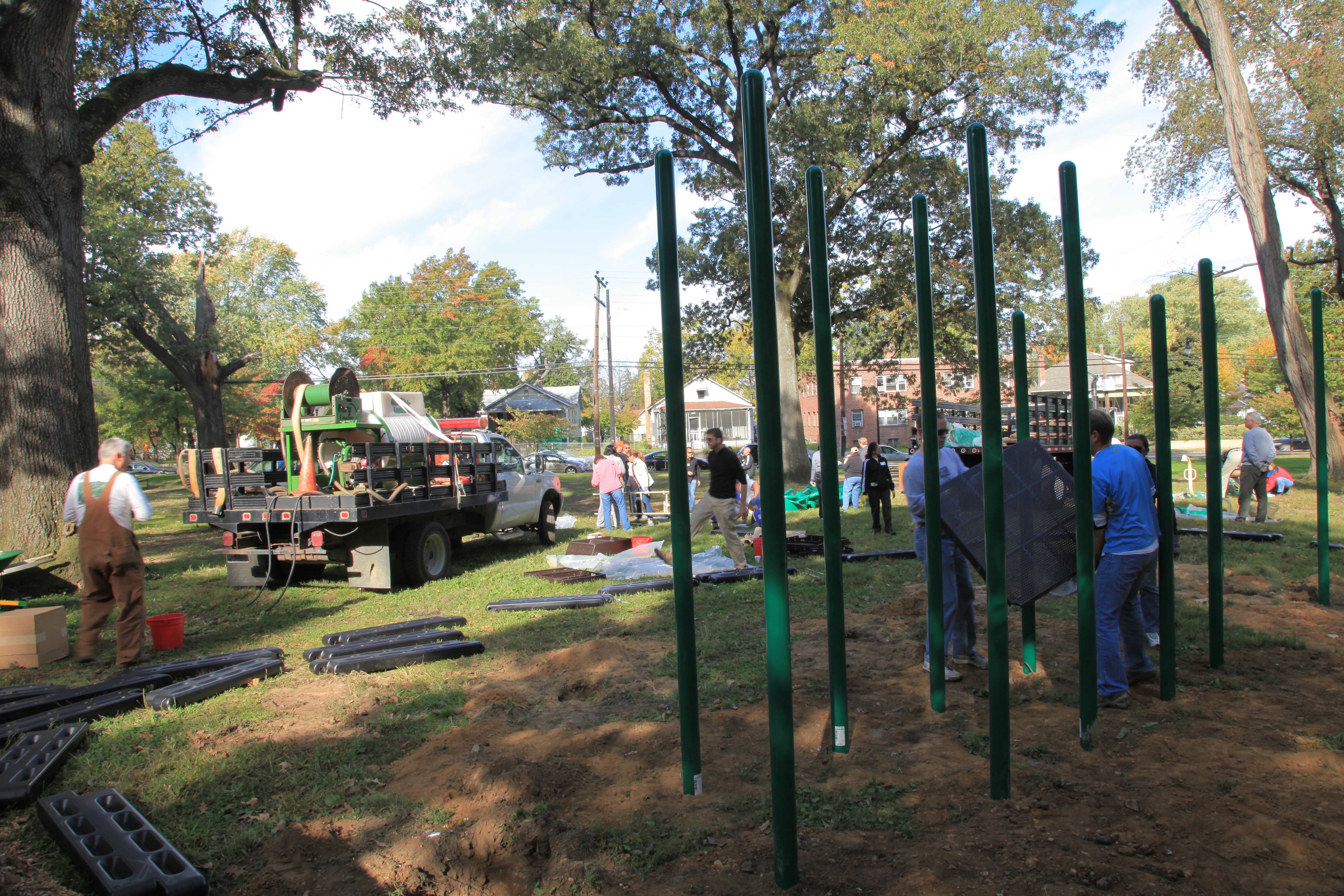 News Release Date: December 27, 2019

Contact: NewsMedia@nps.gov
WASHINGTON – The National Park Service today announced the selection of Outdoor Recreation Legacy Partnership (ORLP) program grants for projects to develop brand new or improve existing parks in 18 economically disadvantaged urbanized areas in 16 states. The selected cities will be invited to submit final applications for their proposals, which would result in $11.7 million of Federal investment to benefit communities that are underserved with respect to parks and other outdoor recreation opportunities. Local governments will partner with private and non-profit organizations to help provide the necessary support to leverage federal funding with an estimated $20 million in non-federal funds.
"Grants from the Land and Water Conservation Fund are making access to recreational opportunities possible across the country,"
said Interior Secretary David L. Bernhardt.
"We look forward to working with our state and local partners to increase the considerable benefits derived from our local parks and outdoor recreation areas."
"The benefits derived from connections to our public lands and parks are endless,"
said National Park Service Deputy Director David Vela.
"These grants will expand important recreational opportunities in neighborhood parks and public lands for Americans in underserved areas."  
Grants will be awarded through the ORLP program, which grew out of a 2014 Congressional directive to create a nationally competitive grant program to complement the 54-year old Land and Water Conservation Fund (LWCF) State Assistance Program. Both programs are administered by the National Park Service. 
For more than 50 years, the LWCF has invested revenue derived from Federal offshore oil and gas royalties into more than 40,000 outdoor recreation projects in every State.  The ORLP program aims to expand outdoor recreation opportunities in areas lacking sufficient close-to-home parks, as well as promote the development of new or enhanced partnerships to support outdoor recreation in densely populated cities (jurisdictions with at least 50,000 people) across the Nation.  The grants must be matched at a minimum one to one with state, local, and private dollars, at least doubling the impact of the Federal investment in these communities. The complete list of ORLP grants are below.  
For more information about LWCF and these grants, visit
www.nps.gov/lwcf
.
FY17-18 LWCF-ORLP Selected Projects
Arkansas
May Branch Railroad Trail Phase I – $750,000
The City of Fort Smith plans to acquire and construct 1.36 miles of the May Branch Railroad Trail.  The project will link an underserved area of low and moderate-income neighborhoods around the Martin Luther King Park with the riverfront and downtown business and entertainment district. Project activities will result in safe recreation and commuting opportunities along the new corridor.
Western Hills Park Legacy Project – $750,000
The City of Little Rock plans to enhance public outdoor recreation in the Western Hills Legacy Park.  The park serves an economically disadvantaged and underserved neighborhood of southwestern Little Rock.  Planned activities include rehabilitating and providing additional recreation facilities, such as adding a custom natural playground, picnic pavilions, and a paved and soft-surface trail system for multi-users, fishing piers, and restroom facilities, all with ADA-accessible features.
California
Zamora Park Renovation – $750,000
The City of El Monte plans to renovate and enhance Zamora Park – the only park within walking distance of the surrounding highly urbanized neighborhoods.  The park development will add 4.48 acres of open space.  Planned site elements include a looped nature trail with fitness equipment, new playgrounds, and a splash pad with a recirculating water system, basketball courts, and amenities such as picnic areas, lighting, benches, and drinking fountains.
Georgia
Athens Street Park Development – $633,231
As part of the Neighborhood Revitalization Program, Hall County plans to construct the new Athens Street Park.  Park features will include a new playground, a pavilion/restrooms, a basketball court, a splash pad, parking, exercise/nature trails, signage, landscaping, utilities and lighting.  The park development will occur on approximately 13 acres of donated land near several densely populated, low-income residential neighborhoods.
Indiana
Rev. Charles Williams Park Development – $750,000
The City of Indianapolis plans to develop the new Rev. Charles Williams Park.  During the planning process, Indy Parks/the City of Indianapolis named this new park for an influential leader in the community and identified desired features such as playground equipment, a performance shelter, a picnic shelter, and bocce ball and horseshoe courts.  Other improvements include walkways, a parking lot with a water retention area and bioswale to clean runoff, and an informational kiosk.
Kentucky
Bowling Green Riverwalk Park – $750,000
The City of Bowling Green plans to improve and enhance access to the Barren River by installing a connecting path, a boat ramp, and fishing access facilities.  Other recreation improvements include picnic/shade pavilions, seating areas, and a rock climbing course.  Additional planned activities include riverbank stabilization and riparian zone restoration to address unstable terrain and a lack of vegetation.
Maine
Portland Landing Park Development Project – $750,000
The City of Portland plans to develop Portland Landing Park in the Eastern Waterfront redevelopment district.  This project will address the urbanized and underserved community's preferences and will include a waterside walking path, play features, seating areas, interpretive signage, public art, outdoor lighting, landscaping, shore stabilization and hardscaping.
Massachusetts
Clippership Connector - Mystic River Reservation – $732,434
The Massachusetts Department of Conservation and Recreation plans to build the Clippership Connector, a new half-mile shared-use path that will link 5 miles of park and path in either direction, for a total of 10 miles of continuous pathways within the Mystic River Reservation.  Development of the final missing link will increase access for multiple Mystic River communities to outdoor recreational space previously obstructed by a missing pathway and physical obstacles such as fences and overgrown vegetation. 
Minnesota
Midway Peace Park – $250,000
The City of St. Paul plans to develop trails, picnic facilities, play area, fields and courts, and other amenities at a new outdoor recreation park called the Midway Peace Park.  The activities will benefit nearly 6,030 people within a half-mile of an underserved community that lives between St. Paul and Minneapolis.
New Mexico
Apodaca Park Renovation – $750,000
The City of Las Cruces plans to renovate Apodaca Park to add new features and make ADA-accessibility improvements.  Work will include replacing a pool with a sprayground, adding group picnic shelters with accessible picnic tables, upgrading the playground including safety surfacing, developing a multi-use trail with exercise stations to connect the new playground with the rest of Apodaca Park, and installing an ADA-compliant restroom.
North Carolina
Peeler Community Park – $600,000
The City of Greensboro plans to revitalize Peeler Community Park.  Work will include expansion of the parking lot, replacement of the existing playground with an innovative, accessible playground, adding public gathering places with amenities including solar workstations and seat walls, partnering with the Greensboro Public Library to create a StoryWalk and adding site amenities including benches, bike racks, and signage.
Ohio
Downtown Waterfront Metropark – $750,000
Development Metroparks Toledo plans to restore 70 acres of former brownfields along the Maumee River in downtown Toledo.  Water access activities such as shared-use paths, walkways, a canoe/kayak launch area, shoreline restoration, step stone access, and a river overlook boardwalk will provide public access to the Maumee River within an underserved urban community.
Pennsylvania
Mifflin Square Park Phase I Redevelopment – $750,000
The City of Philadelphia plans to renovate Mifflin Square Park by adding two new playgrounds (one for ages 2 - 5 and another for ages 5 - 12), safety surfacing, a new sprayground, associated paving, and site furniture to provide meaningful recreation opportunities to the nearby underserved neighborhood.  Nearly 13,500 people live in the immediate area of the 3.5-acre park.
Rhode Island
Woonasquatucket River Adventure Park Phase II – $375,000
The City of Providence will redevelop Woonasquatucket Adventure Park by removing industrial infrastructure from a 5-acre brownfield site and replacing it with new features such as access and entrance points, a trailhead, gathering space, a safe parking area, public art, and storage for bikes.  At completion, the park will feature two bicycle pump tracks, a parkour course, a multi-use hiking and biking trail, and a pavilion - all surrounded by the 5-mile Woonasquatucket River Greenway.
Tennessee
Douglass Park Redevelopment – $485,000
The City of Memphis plans to renovate and develop new features at Douglass Park.  This will include the renovation of two outdoor basketball parks and a baseball field with new sod, foul poles, and fencing; construction of play spaces and safety surfacing; and installation of park amenities, ADA accessible entry-ways and bleachers, and a 3,800 square foot aquatic play space.
Washington
South Park Playground, Spray Park, and Playfield – $750,000
The City of Seattle, Parks and Recreation plans to transform the South Park Community Center by renovating the recreation facilities and adding new features to increase access for an underserved area.  The project will install new play structures, a new spray park, and an adult fitness zone.  Work will also address safety issues by improving lighting, updating the park layout and other activities that will improve visibility, mitigate air and noise pollution, and encourage park use.
Wisconsin
Galena Park Development – $372,050
The City of Milwaukee Department of Public Works plans to develop 1.2 acres of a former brownfield site into a new recreation area known as Galena Park.  Development will include playground equipment, an adult fitness space, walking/biking paths, multi-use athletic courts (for Tuj Lub, volleyball, badminton, pickleball, and cane ball), social gathering areas, natural play elements, native landscaping, bioswale, sledding hill, and a pump track for bikes, inline skates, scooters, or skateboards.
Modrzejewski Playfield Redevelopment – $750,000
The Milwaukee Public Schools Department of Recreation and Community Services plans to renovate the Modrzejewski Playfield.  Planned improvements include conversion of a wading pool to a splash pad, adding bike and pedestrian access to the Kinnickinnic River, and additional improvements such as new playground equipment, a multi‐use lawn area, an asphalt play court, new park entrances, a shade structure, fieldhouse updates, and green infrastructure elements.

www.nps.gov
About the National Park Service. More than 20,000 National Park Service employees care for America's 419 national parks and work with communities across the nation to help preserve local history and create close-to-home recreational opportunities. Learn more at 
www.nps.gov
, and on 
Facebook
, 
Instagram
, 
Twitter
, and 
YouTube
.
Last updated: July 28, 2022