News Release
National Park Service Awards $1.65 Million for the Return of Native American Remains and Sacred Objects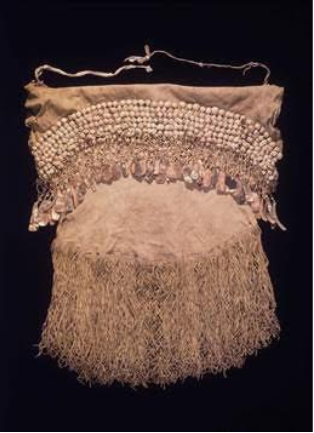 News Release Date: August 1, 2019

Contact: NewsMedia@nps.gov
WASHINGTON -- The National Park Service announced today $1.657 million in grants to 16 Indian tribes and 15 museums to assist in the consultation, documentation, and repatriation of ancestral remains and cultural items as part of the Native American Graves Protection and Repatriation Act (NAGPRA).

"The Native American Graves Protection and Repatriation Act grants are critical to the longevity of Native American cultural heritage," National Park Service Deputy Director P. Daniel Smith said. "Increasing awareness and respect of all Americans' stories is a core mission of the National Park Service, and we are honored to be stewards of such an important grant program."
Grants to Fund Repatriation
Twelve grants will fund the transportation and return of 58 cultural items, more than 32,000 funerary objects, and human remains representing 1,601 ancestors.

In California, the Wiyot Tribe, previously known as the Table Bluff Reservation, will retrieve a ceremonial dance skirt, called a Moutw or Voutw, from the Brooklyn Museum in New York. According to the tribe's traditional care practices, only a woman may handle the dress. The granddaughter of the tribe's last medicine woman will accompany the tribe's cultural director to New York to collect and securely package the dress. Upon its return to California, a ceremony will welcome the dress and it will be kept on display and used in dances at future ceremonies.
Grants to Fund Consultation and Documentation
Twenty-two consultation and documentation grants will fund museum and tribal staff travel, consultation meetings, and research, all in support of the repatriation process.

One recipient, the College of William and Mary in Williamsburg, VA, will revisit and update their existing NAGPRA inventory and summary in response to seven Native American tribes in the state of Virginia gaining Federal recognition. College staff will review the collection and conduct multiple consultation meetings with Virginia tribes to ensure all culturally and geographically affiliated NAGPRA materials are identified.
About NAGPRA
Enacted in 1990, NAGPRA requires museums and Federal agencies to inventory and identify Native American human remains and cultural items in their collections, and to consult with Indian tribes and Native Hawaiian organizations regarding repatriation. Section 10 of the Act authorizes the Secretary of the Interior to award grants to assist in implementing provisions of the Act. The National NAGPRA Program is administered by the National Park Service.
FY 2019 NAGPRA Repatriation Grant Recipients
| | | |
| --- | --- | --- |
| AK | Organized Village of Kake | $10,829.00 |
| AZ | University of Arizona | $15,000.00 |
| CA | Autry Museum of the American West | $5,430.00 |
| CA | Federated Indians of Graton Rancheria | $15,000.00 |
| CA | Santa Ynez Band of Mission Indians | $14,966.00 |
| CA | Wiyot Tribe | $9,036.00 |
| CO | State Historical Society of Colorado | $5,638.00 |
| MI | Saginaw Chippewa Indian Tribe of Michigan | $2,750.00 |
| NY | Brooklyn Institute of Arts and Sciences | $4,543.00 |
| OK | Chickasaw Nation | $12,412.00 |
| OK | Pawnee Tribe of Oklahoma | $14,337.00 |
| WA | Jamestown S'Klallam Tribe | $3,147.00 |
|   | Total | $113,088.00 |
FY 2019 NAGPRA Consultation/Documentation Grant Recipients
| | | |
| --- | --- | --- |
| AK | Central Council Tlingit and Haida Indian Tribes of Alaska | $88,918.00 |
| AK | Hydaburg Cooperative Association | $86,316.00 |
| AK | Organized Village Of Kake | $65,442.00 |
| AL | Auburn University | $83,070.00 |
| AZ | Arizona State University | $81,699.00 |
| AZ | San Carlos Apache Tribal Council | $82,511.00 |
| CA | Pala Band of Mission Indians | $87,292.00 |
| CA | Pechanga Band Of Luiseno Mission Indians | $21,912.00 |
| CA | Santa Ynez Band of Mission Indians | $66,831.00 |
| CA | Sherwood Valley Rancheria | $86,514.00 |
| CA | Sherwood Valley Rancheria | $89,668.00 |
| GA | University of Georgia Research Foundation | $81,299.00 |
| IL | Field Museum of Natural History | $73,886.00 |
| MI | St Ignace City Municipality | $89,291.00 |
| MO | University of Missouri System | $31,086.00 |
| MO | University of Missouri System (St. Louis) | $38,315.00 |
| NY | American Museum of Natural History | $19,912.00 |
| OK | Comanche Nation | $81,694.00 |
| OK | Gilcrease Museum Management Trust | $63,699.00 |
| OK | Shawnee Tribe | $44,675.00 |
| OK | University of Oklahoma | $90,000.00 |
| VA | College of William & Mary | $89,882.00 |
|   | Total | $1,543,912.00 |
Last updated: October 31, 2019