News Release
Honorary National Park Ranger Award Presented to Author and Historian David McCullough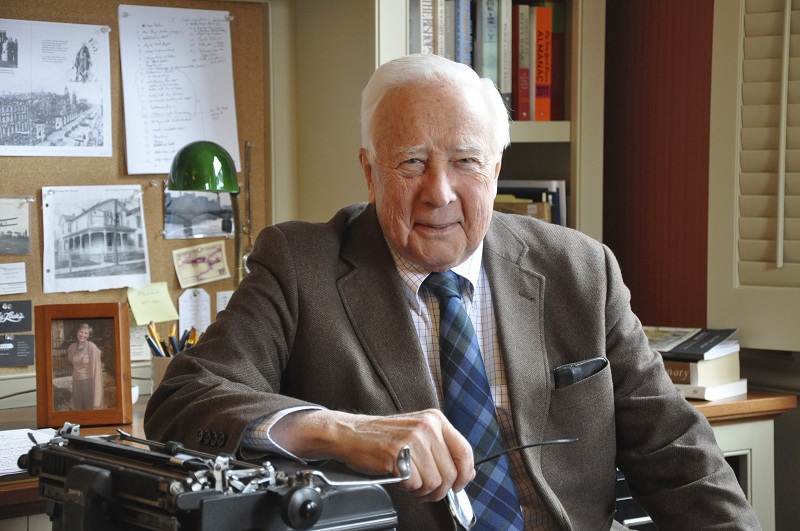 News Release Date: October 4, 2016

Contact: Rick Kendall, 603-477-9301
WASHINGTON – In a ceremony held today on Boston Common, the National Park Service (NPS) presented the Honorary National Park Ranger Award to Pulitzer Prize-winning author and historian David McCullough.  The Honorary National Park Ranger Award is the highest civilian honor awarded by the agency, and is reserved for individuals whose contributions to the NPS are significant and sustained.  McCullough was also presented with the Saint-Gaudens Medal by the Saint-Gaudens Memorial, partner organization to Saint-Gaudens National Historic Site located in Cornish, New Hampshire.
"Through his considerable and highly acclaimed work as an author and historian, Mr. McCullough has enlightened visitors to the shared history told at national park sites throughout the country," said NPS Northeast Regional Director Mike Calwell.  "It is my great honor to present him with the Honorary Park Ranger Award in recognition of his tremendous contributions to the NPS and to the generations of Americans who will continue to be inspired by his work to learn about and visit their national parks."   
"These awards recognize an outstanding career that has highlighted people and events responsible for shaping our nation," said Saint-Gaudens Memorial President Byron Bell.  "As has been delightfully illustrated in the case of the Saint-Gaudens National Historic Site, Mr. McCullough's engaging narratives have benefited national park sites by spreading their message and mission far and wide."
McCullough, through his research and writing, as well as his personal contributions, has long been a supporter of national parks.  McCullough's historical interests have largely focused on important figures in American history as well as significant American achievements, many of which have been preserved and interpreted in national parks.  As a result, McCullough's highly acclaimed work has helped draw attention to the many historical parks and sites preserved by the NPS.
In addition to his work as a historian and author, McCullough has also narrated a variety of documentary films that focus on historical subjects.  Two films in particular, both produced by fellow Honorary Park Ranger Ken Burns, The Civil War and The Statue of Liberty, focus on important national park stories and resources.
McCullough, in addition to being a talented historian and author, is also generous with his time, speaking about his subjects at NPS events and participating in book signings on behalf of national parks. Previous National Park Ranger award recipients include former President Jimmy Carter and Filmmaker Ken Burns.
About the National Park Service. More than 20,000 National Park Service employees care for America's 413 national parks and work with communities across the nation to help preserve local history and create close-to-home recreational opportunities. Visit us at www.nps.gov, on Facebook www.facebook.com/nationalparkservice, Twitter www.twitter.com/natlparkservice, and YouTube www.youtube.com/nationalparkservice.
Last updated: October 4, 2016