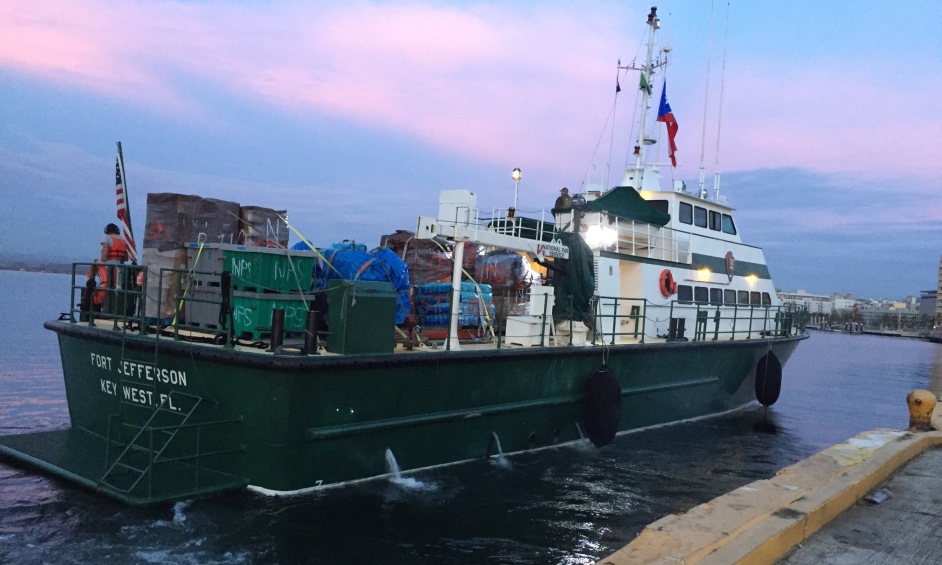 News Release Date: October 1, 2017

Contact: Rob Parrish, 917-509-4426
Photos of Hurricanes Irma and Maria damage and response
San Juan, PR. – The National Park Service Eastern Incident Management Team (EIMT) has established base operations in San Juan, Puerto Rico. At this time, all six National Park Service units in the Caribbean remain closed and all employees and their immediate family members from the six units have been accounted for. Employees at San Juan National Historic Site, Virgin Islands National Park, and the parks in St. Croix have begun preliminary cleanup of park grounds and visitor centers. All park units are working under a 100% power outage, and emergency electrical needs are being met by short-term use of generators.

The EIMT established the Employee Assistance Group with the arrival Steve Clark to serve as the Group Supervisor. Mr. Clark currently serves as the Superintendent of Flight 93 in Shanksville, Pa. He brings his knowledge of both the park units and the people of the Virgin Islands having previously served as Chief Ranger at Virgin Islands National Park for six years. The Employee Assistance Group will include Critical Incident Stress Management (CISM) and other functions for peer support focusing on temporary and long term recovery for local park employees.

At 0600 local time Sunday, the NPS Motor Vessel Fort Jefferson from Dry Tortugas National Park departed San Juan for the Virgin Islands. The first stop is scheduled to be St. Thomas to disembark two NPS employees and their families who reside on that island. The second scheduled stop will be St. John to drop off local park personnel, as well as EIMT team members and supplies. The final stop for the day will be St Croix to drop off the remaining NPS personnel and families who evacuated the island in advance of Hurricane Irma and/or Maria. The remaining EIMT staff and supplies will also disembark. The Fort Jefferson is expected to remain on station at St. Croix for several days to allow time for assessment of housing and facilities and will return upon completion of that operational period.

In an effort to establish reliable communications and facilitate direct communication with FEMA and other response agencies, portions of the EIMT have set up a presence within the FEMA Emergency Management Center located at the San Juan Convention Center.

Approximately 55 National Park Service employees from 16 states and 28 national parks and offices inside and outside the affected areas have responded to support emergency stabilization efforts. Employees from parks outside the affected area continue to arrive at the Incident Command Post to staff the EIMT during these initial recovery and stabilization operations.

EIMT leadership is coordinating logistics to set up base operations to ensure that field teams have the tools and safety resources needed to begin deploying crews to parks. The EIMT is becoming increasingly operational as it ensures that logistical support is established to safely support field crews. The team will continue to prioritize support for employee emergency needs, establish communications, and provide critical supplies for emergency stabilization.
News from the field - October 2, 2017:
Virgin Islands National Park, St. John – CLOSED
Virgin Islands Coral Reef National Monument, St. John – CLOSED
Christiansted National Historic Site, St. Croix – CLOSED
Buck Island Reef National Monument, St. Croix – CLOSED
Salt River Bay National Historical Park and Ecological Preserve, St. Croix – CLOSED
San Juan National Historic Site, Puerto Rico – CLOSED
Operations:
The Northeast Region SETT Team has been demobilized from the Virgin Islands after several weeks of deployment.

Fort Jefferson

nearing completion of goals for operational period.

Developing long term boat operations plan for movement of personnel and material from San Juan to the Virgin Islands.

Established Employee Assistance Group.
Safety:
Contingency plans are in place in the event of an emergency involving EIMT personnel.

Recommendation made to gather coordinates for landing zones within the various park units.
Employee Assistance:
CISM team arrived at Virgin Islands.

Assessing needs of employees and their families.

Assisting employees with recovery of personal belongings for relocation to temporary housing.

Laying groundwork for system to match employees with potential host parks for details and temporary positions while home park is closed.
Logistics:
Additional pallets of food and water for San Juan employees picked up from FEMA depot.
Incident Commander:
Section Chiefs should begin planning a demobilization of current personnel with a two day overlap for relief IMT staff for turn-over.
~NPS~