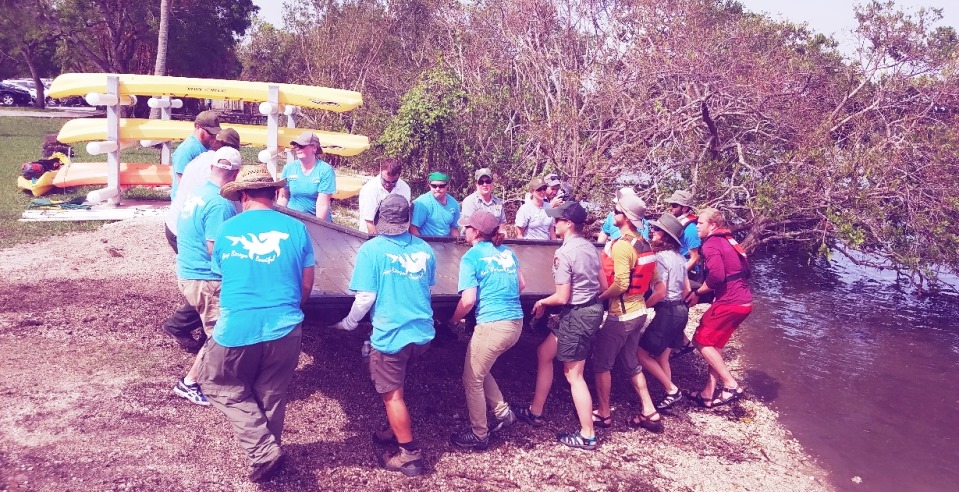 News Release Date: September 30, 2017

Contact: Murray Shoemaker, 435-260-2422
Contact: Sandy Snell-Dobert, 970-481-5835
Contact: Dana Soehn, 865-712-4928
Photos of Hurricane Irma damage and response
Homestead, Fla. – Biscayne National Park and Fort Pulaski National Monument employees were joined by nearly 200 volunteers who helped with hurricane cleanup in honor of National Public Lands Day. Volunteers removed storm debris and trash from waterways and grounds to help ready parks for reopening.
More than 289 NPS employees from 14 national parks and offices are currently providing support to seven parks in South Florida and the Atlantic Coast. Crews were able to return to field work this morning as the sun broke through after yesterday's heavy rain. Crews continue to work toward emergency stabilization of many areas.  
The public is reminded that many parks remain closed to all use, including motorists, cyclists and pedestrians, due to safety concerns during cleanup operations. As parks reopen, please be alert for water on roads, particularly during heavy rains. Debris may still wash onto roads and trails.
 
News from the field - September 30:
South Florida National Parks
Big Cypress National Preserve – CLOSED
The preserve remains closed to all visitor use and access is limited to land owners only.

Park staff is scheduled to return to work on Monday, October 2.

The unpaved portion of the Loop Road remains closed due to downed trees. Clearing operations were temporarily suspended due to exposure to

poisonwood.

Saw crews cleared Watson Campground, Sand Fly Campground, and the Kirby Sorter walkway.
Biscayne National Park – PARTIALLY OPEN
Adams Key is open. Elliot Key remains closed.
Today, the park hosted 116 volunteers for National Public Lands Day. The group removed debris from park grounds and removed trash from mangroves.

Hosts of the television program, "Rock the Park," participated in the cleanup. The episode will air sometime this fall.
Dry Tortugas National Park – OPEN
Dry Tortugas National Park is open to all park visitors. Some small closures exist throughout the park.

A structural engineer is being coordinated to assess the moat wall.

A local dive team will conduct damage assessments for natural and cultural resources including coral and shipwrecks this week.
Everglades National Park – PARTIALLY OPEN
The Homestead visitor entrance is from 6:00 a.m. to 6:00 p.m. daily, providing visitor access to the Ernest F. Coe Visitor Center from 9:00 a.m. to 5:00 p.m.

Clearing operations continue along the main road toward Flamingo.

The road is open to Mahogany.

The park will close at night for safety and security purposes.

Saw crews continue clearing debris in the Mahogany Hammock, Flamingo, Shark Valley, and Gulf Coast areas.

Park boat operators continue marking underwater debris in the Gulf Coast District.

Park utilities crews are working on restoring water and sewage treatment plants including the lift station. Currently, restrooms and water are available only at the Ernest F. Coe Visitor Center.

All other areas of the park remain closed including Flamingo, Shark Valley, and Gulf Coast.
Atlantic Coast National Parks
Cumberland Island National Seashore (Ga.) – PARTIALLY OPEN (Museum only)
The Cumberland Island Mainland Museum is open.

Due to the continued closure of Cumberland Island National Seashore related to Hurricane Irma, the park is cancelling camping reservations through October 18.

Crews continue to clean the visitor center, museum, and warehouse on the mainland.
Fort Matanzas National Monument (Fla.) – PARTIALLY OPEN            
Visitor Center area of the park remains closed pending removal of hazard limbs and trees.

Beach and Island areas of the park are open to the public.

The fort will remain inaccessible to the public until repairs to ferry boats can be completed.
Fort Pulaski National Monument (Ga.) – CLOSED
Water tank replacement and electrical work are planned for early next week.

Park staff are assessing several damaged trees for removal.

The park hosted a volunteer opportunity for National Public Lands Day. Approximately 60 participants helped clear trails and remove debris.
Additional parks are closed along the Atlantic coast, but are handling closures with park staff. For updates on the status of all parks visit http://go.nps.gov/hurricane.
~NPS~