News Release
National Park Service Report Highlights $9.4 Billion in Private Investment in Historic Preservation across America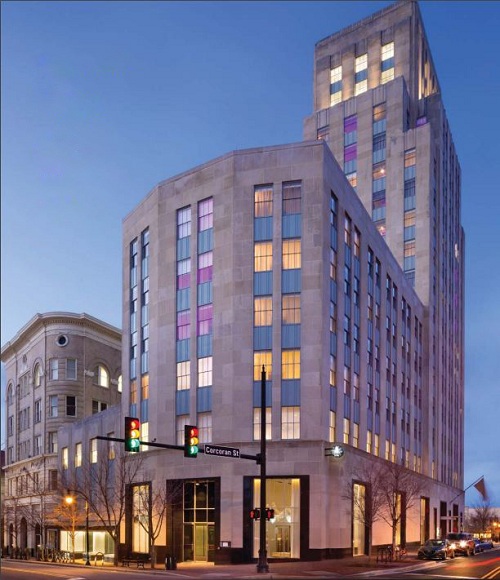 News Release Date: September 29, 2016

Contact: Jeremy Barnum, 202-208-6843
WASHINGTON – Projects certified through the National Park Service's Federal Historic Preservation Tax Incentives Program in Fiscal Year 2015 contributed more than $9.4 billion in output in terms of goods and services to the U.S. economy, and added $4.8 billion in gross domestic product, according to an analysis by the Rutgers University Center for Urban Policy Research.
The Federal Historic Preservation Tax Incentives Program is the single-largest Federal program that specifically supports historic preservation and is one of the nation's most effective programs to promote historic preservation and community revitalization. In Fiscal Year 2015, the National Park Service approved $6.63 billion in proposed tax credit-eligible projects and certified another $4.47 billion in completed projects to rehabilitate historic buildings.
"As we celebrate the 100th anniversary of the National Park Service and the 50th anniversary of the National Historic Preservation Act, historic preservation tax incentives will continue to be one of the most effective means of encouraging investments in historic preservation, and revitalization of communities across the country," said National Park Service Director Jonathan B. Jarvis.
The 870 completed projects certified by the National Park Service in Fiscal Year 2015 supported 85,058 jobs and provided 8,096 new low- and moderate-income housing units, and 23,569 new or renovated housing units overall. 
Two projects highlighted in the NPS report illustrate the positive economic impact of program projects on the surrounding community.
The 17-story Hill Building in Durham, North Carolina had been vacant for nearly a decade when it was converted into a hotel and contemporary art museum utilizing historic preservation federal tax incentives , and the $48 million rehabilitation of the building is now contributing to the revitalization of Durham's downtown.The project developer partnered with local non-profit organizations so that low-income persons would benefit from the construction and permanent jobs generated by the project.
The two-story First and Green Building in Grenada, Mississippi, population 12,942, underwent a $2 million rehabilitation to create an event space and three apartments. The project has been an important catalyst for other arts and entertainment projects in the city's downtown historic district, and the building owner, Deborah Bailey, has been active in promoting the preservation and economic development of the community through this and other projects and initiatives.
The program, commonly known as the federal historic tax credit program, provides a 20-percent federal tax credit to property owners who undertake a substantial rehabilitation of a historic building in a commercial or other income producing use, while maintaining its historic character.
The program is administered by the National Park Service and the Internal Revenue Service, in partnership with the State Historic Preservation Office. The National Park Service certifies that a building is historic, and therefore eligible for the program, and that the rehabilitation preserves the building's historic character.
Established in 1976, the program has preserved more than 41,250 historic properties and generated more than $78 billion in private investment, created 2.4 million jobs, and produced over 146,000 low- and moderate-income housing units, and more than a quarter of a million new housing units overall.
Across the country, the tax incentives program has helped to revive abandoned or underutilized schools, warehouses, factories, churches, retail stores, apartments, hotels, houses, agricultural buildings, offices, and other buildings, and, in turn, has helped support the redevelopment of entire downtowns and neighborhoods. It also supports community revitalization, job creation, affordable housing, small businesses, farms and Main Street development, among other economic benefits.
The recently-issued Fiscal Year 2015 report on the economic impacts of the federal historic tax credit, as well as annual and statistical reports completed earlier in the year, is available online at https://www.nps.gov/tps/tax-incentives/reports.htm.
About the National Park Service. More than 20,000 National Park Service employees care for America's 413 national parks and work with communities across the nation to help preserve local history and create close-to-home recreational opportunities. Visit us at www.nps.gov, on Facebook www.facebook.com/nationalparkservice, Twitter www.twitter.com/natlparkservice, and YouTube www.youtube.com/nationalparkservice.
Last updated: September 29, 2016