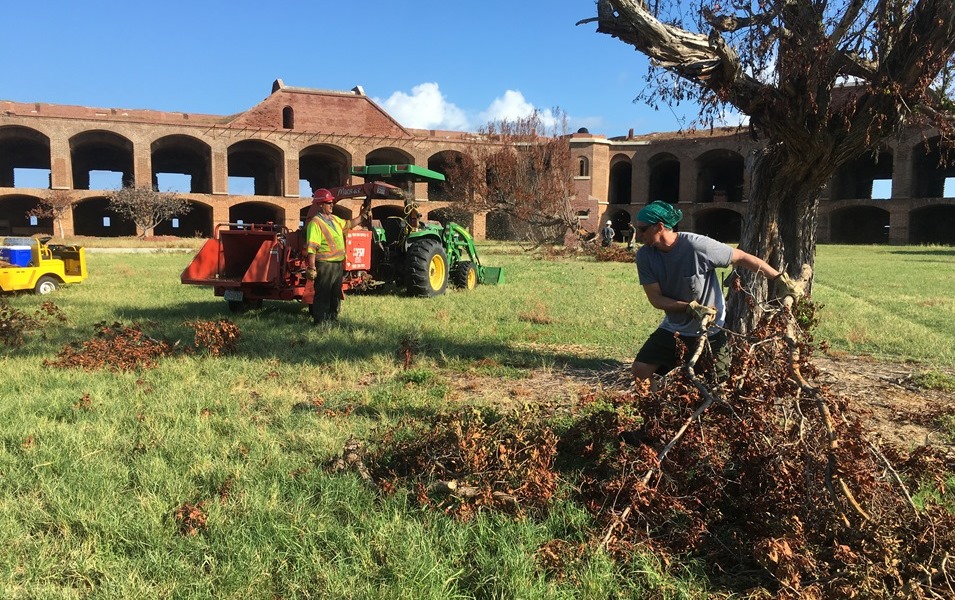 News Release Date: September 29, 2017

Contact: Murray Shoemaker, 435-260-2422
Contact: Sandy Snell-Dobert, 970-481-5835
Contact: Dana Soehn, 865-712-4928
Photos of Hurricane Irma damage and response
Homestead, Fla. – Dry Tortugas National Park officially reopened today to all park visitors including normal ferry and seaplane operations from Key West. As parks continue to reopen, visitors should expect that some areas within parks will remain closed due to damage. The National Park Service Intermountain Incident Management Team (IIMT) continues to coordinate resources for six additional national parks in south Florida and the Atlantic coast parks.
Acting National Park Service Director Mike Reynolds and Southeast Regional Director Stan Austin made a site visit to Big Cypress National Preserve today to see recovery efforts and meet with employees from affected parks. More than 306 NPS employees from 39 states and 106 national parks and offices are currently providing support to seven parks in South Florida and the Atlantic Coast.  
Field crews were hampered today by inclement weather associated with a tropical weather system sending heavy rain throughout the area. Crews shifted tasks appropriately to continue help local park staff with emergency stabilization by cleaning facilities, making emergency structural repairs to housing and buildings, and removing debris.
The public is reminded that many parks remain closed to all use, including motorists, cyclists and pedestrians, due to safety concerns during cleanup operations.
News from the field - September 29:
South Florida National Parks
Big Cypress National Preserve – CLOSED
The preserve remains closed to all visitor use and access is limited to land owners only.

The unpaved portion of the Loop Road remains closed due to downed trees. Clearing operations were temporarily suspended due to

poisonwood.

Saw crews are working to clear the Kirby Storter area.
Biscayne National Park – PARTIALLY OPEN
Adams Key reopened today. Elliot Key remains closed.

Park crews continue to assess and mitigate hazards around the Convoy Point and Dante Fascell Visitor Center area before the site is open to visitor use.
All housing unit repairs are complete.

The Resource Advisory dive team is completing damage assessments for natural and cultural resources including coral and shipwrecks.

On Saturday, September 30, the park will host a volunteer opportunity for National Public Lands Day. Participants will help remove debris and trash.
Dry Tortugas National Park – OPEN
Dry Tortugas National Park is open to all park visitors. Some small closures exist throughout the park.

A structural engineer is being coordinated to assess the moat wall.

A local dive team will conduct damage assessments for natural and cultural resources including coral and shipwrecks this week.
Everglades National Park – PARTIALLY OPEN
The Homestead visitor entrance is from 6:00 a.m. to 6:00 p.m. daily, providing visitor access to the Ernest F. Coe Visitor Center from 9:00 a.m. to 5:00 p.m.

The park will close at night for safety and security purposes.

Clearing operations continue along the main road from Long Pine Key toward Flamingo.

Saw crews are also clearing debris in the Mahogany Hammock, Flamingo, and Gulf Coast areas.

Park utilities crews are working on restoring water and sewage treatment plants including the lift station. Currently, restrooms and water are currently only available at the Ernest F. Coe Visitor Center.

All other areas of the park remain closed including Flamingo, Shark Valley, and Gulf Coast.
Atlantic Coast National Parks
Cumberland Island National Seashore (Ga.) – PARTIALLY OPEN (Museum only)
The Cumberland Island Mainland Museum reopened today.

Due to the continued closure of Cumberland Island National Seashore related to the recovery from Hurricane Irma, the park is cancelling camping reservations through October 18.

Saw crews and an Arborist Incident Response team continue to work along the main road for the entire the length of island. The main road is estimated to be 40% complete.

Trails and backcountry campsites have not been cleared.

Crews continue to clean the visitor center, museum, and warehouse on the mainland.
Fort Matanzas National Monument (Fla.) – PARTIALLY OPEN
Visitor Center area of the park remains closed pending removal of hazard limbs and trees.

Beach and Island areas of the park are open to the public.

The fort will remain inaccessible to the public until repairs to ferry boats can be completed.
Fort Pulaski National Monument (Ga.) – CLOSED
Water tank replacement and electrical work are planned for early next week.

Park staff are assessing several damaged trees for removal.

On Saturday, September 30, the park will host a volunteer opportunity for National Public Lands Day. Participants will help clear trails and remove debris.
Additional parks are closed along the Atlantic coast, but are handling closures with park staff. For updates on the status of all parks visit http://go.nps.gov/hurricane.