News Release
NPS Incident Management Team Hurricane Update for South Florida and the Atlantic Coast, Thursday, September 28, 2017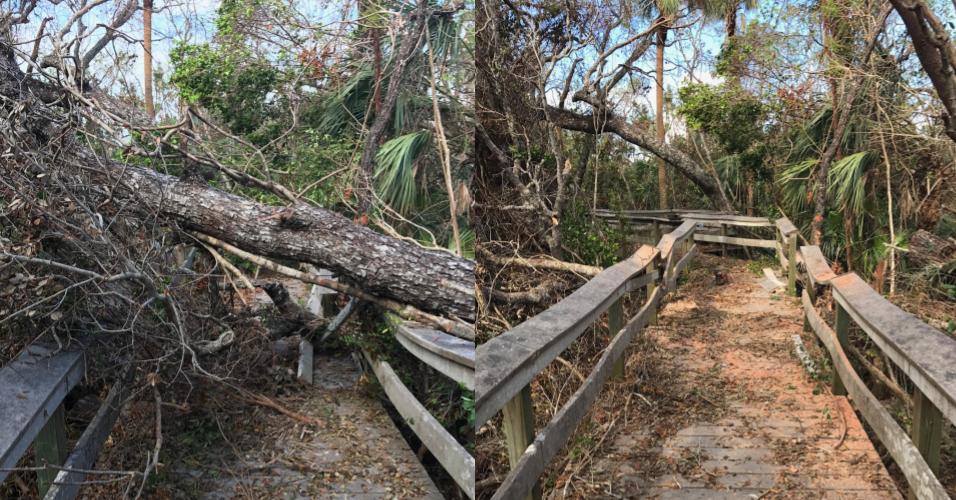 News Release Date: September 28, 2017

Contact: Sandy Snell-Dobert, 970-481-5835
Contact: Dana Soehn, 865-712-4928
Contact: Elizabeth Stern, 202-230-2974
Photos of Hurricane Irma damage and response
Homestead, Fla. – The Intermountain Incident Management Team (IIMT) completed the transition to management of the National Park Service (NPS) resources for ongoing recovery efforts in response to the hurricanes. Members of the Eastern Incident Management Team, which had been managing the response for the last 18 days, are returning to their home parks or deploying to another team managing the hurricane response for national parks in the Caribbean.
The immediate objectives for the IIMT in south Florida and the Atlantic coast parks continue to support employee emergency needs, conducting damage assessments, and removing debris in the affected areas to aid parks as they move toward reopening.
Acting National Park Service Director Mike Reynolds and Southeast Regional Director Stan Austin made a site visit to Everglades National Park and Biscayne National Park today to see recovery efforts and meet with employees from affected parks. More than 313 NPS employees from 37 states and 106 national parks and offices are currently providing support to seven parks in South Florida and the Atlantic Coast.  
The public is reminded that many parks remain closed to all use, including motorists, cyclists and pedestrians, due to safety concerns during cleanup operations.
 
News from the field - September 28:
South Florida National Parks
Big Cypress National Preserve – CLOSED
The preserve remains closed to all visitor use and access is limited to land owners only.

An aerial reconnaissance occurred today to assess backcountry conditions.

The unpaved portion of the Loop Road remains closed due to downed trees and clearing operations.
Biscayne National Park – PARTIALLY OPEN
Park crews are continuing to assess and mitigate hazards around the Convoy Point and Dante Fascell Visitor Center area before the site is open to visitor use.

The last pieces of damaged boardwalk were removed from the jetty.

On Saturday, September 30, the park will host a volunteer opportunity for National Public Lands Day. Participants will help remove debris and trash.
Dry Tortugas National Park – OPEN
Dry Tortugas National Park is open to all park visitors. Some small closures exist throughout the park.
Ferry and seaplane operations from Key West will resume Friday, September 29. For additional information, visitors should contact Yankee Freedom or Key West Seaplane Adventures.
Everglades National Park – PARTIALLY OPEN
The Homestead visitor entrance is from 6:00 a.m. to 6:00 p.m. daily providing visitor access to the Ernest F. Coe Visitor Center from 9:00 a.m. to 5:00 p.m., and the Anhinga Trail.

The park will close at night for safety and security purposes.

The park is in the process of opening the main road to Long Pine Key today.

Visitor restrooms and water are currently only available at the Ernest F. Coe Visitor Center.

All other areas of the park remain closed including Flamingo, Shark Valley, and Gulf Coast.
Atlantic Coast National Parks
Cumberland Island National Seashore (Ga.) - CLOSED
Saw crews and an Arborist Incident Response team continue to work along the main road for the entire the length of island.

Crews continue to clean the visitor center, museum, and warehouse on the mainland.
Fort Matanzas National Monument (Fla.) – PARTIALLY OPEN
Visitor Center area of the park remains closed pending removal of hazard limbs and trees.

Beach and Island areas of the park are open to the public.

The fort will remain inaccessible to the public until repairs to ferry boats can be completed.
Fort Pulaski National Monument (Ga.) – CLOSED
Water tank replacement and electrical work is planned for early next week.

Park staff are assessing several damaged trees for removal.

Entrance Station staff have resumed selling park passes.

On Saturday, September 30, the park will host a volunteer opportunity for National Public Lands Day. Participants will help remove debris.
Additional parks are closed along the Atlantic coast, but are handling closures with park staff. For updates on the status of all parks visit http://go.nps.gov/hurricane.
~NPS~
Last updated: September 28, 2017