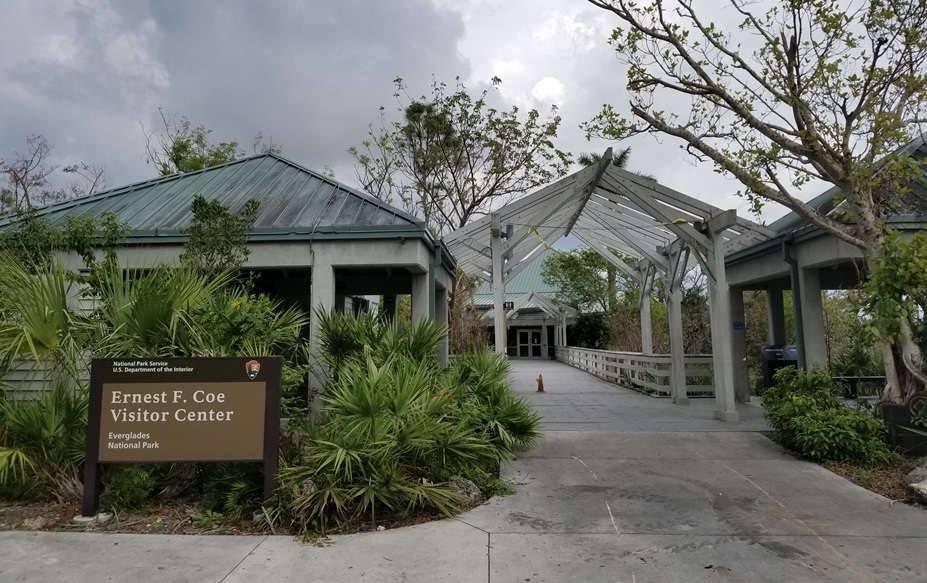 News Release Date: September 27, 2017

Contact: Dana Soehn, 865-712-4928
Contact: Sandy Snell-Dobert, 970-481-5835
Contact: Elizabeth Stern, 202-230-2974
Photos of Hurricane Irma damage and response
Homestead, Fla. –The National Park Service Eastern Incident Management Team (EIMT) leadership worked side by side with the Intermountain Incident Management Team (IIMT) leadership today in preparation for a full team transition tomorrow, September 28.

Immediate objectives for this new team remain to support employee emergency needs, conduct damage assessments, and remove debris in the affected areas. Currently, more than 381 NPS employees from 38 states and 116 national parks and offices are assisting. The team is currently providing support to seven parks in South Florida and the Atlantic Coast that are closed or partially closed. Several of the South Florida parks have begun phased re-openings to the public including Everglades and Dry Tortugas National Parks as conditions improve and staff are able to return.

A Type 2 Eastern Incident Management Team (EIMT) is being established in San Juan, Puerto Rico to coordinate response to Hurricanes Irma and Maria. Currently, the team consists of 39 NPS employees from 16 states and 26 national parks with additional resources en route. A separate update is being developed to report exclusively on the Caribbean parks response. All employees from all six Caribbean parks have been accounted for.

The public is reminded that many parks remain closed to all use, including motorists, cyclists and pedestrians, due to safety concerns during cleanup operations.
News from the field - September 27:
South Florida National Parks
Big Cypress National Preserve – CLOSED
The preserve remains closed to all visitor use and access is limited to land owners only.

Electrical power has been restored to the Preserve Headquarters; rolling blackouts are expected as permanent fixes are established.

Five Preserve facilities have sustained extensive roof damage that has become more evident as heavy rains moved into the area over the last several days.

Tarps are in place on the damaged roofs of a ranger station, maintenance, resource, and FMO buildings.

The unpaved portion of the Loop Road remains closed due to downed trees and clearing operations.

Many road, visitor information, regulatory signs and kiosks are damaged.
Biscayne National Park – PARTIALLY CLOSED
Sawyer teams continue to remove damaged limbs and other safety hazards including pieces of rebar from the damaged boardwalk areas.

Crews have identified additional building damage after the removal of drywall in the Discovery Center structure.

On Saturday, September 30, the park will host a volunteer opportunity for National Public Lands Day. Participants will help remove debris and trash.
Dry Tortugas National Park – OPEN
Dry Tortugas National Park is open to recreation and camping in all areas except temporary closures around the moat wall walk, the northeast shore of Bush Key, Loggerhead Key dock, and the boathouse area, and the park gift shop.
Ferry operations from Key West are expected to resume Friday, September 29.
Everglades National Park – PARTIALLY OPEN
Everglades National Park has reopened the Homestead visitor entrance from 6 a.m. to 6 p.m. daily, the Ernest F. Coe Visitor Center for regular hours, 9:00 a.m. to 5:00 p.m., and the Anhinga Trail.

Visitor restrooms and water are currently only available at the Ernest F. Coe Visitor Center.

Along the Tamiami Trail, Coopertown Airboat Tours, Gator Park, and Everglades Safari park are also open for tours.

Park marine waters remain open to the public and to commercial permit holders. A Notice to Mariners has been posted regarding hazards in Florida Bay.

The Flamingo Marina remains closed due to heavy damage.

All other areas of the park remain closed including Shark Valley and Gulf Coast.

The park will also close at night for safety and security purposes.

Extensive tree work has been completed along the main park road and has been cleared to the fog line for entire 38 miles of road to Flamingo. More clearing is needed from fog line to wood line for oversize load vehicles to access Flamingo safely.

Electricians and plumbers continue to work on the wastewater and water treatment plants which are not yet fully functioning.

Natural Resource Advisers are working with Air Ops to inspect remote areas to determine accessibility to monitoring stations. Some stations have been heavily damaged.
Atlantic Coast National Parks
Cumberland Island National Seashore (Ga.) - CLOSED
Saw crews and an Arborist Incident Response team continue to work along the main road for the entire the length of island.

Crews continue to clean the visitor center, museum, and warehouse on the mainland.
Fort Matanzas National Monument (Fla.) – PARTIALLY OPEN
Visitor Center area of the park remains closed pending removal of hazard limbs and trees.

Beach and Island areas of the park are open to the public.

Fort will remain inaccessible to the public until repairs to ferry boats can be completed.
Fort Pulaski National Monument (Ga.) – CLOSED
Staff continue to clean the fort and visitor center area.

On Saturday, September 30, the park will host a volunteer opportunity for National Public Lands Day. Participants will help remove debris.
Additional parks are closed along the Atlantic coast, but are handling closures with park staff. For updates on the status of all parks visit http://go.nps.gov/hurricane.
~NPS~