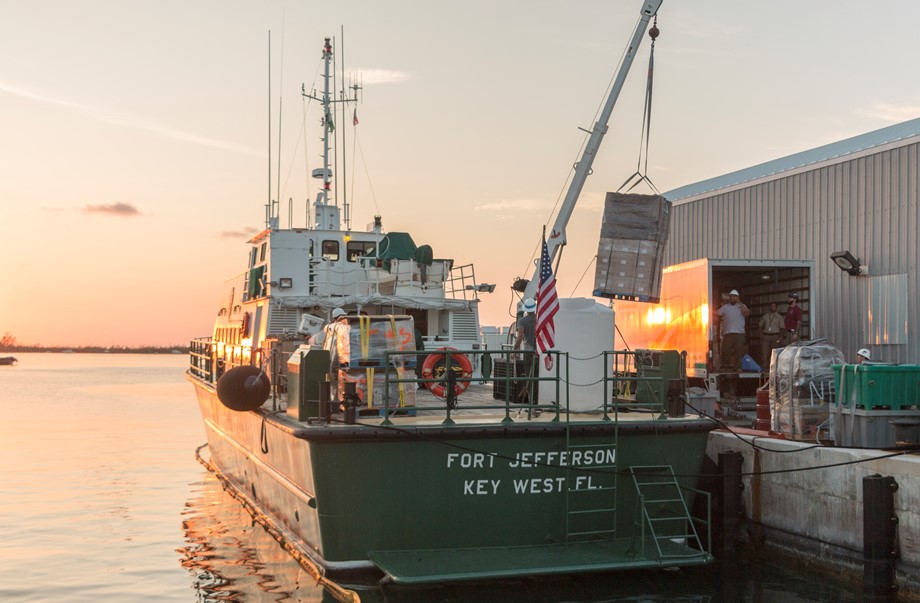 News Release Date: September 25, 2017

Contact: Brent Everitt, 850-393-7952
Contact: Katie Lawhon, 717-253-5776
Contact: Dana Soehn, 865-712-4928
Photos of Hurricane Irma damage and response
Homestead, Fla. - The 110-foot MV Fort Jefferson, normally used to transport staff and supplies to Dry Tortugas National Park, has been loaded with over 24 tons of supplies and equipment for national parks in the Caribbean following Hurricanes Irma and Maria. The vessel departed today and will make the 78-hour trip from Key West to the Caribbean national parks this week.
"We are grateful to Dry Tortugas National Park for use of their vessel to get critical supplies to our Caribbean parks," said EIMT Incident Commander James King. "When I contacted Park Superintendent Pedro Ramos, he didn't bat an eye and immediately offered his support."
On Sunday, September 24, EIMT logistics personnel loaded over 20 pallets of food, water, fuel, and generators on the vessel. Three National Park Service boat crewmembers along with four Law Enforcement Rangers will accompany the shipment to the Caribbean. The boat is transporting supplies and resources to Virgin Islands National Park on the island of St. John and Christiansted National Historic Site on the island of St. Croix.
In addition to transporting supplies for the National Park Service, the vessel is also transporting six pallets of supplies for the U.S. Fish and Wildlife Service, a sister agency within the Department of the Interior. The agency has employees on the Caribbean Islands, who normally work at three National Wildlife Refuges. The two agencies have worked closely through Hurricanes Irma and Maria on stabilization, cleanup, and recovery efforts.
Employee accountability and care continue to be primary concerns of the National Park Service. Employees at all six national parks in the Caribbean have been accounted for, with the exception of San Juan National Historic Site where employee communications are currently hampered by power outages, flooding, and inaccessible roadways.
Additional updates on the status of these parks can be found at http://go.nps.gov/hurricane. Photos may be found at www.flickr.com/photos/nps_eimt.
-NPS-