News Release
Natural Bridge Designated as National Park Service Affiliated Area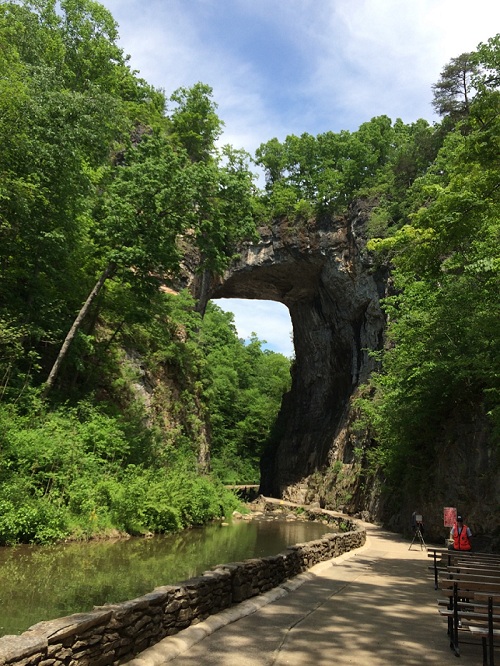 News Release Date: September 24, 2016

Contact: Victoria Stauffenberg, 202-208-6843
WASHINGTON – U.S. Secretary of the Interior Sally Jewell has designated the geologically and historically significant Natural Bridge site in Rockbridge County, Virginia as an Affiliated Area of the National Park Service (NPS).  The site, recently designated as a state park, will be managed by Virginia State Parks.
First purchased by Thomas Jefferson from King George III of England in 1774, Natural Bridge has captivated visitors for hundreds of years.  The limestone arch rises 215 feet above Cedar Creek and is located within a hilly, wooded landscape with hiking trails and scenic vistas.  It was designated as a national historic landmark in 1998.
"Growing up near and working at Natural Bridge in my early years may be the true source of my 40 years of commitment to the protection and enjoyment of our National Parks," said National Park Service Director Jonathan B. Jarvis. "It is with great pride that it is now part of the Virginia State Park System and an Affiliated Area of the National Park Service."   
Affiliated Areas are neither owned nor administered by the federal government, but they preserve important segments of the nation's heritage. Some of these have been recognized by Acts of Congress, others have been designated national historic sites by the Secretary of the Interior under authority of the Historic Sites Act of 1935.The National Park Service administers 22 national park sites in Virginia.  Visitors to national parks in Virginia spent $983 million in 2016 resulting in an overall economic impact of $1.3 billion.
About the National Park Service. More than 20,000 National Park Service employees care for America's 413 national parks and work with communities across the nation to help preserve local history and create close-to-home recreational opportunities. Visit us at www.nps.gov, on Facebook www.facebook.com/nationalparkservice, Twitter www.twitter.com/natlparkservice, and YouTube www.youtube.com/nationalparkservice.
Last updated: October 20, 2016