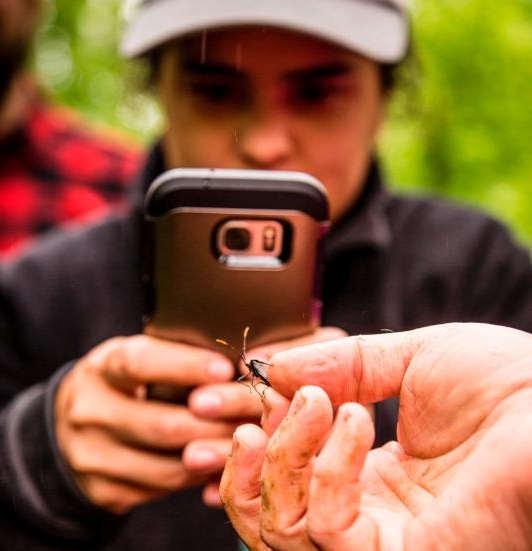 News Release Date: September 23, 2016

Contact: Kathy Kupper, 202-208-6843
Meet the 2016 Recipients of the Director's Partnership Awards
WASHINGTON – Partnerships play a vital role in protecting and enhancing National Park Service sites and programs. Today, a variety of groups that have made significant contributions were named as the recipients of the 2016 Director's Partnership Awards.
"The hard work and passion of committed individuals joining forces led to the preservation of the country's first public lands and the establishment of the National Park Service in 1916," said National Park Service Director Jonathan B. Jarvis. "The long and storied tradition of citizen stewardship not only continues but grows stronger every year. The partners we recognize today demonstrate the amazing things we can accomplish together."
Following are the recipients of the 2016 Director's Partnership Awards:
Nationwide
Since 2000, volunteers from the American Society of Landscape Architects have collaborated with the National Park Service Rivers, Trails, and Conservation Assistance Program to provide a myriad of fun opportunities to recreate, exercise and enjoy the outdoors. The architect volunteers have helped community planning teams in more than 60 communities develop, design and landscape walking, hiking, and biking trails that safely link residents to schools, business districts, and parks.
Since 2011, Heather Wickens from Abraham Lincoln National Heritage Area, Katie Montgomery from Ohio and Erie Canalway National Heritage Area, and Julie McPike from Freedom's Frontier National Heritage Area have, through National Heritage Areas Best Practices Calls, brought together employees and partners across the country to share ideas, projects, and new initiatives. Each month they develop topics of nation-wide interest, and coordinate featured speakers. The result is a dynamic and engaging conversation, a learning and sharing environment, and a forum that brings together a service-wide community.
The National Park Foundation has achieved unprecedented success in promoting national parks and programs and in sparking nation-wide public engagement throughout the multi-year Find Your Park/Encuentra Tu Parque public engagement campaign. Through social media, PR, advertising, special events, and expansion into new and diverse media markets, there have been 15.9 billion impressions, enabling a groundswell of support, activity, advocacy and engagement.
The National Park System Advisory Board Philanthropy and Partnerships Committee was formed to help guide the National Park Service into a new era.Committee members shared and researched best practices in partnerships and philanthropy and participated in national park site tours and presentations by subject matter experts. Their final report guides the National Park Service as it seeks to forge deeper relationships with current partners and increase its capacity to engage new and diverse partner communities.
Alaska
Twenty years of relationship building and collaboration between the Huna Tlingit Tribe and Glacier Bay National Park and Preserve was celebrated at the opening of the Huna Tlingit Tribal House on August 25, 2016.This, and other achievements of The Hoonah Indian Association, including the passage of subsistence legislation, honors the Tlingit Tribes' connection to their homeland. The Huna Tlingit Tribal House provides a venue for ceremonies, workshops, camps, and tribal meetings. Through mentoring,apprentice opportunities, and interpretive programming, the Huna Tlingit Tribal House ensures the Huna Tlingit culture, language, and history will be passed on to current and future generations.
Arizona
Their combined voices, networks, and expertise enabled the American Indian Alaska Native Tourism Association, the Inter-tribal Advisory Council and Grand Canyon National Park to develop a strategic plan and a new vision and model for interpretation and tribal engagement at the Desert View Watchtower. Visitors can now participate in first voice demonstrations at an inter-tribal cultural heritage center and marketplace, and tribal youth can join employment and internship programs.
California
In 2014, the California Academy of Sciences partnered with the National Park Service to modify the iNaturalist APP –a social media platform where naturalists convene to upload and share plant and animal observations. The APP enables the National Park Service to digitally track and manage species counts and data during BioBlitz events. In 2016, the partnership culminated when, during the National Park Service Centennial BioBlitz, thousands of participants at more than 200 nation-wide BioBlitz events used the APP to upload species data, which was broadcast to all in real time.
The Mojave Desert Land Trust and the National Park Service partnership facilitates all aspects of land protection, from acquisition and restoration, to monitoring and community engagement. Since 2007, they have leveraged funds to purchase, restore, and donate land within the Mojave Desert to the National Park Service. To date, 670 parcels of land, totaling more than 29,000 acres have been donated to Mojave National Preserve, Joshua Tree National Park, and Death Valley National Park.
Washington, DC and Japan
For the past four years, the City of Mitaka, Japan, Cherry and Green Association of Friendship, and Frederick County Public Schools in Maryland have partnered with the National Mall and Memorial Parks to co-create a Friendship Mural that showcases drawings and messages of friendship.The mural is displayed at the annual National Cherry Blossom Festival, where festival attendees can add their artistic expression.Through this exchange of art;a colorful tapestry of community and friendship is created and shared between countries, and the world.
Georgia
The Fort Frederica Association was founded in 1940 to establish Fort Frederica National Monument. For years they lobbied and won the support of Congress to achieve their goal to preserve the 1736 fort and military outpost, the epicenter of conflict between Britain and Spain. Their achievement led to another large scale effort to raise the funds to make the park's initial land purchase. Throughout the past 75 years they have continued to share their passion for the site and make it accessible to all, through the development of a visitor center, library, theatre, and bookstore.
Kansas
The Nature Conservancy, Kansas Chapter, in alliance with state and local agencies, ranching and agricultural sectors, environmental organizations, and Tallgrass Prairie National Preserve, developed a multi-layered approach to conserving tallgrass prairie. Their work led to an expansion of protected land, success in promoting ranching practices that protect the surrounding prairie, the introduction of fire management processes, and, following an absence of 150 years, the reintroduction of the American Bison.
Maine
Through the Acadia Centennial Task Force, the Friends of Acadia worked to inspire, empower, and organize support and participation in the 100th Anniversary of Acadia National Park. By organizing community work groups, they brought together people from across the state, including more than 350 public and private partners who facilitated 100 plus state-wide community events. Their community based approach and their online efforts provided guidance on how to engage in Centennial efforts and developed grassroots networks that will continue making change into the next century.
Massachusetts
Through the Parker's Revenge Project, the Friends of Minute Man National Park led collaborative efforts to research, map, interpret, and re-create the site of an important battle that occurred during the opening days of the American Revolution. Their financial and volunteer support to Minute Man National Historical Park resulted in a large scale archival and archaeological analysis of the site, discovery and analyses of significant artifacts, and a deeper understanding of a pivotal battle and its impact on all that would come to transpire.
Minnesota
Through the Landmark Grant and Teen Ambassador Program, Voyageurs National Park Association has engaged teens in transformational outdoor experiences, expanded wetland restoration, and increased visitor engagement opportunities through expanded seasonal programming and visitor center staffing. The association's commitment to youth and visitor outreach and their passion for preservation has been a catalyst for exciting initiatives at Voyageurs National Park.
New Jersey
For 19 years, the Edison Innovation Foundation has worked to make accessible to all the vision, life, and entrepreneurial spirit of Thomas Edison. Their financial contributions have enabled the restoration and rehabilitation of Thomas Edison National Historical Park, including the Edison Laboratory Complex, the Glenmont Estate, and Edison's gas and battery powered automobiles. Through their support and implementation of Innovation Programs and internships, they encourage learning and inspire creativity.
Envisioning what life was like for the 12,000 soldiers who fought in the Revolutionary War between 1779 and 1780 is not easy, though the efforts of the Washington Association of New Jersey make it possible. Since 2005, the association has contributed the funds to plan, design, fabricate, and install interactive exhibits at Morristown National Historical Park. These exhibits will help visitors envision the life of these soldiers and the harsh realities they faced surviving in a military encampment during one of the harshest winters on record.
New York
The saltmarshes, forests, and watery havens of Jamaica Bay attract up to 326 bird species that fly in to rest, refuel, and breed during their annual migration. This critical ecosystem will only increase in animal and plant diversity thanks to The Nature Conservancy, New York City Program. The group is providing the funds and the volunteer and management support to restore native maritime upland habitat in Gateway National Recreation Area and Jamaica Bay Wildlife Refuge. Be sure to stop by on one of your migrations, to celebrate their success and witness this rich convergence of life.
Texas
In 1924 the San Antonio Conservation Society began an effort that continues to this day: the preservation and restoration of the lands and missions within San Antonio Missions National Historical Park. Their first initiatives resulted in the purchase and restoration of the San Jose Mission Granary and the Espada Mission acequia aqueduct. Through the years, they purchased land to protect the missions from encroaching development, completed mission stabilization and restoration projects, and led the long-term effort to establish the mission complex as a National Historical Park.
Utah
The Intergovernmental Internship Cooperative, a consortium of 19 Federal and State land agencies, the Paiute Tribe, and Southern Utah University, has worked with Cedar Breaks National Monument to place students from diverse cultural and economic backgrounds into employment, internship, and volunteer positions. These positions offer students experience in public lands jobs and provide them with friends and mentors;leadership and job skills;and pathways to college, career fields, and to their public lands.
Virginia
The financial and volunteer support provided by the Appomattox 1865 Foundation to the Appomattox Court House National Historical Park, throughout the 150th Anniversary of the Battle of Appomattox Court House, enabled more than 25,000 people to attend events, reenactments, ceremonies, and community engagement efforts. Their support of research projects and a new student exchange program will introduce high school students to new learning opportunities and foster a deeper understanding and sharing of stories, yet untold, for years to come.
About the National Park Service. More than 20,000 National Park Service employees care for America's 413 national parks and work with communities across the nation to help preserve local history and create close-to-home recreational opportunities. Visit us at www.nps.gov, on Facebook www.facebook.com/nationalparkservice, Twitter www.twitter.com/natlparkservice, and YouTube www.youtube.com/nationalparkservice.