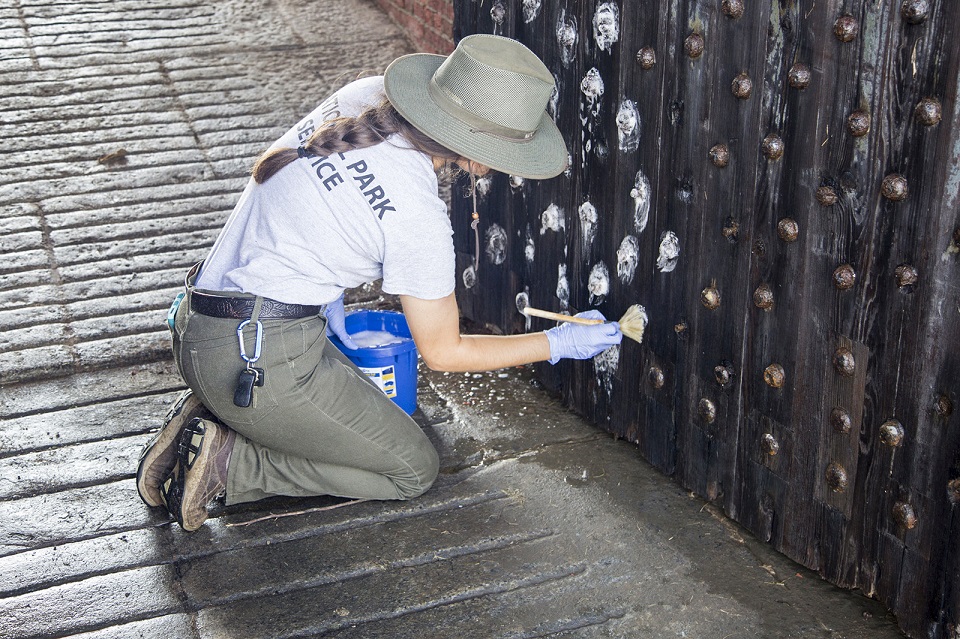 News Release Date: September 21, 2017

Contact: Mike Litterst, 202-306-4166
Contact: Brent Everitt, 850-393-7952
Contact: Katie Lawhon, 717-253-5776
Homestead, Fla. –
 The National Park Service (NPS) Eastern Incident Management Team currently has 344 laborers, saw teams, arborists, heavy equipment operators and other employees on the ground in South Florida, along the Atlantic coast and in the Caribbean clearing debris and working to safely reopen parks damaged by Hurricane Irma. The Incident Management Team is now in its second week of operations and is composed of National Park Service employees from 95 national parks in 35 states.  
Employee accountability and care is the primary concern of the National Park Service, especially for staff in the Caribbean affected by Hurricane Maria. Immediate objectives are to support employee emergency needs, conduct damage assessments, and remove debris in the affected areas.   
Updates on damage assessments and recovery efforts are listed below. The public is reminded that many parks are closed to all use, including motorists, cyclists and pedestrians, due to safety concerns during cleanup operations.
News from the field - September 21:
Caribbean National Parks
All national parks in the Caribbean are closed in the aftermath of Hurricane Maria. Damage assessments and recovery efforts will resume when employee accountability and emergency needs have been completed and addressed.  
South Florida National Parks
Big Cypress National Preserve – CLOSED
Sawyers are working along Turner River Road and in the Bear Island camping area.
Except for the Loop Road Ranger Station, electrical power has not been restored. Generators are in use.
A press release has been issued reminding the public about recreational closures.
Preserve staff continue to coordinate with local emergency operations.
Biscayne National Park - CLOSED
A marine notice has been posted to notify mariners of debris hazards in the waters surrounding the park.
Potable water has been restored.
Staff are working on the pier and employee housing today.
Plans are being developed to support an underwater evaluation/assessment team.
De Soto National Memorial - CLOSED
The park plans to open on 

Friday, September 22, 2017

Consultation is underway to determine how to provide treatment for damage to the park's notable gumbo limbo trees. 
Dry Tortugas National Park – PARTIALLY CLOSED
Terrestrial areas of the park, including all areas at Garden Key and Loggerhead Key, remain closed to the public. 
Marine waters of the park to include Garden Key Harbor and Bird Key Harbor are open for access.
The dock at Dry Tortugas is closed to public use.
A marine advisory has been issued advising mariners of hazards in the waters. Users of mooring buoys assume all risk.
A saw crew is on site removing over 80 downed trees, and moving bricks and sand.
Problems with radio communications are still being addressed.
Everglades National Park –
PARTIALLY CLOSED
Terrestrial areas of the park remain closed while park waters are open for access, to include commercial permit holders of Everglades National Park. Boaters should be advised that the Flamingo Marina is closed and no services are available there.
The park has opened areas east of the L-67 Canal and as far south as Buzzards Roost / Grossman's Ridge (commonly known as East Everglades) for private airboating. Boaters should be advised that the only public launch site available is located east of Coopertown. The park cannot be accessed via SW 168th Street until power lines and other hazards have been addressed.
Numerous derelict vessels have been identified along the Gulf Coast and in Florida Bay. These vessels will be posted with the National Crime Information Center.
Air Operations and Research will be assessing remote areas in hopes that critical research data can be collected.
Saw crews are working in Shark Valley, Flamingo and Pine Island.
Atlantic Coast National Parks
Cumberland Island National Seashore (Ga.) - CLOSED
The Coast Guard is taking the lead on cleaning up the St. Marys waterfront, working with the park and the city.
Saw crews and an Arborist Incident Response team are working on the island. 
Some large magnolia trees in the cultural landscape of Plum Orchard Mansion and the Grange and cedar trees were severely affected by the storm.
Emergency repairs for Plum and Grange are awaiting materials, expected within a few days.
Fort Frederica National Monument (Ga.)
The park reopened on Thursday, September 21.
Southside of the town site is blocked to visitation due to need for more tree work.
Fort Matanzas National Monument (Fla.) - CLOSED
Saw teams have completed their work at the fort. 
A contractor is looking at dock damage today.
An Arborist Incident Response team is still needed.
Fort Pulaski National Monument (Ga.) - CLOSED
The sally port bridge has been repaired and reinstalled.
Trail cleanup and removal of downed trees continues.
Plans are being worked on for how to repair the damaged roof.
The pump house/water system needs major repairs.
Fort Sumter National Monument (S.C.)
Fort Sumter itself remains closed; all other sites are open.
Fort Sumter Tours is offering a 90-minute Fort Sumter Harbor Cruise with Park Rangers on board.
Removal of debris and mud at Fort Sumter continues.
Staff are working to get electricity restored to the dock, repair damaged dock railings, and repair septic at the fort.
Timucuan Ecological and Historic Preserve (Fla.)
Kingsley Plantation, Fort Caroline and the Ribault Monument are open to the public.
Park trails at the Theodore Roosevelt Area and Cedar Point remain closed due to hazardous conditions
Additional closures exist throughout the Southeast Region, but local park employees are handling cleanup efforts. A full list of affect parks and updates on the status of these parks can be found at 
http://go.nps.gov/hurricane
.  
~NPS~