News Release
Saving Trees in National Parks during Hurricane Irma Cleanup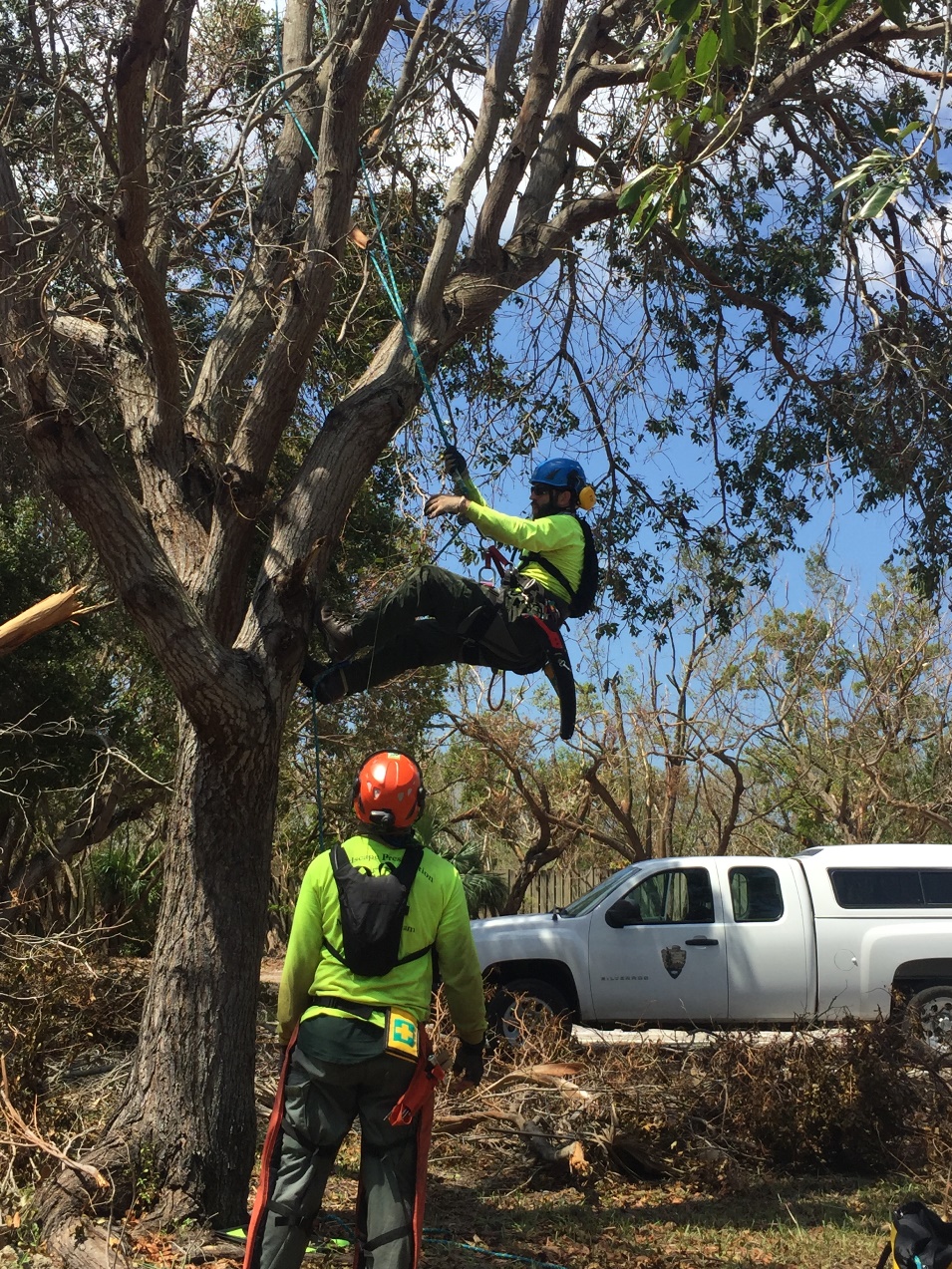 News Release Date: September 20, 2017

Contact: Mike Litterst, 202-306-4166
Contact: Brent Everitt, 850-393-7952
Contact: Katie Lawhon, 717-253-5776
Incident information
Photos of Hurricane Irma damage and response
 
Homestead, Fla. – Arborist Curtis Tilghman sees the national parks like no one else. He's been in a tree over the grave of Thomas Edison. He's cut branches under the shadow of the Statue of Liberty. He's repaired tree damage in the Chalmette National Cemetery and cut trees from an airboat at the Jean Lafitte National Historical Park and Preserve.
 
Tilghman is one of 11 International Society of Arboriculture certified arborists from the National Park Service working on the Hurricane Irma recovery, mobilized into "Arborist Incident Response teams," better known as AIR teams. These strike teams of arboristsplay a critical role in reopening national parks after hurricanes, ice storms, floods and other disasters. Additionally, with their technical expertise in both arboriculture and rigging, they are often able to strategically prune and ultimately save trees that would otherwise be cut down during recovery operations.
 
National Park Service teams of experts are working in parks throughout South Florida, the Caribbean, and along the Atlantic coast, coordinating the bureau's response to Hurricane Irma. Currently, more than 300 NPS employees from 95 national parks across the country are assisting with the recovery effort.
 
AIR teams provide specialized resource assessment and stabilization techniques that meet professional arboriculture and resource management standards in accordance with the International Society of Arboriculture and the Secretary of the Interior's Standards for the Treatment of Historic Proprieties.
 
Tilghman usually works at Pea Ridge National Military Park in Arkansas. He's helped national parks recover from hurricanes Sandy, Irene, and Isaac. On the Hurricane Irma response team, he's supervising the AIR team currently working to reopen Biscayne National Park. A second AIR team is helping to reopen Cumberland Island National Seashore in Georgia.
 
"It's extremely technical work," said Tilghman, "and involves climbing and rigging. The team has a whole list of heroic measures we can use to save trees, including cables and bracing."
 
The equipment AIR teams bring to each recovery effort typically includes a bucket truck, wood chipper, multiple chain saws of different types, climbing equipment, saw maintenance equipment, personal protective equipment (PPE), traffic control devices, and trauma kits. They usually need to pack tents, water and food as well in the immediate aftermath of storms.
 
The two AIR teams deployed to Irma-affected parks are coordinated by the National Park Service Olmsted Center for Landscape Preservation, a program of the Northeast Regional Office in Massachusetts and the Blue Ridge Parkway in Virginia.
 
For updates on the National Park Service Hurricane Irma recovery efforts, including temporary closures and other impacts in affected parks go to go.nps.gov/hurricane.
~NPS~
Last updated: September 20, 2017