News Release
NPS Incident Management Team Hurricane Irma Update, Thursday, September 14, 2017 - 2 pm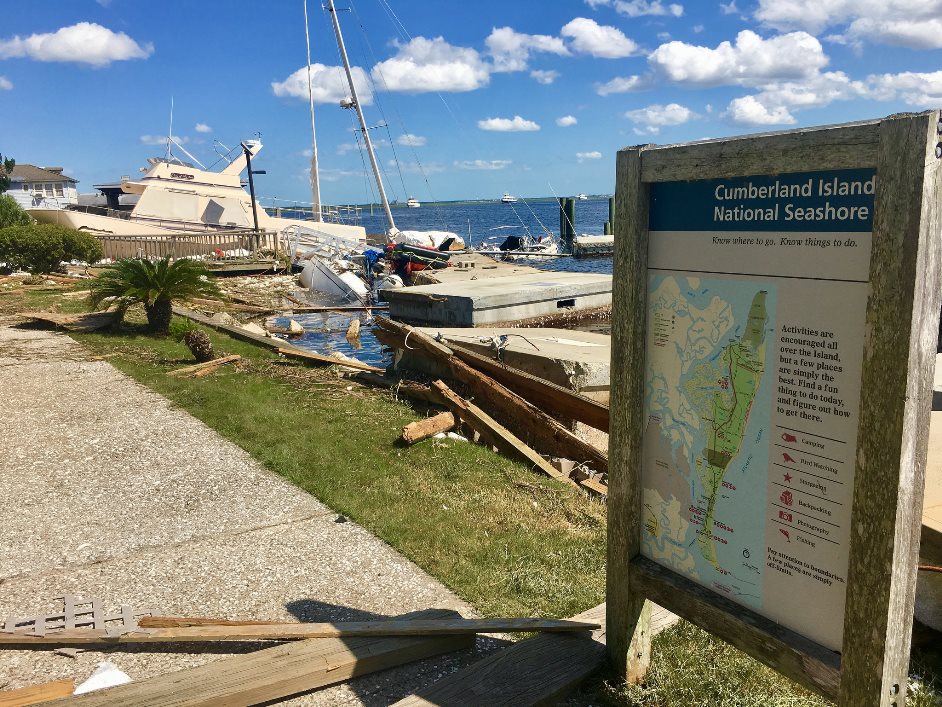 News Release Date: September 14, 2017

Contact: Mike Litterst, 202-306-4166
Contact: Katie Lawhon, 717-253-5776
Contact: Brent Everitt, 850-393-7952
Incident information
Photos of Hurricane Irma damage and response
Miami -
The National Park Service Eastern Incident Management Team (Team) is in its fifth day of operation, and is now operating in South Florida, coordinating the bureau's response to parks impacted by Hurricane Irma. Immediate objectives are to support employee emergency needs, conduct damage assessments, and remove debris in the affected areas. The team has relocated its response operation to South Florida, putting its response and recovery efforts in closer proximity to the affected parks. So far, 107 National Park Service employees from outside the impacted areas are working in the parks or en route, with additional resources expected to be ordered in the coming days.  
Employee accountability and care is the primary concern of the National Park Service. Employees at all national parks have been accounted for, with the exception of Everglades National Park, where power and communication outages are making contact with some employees difficult. All but a handful of Everglades' more than 300 employees have been accounted for.  
The safety and support of all NPS employees working in the parks is the priority for the National Park Service response to the hurricane.    
National park sites assisted by the team are widespread and include all of the national parks in South Florida, the Caribbean, and along the Atlantic coast. Information from damage and critical assessments is listed below. All affected parks are currently closed to all visitor use and access unless otherwise noted. The public is reminded that parks are closed to all use, including motorists, cyclists and pedestrians, due to safety concerns during cleanup operations. Parks will reopen as soon as it is safe to do so.  
News from the field - September 14:
Caribbean National Parks
Christiansted National Historic Site
The park has re-opened to the public. The park sustained minimal damage from Hurricane Irma, mainly in the form of downed vegetation, some shutter and sign damage, shoreline erosion, and storm-washed seaweed and debris. Parking lot hours remain 8:30 a.m. to 4:30 p.m. with a two hour limit.
Salt River Bay National Historical Park and Ecological Preserve
The park has re-opened to the public. The park sustained minimal damage from Hurricane Irma, mainly in the form of downed vegetation, some shutter and sign damage, shoreline erosion, and storm-washed seaweed and debris. The Visitor Contact Station will be open to visitors Monday – Friday, 10 a.m. to 3 p.m.
Virgin Islands Coral Reef National Monument
Initial assessments will be completed when personnel arrive.
Virgin Islands National Park
The park has experienced significant damage, including all employee housing.
Formal assessments will begin as soon as crews arrive.
Buck Island Reef National Monument
Island-wide assessments will begin this week to review damage to park facilities, natural and cultural resources. Commercial tour operations have resumed. 
South Florida National Parks
Big Cypress National Preserve
A large scale survey is underway today. An assessment team is en route and will begin emergency stabilization work at the preserve as soon as it is safe to do so.
Additional law enforcement and security is in place.
Biscayne National Park
The main park road was cleared yesterday and an aerial assessment found significant damage to park facilities, including headquarters.
A few Stiltsville structures have been damaged.
Docks have been severely damaged.
Numerous trees are down.
An assessment by boat is happening today at Boca Chita, Elliott and Adams keys.
The park remains closed to visitor access, though water transit is permitted.
De Soto National Memorial
No damage to park buildings has been identified; some facilities including trails and fences have been damaged.
Dry Tortugas National Park
Dry Tortugas was fully evacuated prior to the storm.
Staff is returning to the site tomorrow to begin assessments.  
The National Park Service supply and work boat, Fort Jefferson, returns to Garden Key tomorrow from Belize, where it evacuated prior to the storm. 
Remote transmission indicates there is power at Fort Jefferson.
Everglades National Park
Accounting for all park employees is still in progress; all but a few have been contacted. Power, internet, and all communications are still down.
Additional law enforcement and security staff are in place.
Crews are clearing the road to Flamingo today.
An overflight of the park on Wednesday determined the extent of fallen trees and downed vegetation throughout the park
Flamingo experienced a 3 – 5 foot storm surge.
The Ernest F. Coe Visitor Center in Homestead appears to have sustained no flooding and the roof is intact.
The Gulf Coast Visitor Center roof is intact, but sustained water damage from the storm surge recorded at 8.78 feet. Employee housing and grounds in the vicinity likewise suffered water damage.
The main road to the park entrance and headquarters at Homestead is impassible due to fallen trees.
The Key Largo Ranger Station and employee housing sustained only minor damage
Status of employee housing at Pine Island and Flamingo is unknown.
An aerial image of Key West employee housing shows some visible damage.
Atlantic Coast National Parks
Canaveral National Seashore (Fla.)
Apollo District and Seminole Rest Historic Site are is still without power.
A partial reopening is planned for tomorrow.
Damage to several docks and boardwalks will continue to assessment damages.  
Cleanup up and debris removal is underway.
Castillo de San Marcos National Monument (Fla.)
The area experienced significant flooding.
Clean up of debris is happening today.
Restrooms are not functioning.
Cumberland Island National Seashore (Ga.)
Initial inspections indicate the docks at St. Marys waterfront have sustained significant damage.
Structures on the south-end of the island look unharmed.
The Dungeness dock, damaged by Hurricane Matthew, is further damaged.
Areas to the north end of Sea Camp have not yet been assessed.
On the mainland, there are abandoned boats and debris at the waterfront.
Fort Frederica National Monument (Ga.)
Park has significant cleanup efforts to be completed.
Trees are down and an assessment team will be on site today.
Fort Matanzas National Monument (Fla.)
The site has extensive debris and dock damage. 
A shoreline assessment and a check of Fort Matanzas will take place later today when tides are favorable.
Fort Pulaski National Monument (Ga.)
The park received near-record level flooding.
Assessment complete on the Hwy. 80 and Bull River bridges and both have reopened.
Park staff are ventilating and cleaning the maintenance building, clearing roads and moving debris.
Trees and trails have had an initial inspection and do not appear to be badly damaged.
There is limited access to the fort. Both wooden drawbridges washed away. 
The roof (veranda) on the fort has been blown off and some of the boards underneath have been displaced. There are also concerns about a support column that may have shifted.
Fort Sumter National Monument (S.C.)
The park experienced near record level flooding.
Contracted engineers will be assessing the structural integrity of the Fort Sumter dock today.
Full damage assessments will be completed as soon as possible.
Fort Sumter is closed until further notice, but Fort Moultrie and Liberty Square facilities are open.
Timucuan Ecological and Historic Preserve (Fla.)
Formal damage assessments are nearly complete.
Kingsley Plantation has multiple down trees and power outages and remains closed.
Additional closures exist throughout the Southeast Region, but local park employees are handling cleanup efforts. A full list of affect parks and updates on the status of these parks can be found at
http://go.nps.gov/irma
~NPS~
Last updated: September 16, 2017