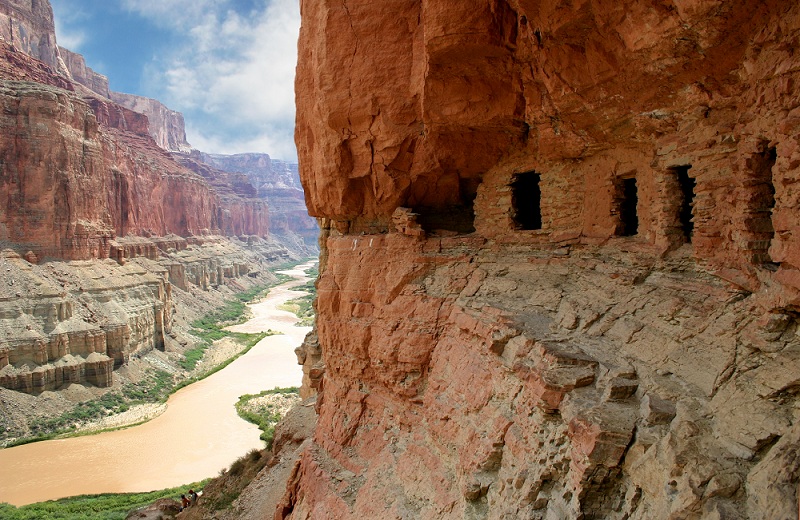 News Release Date: August 26, 2016

Contact: Tom Crosson, 202-208-6843
WASHINGTON –Today, National Park Service(NPS) Director Jonathan B. Jarvis announced new members of his senior leadership team, following the retirement and departure of several key leaders.
Last month, Peggy O'Dell, Deputy Director of Operations, retired after a 37-year career with the NPS. O'Dell began her career as a seasonal interpreter at Jefferson National Expansion Memorial while attending college at the University of Missouri –St. Louis where she earned a B.A. in History. In 1982, she resigned from the NPS to follow her husband, Ben, to Olympic National Park and to raise their children. They transferred to Ozark National Scenic Riverways in 1985 and O'Dell returned to the National Park Service to manage the park's interpretation and education programs. Prior to serving as the Deputy Director of Operations, she was the Regional Director for the NPS's National Capital Region.  
Earlier this year, Vic Knox, Associate Director of Park Planning, Facilities, and Lands retired after a 38-year career with the NPS. Knox also served as the Deputy Regional Director in the Alaska Regional Office and as the NPS Utah State Coordinator, managing support of the 2002 Winter Olympics. Knox started his NPS career with the NPS Denver Service Center, providing on-site construction project management in many parks, including Rocky Mountain, Yellowstone, Zion, Mesa Verde, and Sequoia national parks.
"Peggy and Vic were outstanding leaders who helped lift the National Park Service to new heights in the preparation for and celebration of our 100th anniversary," said Director Jarvis. "We will begin our next century better ready to meet the challenges ahead, thanks to their incredible contributions."
Director Jarvis also announced the following new appointments to his senior leadership team:  
Michael Reynolds as Deputy Director, Operations
Shawn Benge as Associate Director of Park Planning, Facilities, and Lands
April Slayton as Assistant Director, Communications
Tom Crosson as Chief of Public Affairs and Chief Spokesperson
Donald Leadbetter as National Tourism Program Manager
"Looking ahead to our second century of service, the senior leadership team will bring an innovative and engaging approach to accomplishing the mission of the National Park Service," said Director Jarvis. "Mike, Shawn, April, Tom and Donny bring a diverse set of skills that will help us meet the challenges and opportunities ahead."
Mike Reynolds, Deputy Director, Operations
Mike Reynolds, a 30-year NPS veteran and a third-generation employee, replaces O'Dell as the Deputy Director of Operations. Reynolds previously served as the Associate Director for Workforce and Inclusion. Reynolds also served as the Regional Director in the NPS's Midwest Region, managing 60 national parks that span 13 states and welcome more than 20 million visitors each year. As Deputy Director of Operations, Reynolds will manage the bureau's annual budget of $2.8 billion and more than 22,000 employees that serve in 413 national parks and offices around the nation. He will oversee every aspect of park operations, including the preservation and protection of 84 million acres, 167 million museum objects, 27,000 historic structures, and more than 169,000 miles of rivers and streams, as well as recreation, education, and hospitality services for the more than 300 million people who visit national parks every year, generating $12 billion in local economic impacts. Additionally, Reynolds will have responsibility for the NPS's community-based historic preservation programs from the National Register of Historic Places, to national heritage areas, to a tax credit program that annually leverages more than $5 billion in private investment to rehabilitate historic buildings for new uses.
Shawn Benge as Associate Director of Park Planning, Facilities, and Lands
Benge has 28 years of experience with the NPS. Prior to his current assignment, he was the Southeast Region Deputy Regional Director/Chief of Staff, providing operational leadership to parks in Florida, Mississippi, Louisiana, the Commonwealth of Puerto Rico, and the U.S. Virgin Islands. He served as the primary bureau official responsible for managing NPS oil spill response activities associated with Deepwater Horizon. As the Associate Director of Park Planning, Facilities, and Lands, Benge provides leadership, policy development, program accountability, and budget formulation in the functional areas of park planning and development;special resource studies;land acquisition and related real estate operations;facility and infrastructure design, construction, and maintenance.
April Slayton, Assistant Director, Communications 
April Slayton joined the NPS in February 2014 as the Chief of Public Affairs and Chief Spokesperson. Prior to joining the NPS, Slayton served with the U.S. Department of State at the United States Embassy in Australia, where she was chief of staff for the U.S. ambassador. Her previous work includes communications director and press secretary for the U.S. House of Representatives Committee on Agriculture, and public affairs specialist with the USDA Food Safety and Inspection Service. As Assistant Director for Communications, she is the bureau's's top strategic communications executive responsible for NPS national public affairs, web and digital communications.  
Tom Crosson, Chief of Public Affairs and Chief Spokesperson 
Tom Crosson joins the NPS from the United States Air Force where he served in a variety of assignments since 1996. His last assignment was as a Department of Defense spokesperson for homeland defense and domestic operations matters. As Chief of Public Affairs and Chief Spokesperson, he is responsible for the development, implementation and management of national communications strategies for the NPS while providing guidance to public affairs officers at its 413 parks and community assistance programs across the country.
Donald Leadbetter, National Tourism Program Manager
Donald Leadbetter has spent more than 16 years working in the tourism and hospitality sectors, including five years with the NPS's Commercial Services and centennial programs. Leadbetter began his career with the NPS in 2011 when he joined the Commercial Services Program, where he represented NPS at a variety of travel and tourism industry forums, and collaborated with concessioners and tourism partners on a range of visitor services issues. Since 2014, he has served in the Centennial Office, coordinating centennial programs and promotions with a variety of partners, including the National Park Foundation, Brand USA, the Southeast Tourism Society, the U.S. Travel Association, National Geographic, and the United States Mint. In his new position, Leadbetter will strengthen the agency's collaborative relationships with the travel and tourism sector to facilitate and promote sustainable tourism to national parks.  Based in Washington, DC, he will also serve as a national point of contact for the tourism industry.
About the National Park Service. More than 20,000 National Park Service employees care for America's 413 national parks and work with communities across the nation to help preserve local history and create close-to-home recreational opportunities. Visit us at www.nps.gov, on Facebook www.facebook.com/nationalparkservice, Twitter www.twitter.com/natlparkservice, and YouTube www.youtube.com/nationalparkservice.