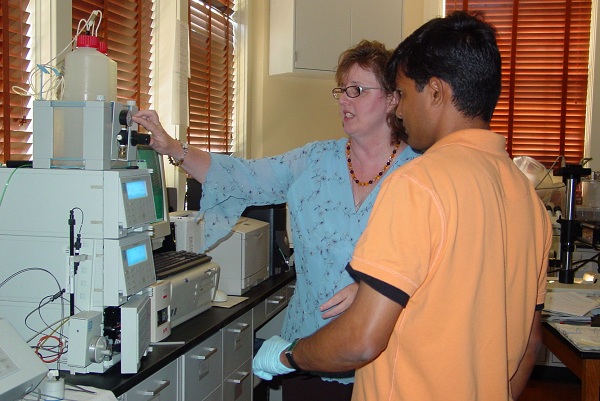 News Release Date: July 20, 2016

Contact: Jeremy Barnum, 202-208-6843
WASHINGTON –The National Park Service announced today $324,700 in grants to fund research, training, and online and social media projects that promote innovative uses of technology in the preservation of America's important cultural and historical resources.
"These projects bring the best skills and technology of the present to preserve the treasures of the past for future generations," said National Park Service Director Jonathan B. Jarvis. "As we celebrate the centennial of the National Park Service, we continue to adapt and improve preservation methods so that these historic places are around for another 100 years."
The National Park Service's National Center for Preservation Technology and Training administers the grants as part of its efforts to create new technologies and training opportunities to preserve historic and cultural resources throughout the United States. Since 1994, the center has awarded more than $9.7 million in grants to fund science and technology-based projects for historic preservation.
This year's grant projects incorporate modern technology and techniques to help prepare for disaster management and responding to climate change. Clemson University will create an Infrastructure Risk Index that allows preservation professionals to make risk-aware decisions regarding the preservation and rehabilitation of heritage structures.The National Trust for Historic Preservation will compare various flood protection methods to develop recommendations for different types of historic buildings. Media projects include Anacostia Trails Heritage and Preservation Maryland's development of fifty podcasts on "Using Technology to Protect the Past" in celebration of the fiftieth anniversary of the National Historic Preservation Act.
A full list of this year's grant recipients is below.
Applicant

State

Project Title

Amount

Clemson University

S.C.

Foresight for Disaster Management: Infrastructure Risk Index Analysis (Research)

$40,000

Cultural Heritage Imaging

Calif.

Applying Scientific Rigor to Photogrammetric 3D Documentation

$40,000

iCATIS, the Forgotten People, and Purpose Focused

Colo.

Navajo National "Train the Trainers" Traditional Hogan Retrofits and Manual Development

$40,000

National Trust for Historic Preservation

D.C.

A Comparative Study of Flood Approaches to Develop Recommendations for Different Types of Historic Buildings on Varying Types of Sites.

$34,700

Texas Military Department

Texas

Look to the Skies: Unmanned Aerial Vehicle Use for Monitoring of Traditional Cultural Areas and Resources in Disaster Recovery and Response

$39,900

Timber Framers Guild

Mass.

Using Timber Grading to Capitalize on Hidden Capacity in Existing Timber Structures

$36,000

University of Arizona

Ariz.

Corn and Tobacco Residue: Development of Protocol for Sampling and Analysis

$34,700

Washington State Parks

Wash.

Evaluation of Protective Treatments for Western Red Cedar Shingle and Shake Roofs

$29,400

Preservation Technology and Training Grants

$294,700

DOCOMOMO US

N.Y.

Explore Modern:a scholarly researched online database with user-sourced information

$15,000

Anacostia Trails Heritage and Preservation Maryland

Md.

Preservation at 50: Using Technology to Protect the Past Podcast Series

$15,000

Media Grants

$30,000

Grant Awards Total

$324,700
About the National Park Service. More than 20,000 National Park Service employees care for America's 412 national parks and work with communities across the nation to help preserve local history and create close-to-home recreational opportunities. Visit us at www.nps.gov, on Facebook www.facebook.com/nationalparkservice, Twitter www.twitter.com/natlparkservice, and YouTube www.youtube.com/nationalparkservice.
��