News Release
President Proposes $2.55 Billion FY18 Budget for National Park Service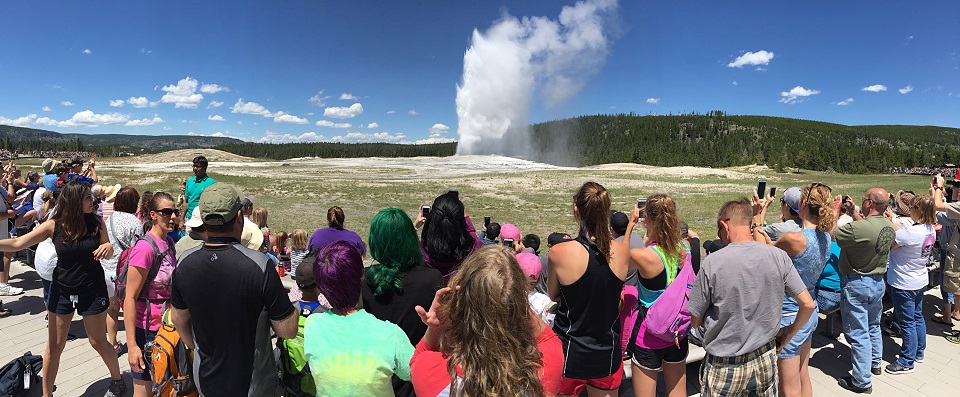 News Release Date: May 23, 2017

Contact: Tom Crosson, 202-513-7260
Increases funding to tackle the deferred maintenance backlog
WASHINGTON – President Donald J. Trump today proposed a $2.55 billion Fiscal Year 2018 budget for the National Park Service (NPS), including funding increases for top Trump Administration priorities like deferred maintenance.
The budget makes a balanced investment in daily park and program operations and parks' long-term needs while putting the federal government on track for a balanced budget by 2027. Priorities receiving increased funding include $33.3 million in programmatic increases for more construction, planning and deferred maintenance, $25.7 million across all activities for fixed costs, and $1.1 million for new responsibilities at existing parks.
"President Trump and I are absolutely committed to repairing our treasured national parks and making sure the American people have a world class experience when they visit our parks, and this budget reflects that," said U.S. Secretary of the Interior Ryan Zinke. "I've been pushing for more funding for the deferred maintenance backlog since my time in Congress. Not all spending is solely an expense, this is an investment in our parks' infrastructure and our future. While tough decisions had to be made to save taxpayer dollars and put ourselves on track to a balanced budget, I'm confident we will find innovative solutions for cost reduction, like public private partnerships, and revenue generation that will improve both sides of the books."
American Infrastructure
- The FY18 budget provides $129 million for line item construction, an increase of $13 million over the FY17 Continuing Resolution. The budget provides $685.9 million to support facility operations and maintenance across the National Park System. This supports funding for front line maintenance and rehabilitation of high priority park infrastructure assets, including $112.7 million for cyclic maintenance, which provides daily, routine, and preventive maintenance, and $99.3 million for repair and rehabilitation projects, which provide critical funding to conduct work that helps to reduce deferred maintenance on parks' highest priority assets.
These construction projects tackle large infrastructure priorities, including funding needed to rehabilitate the Arlington Memorial Bridge and restore Scotty's Castle Visitor Center at Death Valley National Park.
In FY16, the NPS deferred maintenance backlog decreased by $600 million to $11.3 billion. The completion of some large projects; the revision of several others; and savings due to decreases in construction costs contributed to the reduction.
American Safety & Security
- The FY18 budget provides $338.2 million for park protection to protect visitors and natural and cultural resources in our National Parks.  NPS safety and security efforts focus on critical public safety and resource protection activities. This includes safeguarding the highest visitor use areas, securing the highest priority resources and most critical assets, readily responding to requests for emergency assistance, performing search and rescue operations, and apprehending criminal violators. The United States Park Police will continue to maintain its law enforcement presence in Washington, D.C., New York City, and the San Francisco metropolitan areas, with an emphasis on protecting national icons such as the Statue of Liberty and the Washington Monument.
America's Public Lands
–The budget continues to support programs such as the American Battlefield Protection Program, providing $8.5 million to allow the NPS to work with state and local governments to promote the preservation and protection of significant historic battlefields associated with the Revolutionary War, War of 1812, and Civil War.
The budget also proposes a shift of $90 million in funding from discretionary to mandatory funding for state conservation grants, to provide funding to states to acquire open spaces and natural areas for outdoor recreation and access purposes, and develop outdoor recreation facilities.
NPS's FY18 Budget Justification is available
here
, and additional details on the President's FY18 Budget proposal are available on the Department of the Interior's
website
.    
About the National Park Service. More than 20,000 National Park Service employees care for the 417 parks in the National Park System and work with communities across the nation to help preserve local history and create close-to-home recreational opportunities. Visit us at
www.nps.gov
, on Facebook
www.facebook.com/nationalparkservice
, Twitter
www.twitter.com/natlparkservice
, and YouTube
www.youtube.com/nationalparkservice
.
Last updated: May 23, 2017