News Release
Budget Prioritizes Improvements to Critical Park Infrastructure while Saving Tax Dollars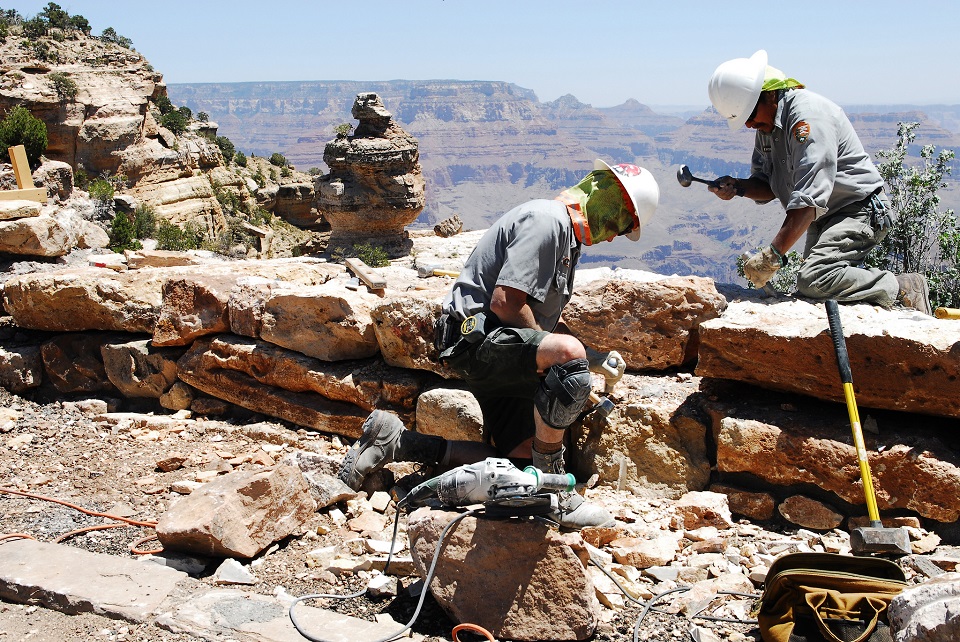 News Release Date: March 11, 2019

Contact: NewsMedia@nps.gov
WASHINGTON – President Donald J. Trump has proposed a $2.7 billion budget for the National Park Service (NPS) in Fiscal Year (FY) 2020, which includes funding that would help address the $11.9 billion maintenance backlog in the National Park System.

"This budget reflects President Trump's commitment to protecting and rebuilding our national parks and public lands to ensure they may be enjoyed by future generations of Americans," said National Park Service Deputy Director P. Daniel Smith. "The President's request provides funding that will allow the National Park Service to repair an aging infrastructure, protect America's scenic wonders and iconic historic sites, and provide rangers to greet the more than 300 million visitors who visit each year."

Infrastructure – The NPS estimates that in FY 2018 there was more than $11.9 billion in backlogged maintenance and repair needs for the more than 5,500 miles of paved roads, 17,000 miles of trails and 24,000 buildings that service national park visitors. In 2018, more than 318 million people visited the 418 national parks across the country. The NPS retired more than $600 million in maintenance and repair work in FY 2018, but aging facilities, high visitation, and resource constraints have kept the maintenance backlog between $11 and $12 billion since 2010.

The President's budget provides $246.3 million to fund construction projects, equipment replacement, project planning and management, and special projects. This includes $152.7 million for specific line-item construction projects like rehabilitating the Eagle Lake Carriage road at Acadia National Park in Maine, and rehabilitating the Kennecott Leach Plant foundation at Wrangell-Saint Elias National Park and Preserve in Alaska. It also includes $4.0 million for demolition and disposal of obsolete facilities, and another $4.0 million to implement safety and environmental mitigation or remediation of abandoned mines.

For other facility maintenance and improvement needs, the budget proposes $134.1 million for cyclic maintenance projects to ensure maintenance is done in a timely manner and does not become "deferred". To address other facility needs such as deferred maintenance and code compliance, the budget proposes an additional $132.0 million for repair and rehabilitation projects.

These discretionary fund sources are critical to help address the deferred maintenance backlog in the NPS. Additionally, the recreation fee program allows the NPS to collect recreation fees at selected parks to improve visitor services and enhance the visitor experience. In 2018, NPS leveraged $148.7 million in recreation fees to address priority maintenance projects to improve the visitor experience. The NPS estimates that in both FY 2019 and FY 2020, $165.8 million in fee revenues will be available for similar deferred maintenance projects.

Park Operations – The FY 2020 NPS budget requests $2.4 billion for park operations, which includes $5.7 million for NPS's role in the Department of the Interior's reorganization to help implement unified regions to improve service and efficiency. The budget proposes $10.0 million to support and enhance recreational access opportunities, including building accessible hunting blinds and fishing piers, and establishing a traditional trades apprenticeship program for veterans. The proposed budget also includes $4.0 million for Active Forest Management efforts to mitigate the fire risk to the public and NPS infrastructure assets.

State Assistance – The budget proposes a continued shift to use of the mandatory funding from oil and gas leases for state conservation grants. These grants provide funding to states to acquire open spaces and natural areas for outdoor recreation and access purposes, and develop outdoor recreation facilities. Permanent funding for these grants in FY 2020 is estimated to be $113 million.

 
About the National Park Service. More than 20,000 National Park Service employees care for America's 418 national parks and work with communities across the nation to help preserve local history and create close-to-home recreational opportunities. Visit us at www.nps.gov, on Facebook www.facebook.com/nationalparkservice, Twitter www.twitter.com/natlparkservice, and YouTube www.youtube.com/nationalparkservice.
Last updated: March 11, 2019