News Release
National Park Service Announces Over $7.5 Million in Grants to Preserve African American Civil Rights Movement Sites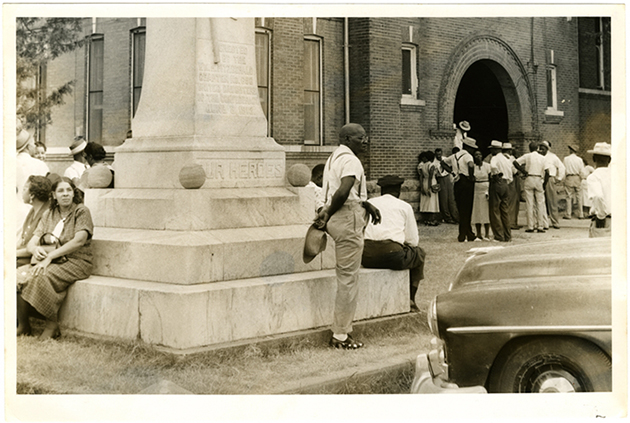 News Release Date: January 12, 2017

Contact: Jeremy Barnum, 202-208-6843
WASHINGTON – The National Park Service (NPS) today announced funding for 39 projects in over 20 states that will preserve and highlight the sites and stories associated with the Civil Rights Movement and the African American experience.
"Through the African American Civil Rights Grant Program, we're helping our public and private partners tell unique and powerful stories of the African American struggle for equality in the 20th Century," National Park Service Acting Director Michael Reynolds said.
Congress appropriated funding for the new NPS African American Civil Rights Grant Program in 2016 through the Historic Preservation Fund (HPF). The HPF uses revenue from federal oil leases on the Outer Continental Shelf to provide assistance for a broad range of preservation projects without expending tax dollars.
States, Tribes, local governments, and non-profit organizations, including Historically Black Colleges and Universities, applied for a broad range of planning, preservation, and research projects for historic sites associated with the Civil Rights Movement and the African-American experience. The competitive grant program is funding 39 projects worth $7,750,000, including surveys, documentation, interpretation, education, oral histories, planning, and bricks and mortar preservation.
Projects receiving grants include those that will educate about and preserve resources like Rosenwald Schools across the nation, Civil Rights struggles at Sixteenth Street Baptist Church in Alabama and Central High School in Arkansas, women that fought for civil rights like Modjeska Simkins in South Carolina, and figures like Oscar DePriest, Emmett Till and Martin Luther King, Jr. Statewide surveys to find stories and sites that are not well known will be funded in Michigan, Rhode Island, Ohio, Maryland, Idaho, District of Columbia, California, and New York.  
A 2008 National Park Service study, Civil Rights in America: A Framework for Identifying Significant Sites, served as the principal reference for determining the eligibility of proposed projects for the grant program.  

The projects are: 
| | | | |
| --- | --- | --- | --- |
| Preservation Projects: | Grantee | State | Award |
| Preservation, Repair and Restoration of the Historic Sixteenth Street Baptist Church | Sixteenth Street Baptist Church | Alabama | $500,000.00 |
| Preserving Brown Chapel AME from electrical, roofing and structural needs | Historic Brown Chapel AME Preservation Society Inc. | Alabama | $500,000.00 |
| Anniston Freedom Riders Monument | City of Anniston | Alabama | $496,375.00 |
| Preserving Central High - A Civil Rights Monument | City of Little Rock | Arkansas | $499,372.56 |
| Restoration of the historic West Hunter Street Baptist Church | Ralph David Abernathy III Foundation Inc. | Georgia | $451,571.15 |
| Preservation of the Oscar Stanton De Priest House National Historic Landmark | Landmarks Preservation Council of Illinois | Illinois | $250,000.00 |
| St. Mark's A.M.E. Church Rehabilitation | Saint Marks AME Church of Topeka Kansas Inc. | Kansas | $231,804.00 |
| Holy Rosary Institute Main Building Stabilization | Holy Rosary Redevelopment | Louisiana | $450,000.00 |
| Civil Rights Museum for the McDonogh 19 building | Leona Tate Foundation For Change Inc. | Louisiana | $500,000.00 |
| Hamtramck Stadium pre-development plan | City of Hamtramck | Michigan | $50,000.00 |
| Mitchell Hall Preservation and Rehabiliation | Lincoln University of Missouri | Missouri | $500,000.00 |
| Restoration of Tallahatchie Co. Courthouse first floor, to the period of significance | Emmett Till Memorial Commission of Tallahatchie County Inc. | Mississippi | $500,000.00 |
| Pauli Murray Family Home Interior Restoration  | Pauli Murray Center for History and Social Justice | North Carolina | $237,575.00 |
| Rehabilitation of the Modjeska Monteith Simkins House | Historic Columbia Foundation | South Carolina | $293,000.00 |
| Sandy Island Cultural Initiative | Coastal Carolina University | South Carolina | $104,798.06 |
| City of Memphis - Clayborn Temple Preservation Project | City Of Memphis, Div., Housing And Community Development | Tennessee | $400,000.00 |
| Third Street Bethel AME Church Rehabilitation and NR Nomination Update | Virginia Department of Historic Resources  | Virginia | $404,821.04 |
| Williams Community Resource Center | City of Danville | Virginia | $413,269.05 |
History Projects:
Grantee
State
Amount
Preserving History, Building Community:
Preservation Leadership Training at the Gaston Motel in Birmingham, Alabama
Birmingham Civil Rights Institute
Alabama
$47,003.00
City of Riverside African American Civil
Rights History
The City of Riverside
California
$50,000.00
The Rosenwald Schools Mapping Project: Enhancing Understanding of Rosenwald Schools through Web GIS and Story Maps
National Trust for Historic
Preservation in the U.S.
District of Columbia
$50,000.00
Civil Rights and Neighborhood Change in Washington DC
Smithsonian Institution
District of Columbia
$49,616.00
African American 20th Century Civil Rights Heritage Trail
District of Columbia Office of
Planning
District of Columbia
$37,000.00
Mapping Segregation in Washington DC:
The Legal Campaign to End Racially
Restrictive Covenants
Historical Society of
Washington, D.C.
District of Columbia
$50,000.00
National Register Nomination and
Interpretive/Educational Materials for
Federation Home and Tate Arms African
American Student Dormitories
City of Iowa City
Iowa
$16,052.38
Untold Stories: The African American
Civil Rights Movement in Idaho
Idaho State Historical Society
Idaho
$50,000.00
The Kentucky Civil Rights Movement
Exhibition
Kentucky Center for African American Heritage
Kentucky
$50,000.00
The New Orleans Civil Rights Movement
Oral History Project to preserve
first person testimony of the
New Orleans civil rights movement.
Kemper and Lelia Williams
Foundation Inc.
Louisiana
$23,360.00
1320 Eutaw Place: Lillie Carroll Jackson's Home for Freedom
Morgan State University
Maryland
$49,828.00
Beaches and Ballfields: Contested
Recreational Spaces and the Struggle for Civil Rights in Anne Arundel County, MD.
Lost Towns Project, Inc.
Maryland
$48,000.00
Detroit's African American Civil Rights
History 1900-1970 Survey and Multiple
Resource Nomination
Michigan Stae Housing
Development Authority 
Michigan
$49,500.00
Research, Interpret, and Preserve the Civil Rights History of Natchez and Adams County, Mississippi
Historic Natchez Foundation
Mississippi
$50,000.00
Project for the International Civil Rights
Center & Museum (Sit-In Movement, Inc.)
Sit-In Movement Inc.
North Carolina
$50,000.00
Long Island Luminaries: Untold Stories of the Civil Rights Era
Town of North Hempstead
New York
$50,000.00
Expanding and Enlivening the Archive
Through Community Curators: an Oral
History Project to archive witnesses to
social & economic justice issues of
Weeksville
Society for the Preservation of
Weeksville
New York
$50,000.00
20th Century African American Civil Rights Movement in Ohio: Evaluating and Nominating Historic Properties
Ohio Historical Society
Ohio
$50,000.00
African-American Struggle for Civil Rights in Rhode Island: The 20th Century
Rhode Island Historical Society
Rhode Island
$49,557.76
South Carolina Civil Rights Teacher Institute
University of South Carolina
South Carolina
$49,997.00
Give A Damn: Stax Records and Social
Justice
Soulsville Foundation
Tennessee
$47,500.00
About the National Park Service. More than 20,000 National Park Service employees care for America's 414 national parks and work with communities across the nation to help preserve local history and create close-to-home recreational opportunities. Visit us at www.nps.gov, on Facebook www.facebook.com/nationalparkservice, Twitter www.twitter.com/natlparkservice, and YouTube www.youtube.com/nationalparkservice.
Last updated: March 8, 2017