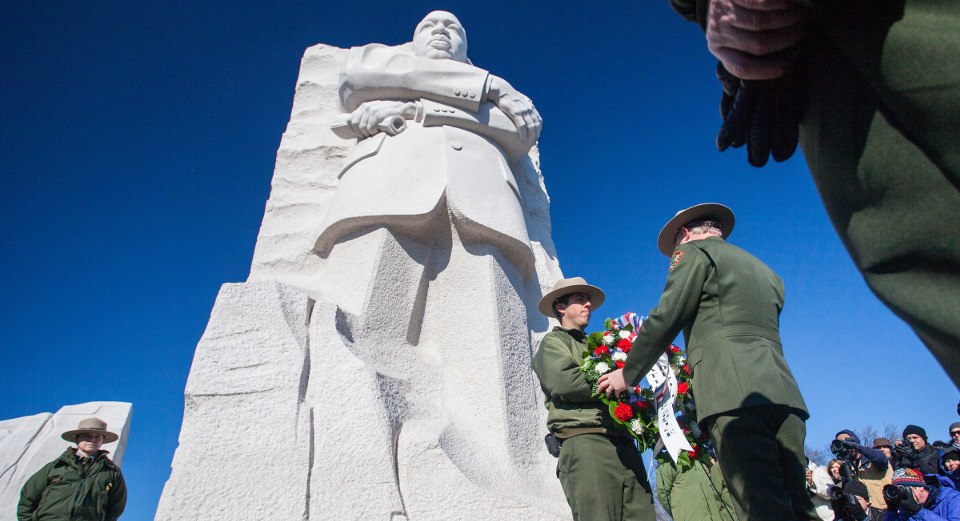 News Release Date: January 9, 2017

Contact: Kathy Kupper, 202-208-6843
All Parks to have free entrance on January 16
WASHINGTON, DC – On Martin Luther King, Jr. Day, visit a national park and see his childhood home, trace his footsteps at a civil rights site, or stand where he gave his most famous speech.  
Martin Luther King, Jr. National Historic Site, Selma to Montgomery National Historic Trail and the National Mall and Memorial Parks are just a few of the
National Park Service sites
where you can pay tribute to the life and legacy of the great leader.  
In honor of Dr. King, all national parks across the country will have free admission on Monday, January 16. It will be the first of
10 days in 2017 when national parks will waive entrance fees
for everyone.  
"On this holiday, we pause to reflect on a man who was an instrument for change, a leader in our country's fight for equality and justice for all," said acting National Park Service Director Mike Reynolds, "Often referred to as a 'day on, not a day off,' many national parks will offer special programs or host volunteer opportunities that recall his spirit."  
Hear about African American struggles and triumphs connected to Bay Area national parks at San Francisco Maritime National Historical Park. Help prepare wild indigo seeds for planting at Indiana Dunes National Lakeshore or assist in pasture restoration at Montezuma Castle National Monument. Repair coastal dunes at Point Reyes National Seashore or remove invasive plants at Fort Raleigh National Historic Site. Find more info and events at
www.nps.gov
.