Traditional Trades Advancement Program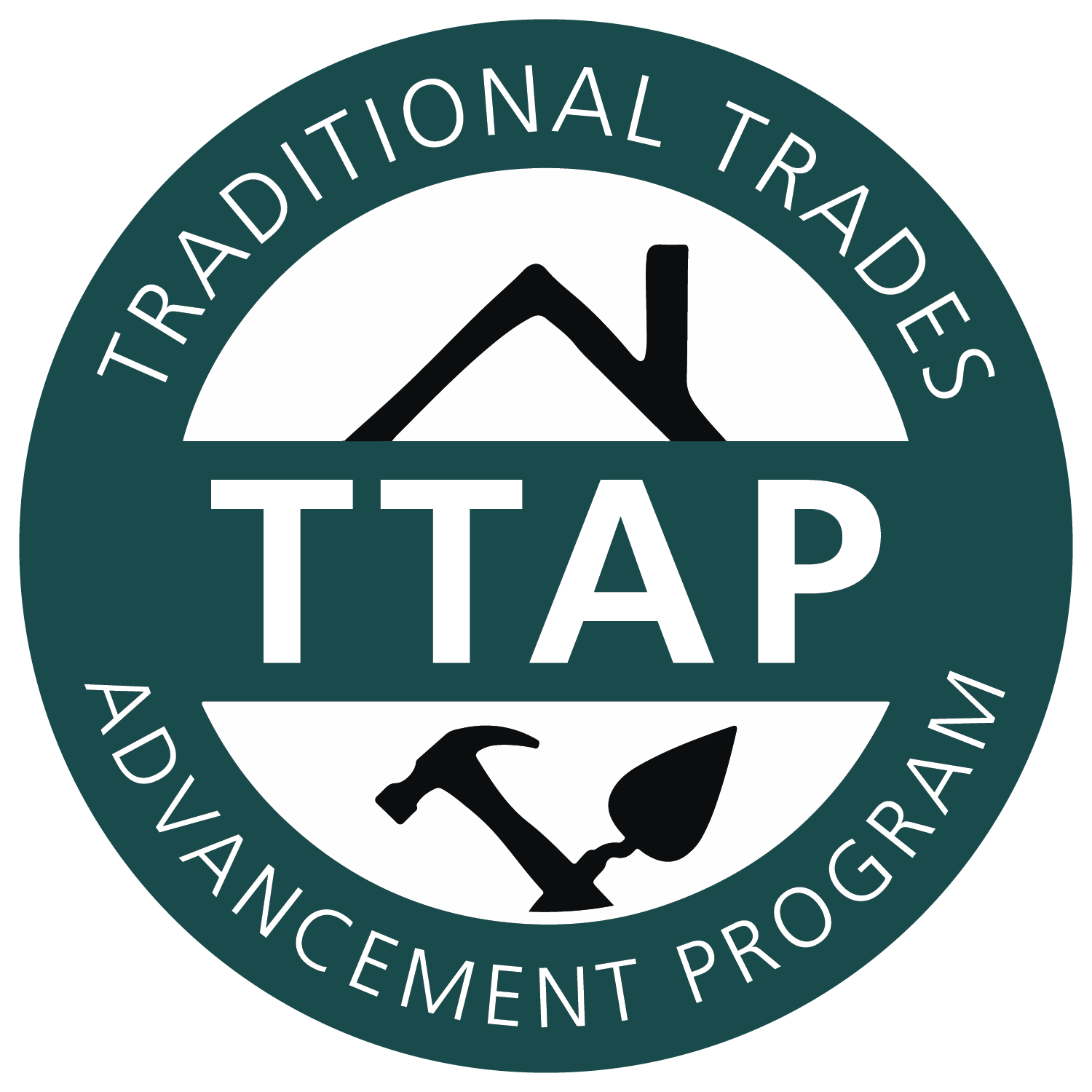 Are you interested in exploring a career where you can work with your hands? Or dream about a worksite with a jaw-dropping view and fascinating history?

If so, the Traditional Trades Advancement Program may be right for you!

Every year, the Traditional Trades Advancement Program (TTAP) places aspiring preservationists at national parks across the country to preserve cultural resources and crucial infrastructure. TTAP participants have:
repaired historic window sashes,
replaced perimeter capstones on a revolutionary era fort,
removed old mortar and pointed walls,
stabilized historic barn foundations,
waxed and treated bronze monuments,
restored historic viewsheds, and more!
The program is committed to providing all aspiring preservationists—especially those underrepresented in the trades—with an unique opportunity to work on important real-world projects while building professional experience and a life-long connection to America's national parks. This also allows experienced NPS preservation professionals the opportunity to pass on the craft skills, ensuring national park histories continue to inspire and educate the next generation.
Program Overview
Over the course of a 26-week immersive experience, TTAP participants train and work alongside experienced NPS employees to preserve cultural resources and crucial infrastructure. Participants learn the fundamentals of historic preservation and receive on-the-job training in a traditional trade, such as masonry, carpentry, monuments, and woodcrafting. You'll gain practical, hands-on experience and the foundation for a career in historic preservation.

In 2021, the TTAP program created the first Indian Youth Service Corps cohort dedicated to connecting Native American youth with historic preservation projects in national parks. For individuals who are passionate about protecting historic and cultural tribal resources, visit: Indian Youth Service Corps
Visit our keyboard shortcuts docs for details
Duration:

1 minute, 31 seconds
Youth and military veterans are invited to join the Traditional Trades Advancement Program of the National Park Service. Learn skills, work in amazing places, and preserve the history that defines us all. Video: NPS / Kristi Rugg
Who Can Apply
Youth must be between 18 and 30 years of age.
Veterans must be between 18 and 35 years of age and possess a DD214 with a discharge status of Honorable or General under Honorable Conditions.
Participants must be a U.S. citizen or U.S. permanent legal resident.
No prior experience is required to be eligible to participate in the TTAP Program.
How to Apply
TTAP positions have rolling start dates but typically begin between March and June, with a few positions starting in the later summer or fall.

TTAP positions currently accepting applications will be posted on our partner's webpage, The Campaign for Historic Trades – Opportunities.

To find a position on this webpage:
navigate to the Filters menu on the lefthand side,
under the Tags menu option, select TTAP.
Applicant's Frequently Asked Questions
Several key components set TTAP apart from other internship programs offered to veterans and young adults. First, there is a combined need to train the next generation of skilled maintenance workers on public lands and provide invaluable skills to a generation that is not always satisfied with a traditional four-year education. It is estimated that 40% of the maintenance workforce in the National Park Service are eligible to retire in the next five years. Following the successful completion of the program, participants receive Public Land Corps (PLC) hiring authority enabling them to pursue positions in federal agencies. Skills gained also translate into private sector positions in construction trades, design, and engineering.

Second, the length of the program is significantly longer than most other programs – at least 20 weeks! Learning hands-on skills takes time; weeks, months, and even decades. The elongated terms allows for more time for experience, more exposure to more tools/trades/materials, and more time to develop a sense of place and meaning within work in the NPS.
By participating in TTAP you will have the opportunity to:
Build marketable job skills
Explore national parks
Contribute to the preservation of our nation's most treasured sites
Get paid to learn and have fun!
No. You will be mentored by National Park Service employees, but officially employed by one of our youth corps partner organizations. In 2023 our partners are: American Conservation Experience, Conservation Legacy, Greening Youth Foundation, Groundwork USA, and Student Conservation Association.
Yes. TTAP members will work an average of 40 hours per week. Typically, these will be 10-hour days, Monday-Thursday, but will depend on the park site. The base pay for TTAP positions in 2023 is $18 per hour.
This 26-week program starts at the park with onboarding tasks, site orientation, and the basic work safety necessities. Early in their term, participants complete a course titled Historic Preservation Fundamentals which provides an overview of key historic preservation concepts and practices. Throughout their term, participants will gain experience working on NPS preservation projects and other projects as assigned to support the NPS mission. During their hands-on work experience, participants also receive networking opportunities and professional development training (employability, career paths, federal resume writing, etc.).
Projects vary greatly and are dependent upon the national park site where participants work. Work could include activities such as: repairing historic window sash, replacing perimeter capstones on a revolutionary fort, removing old mortar and pointing walls, stabilizing barn foundations, and waxing bronze statues, or restoring a historic viewshed.
By the end of the position participants will have the knowledge, skills, and abilities that set the foundation for a successful career in the traditional trades. Starting with the very basics, participants will be able to demonstrate safety awareness and practices in your work and the work of others.

Participants will understand the interrelatedness of the National Park Service mission and historic preservation and their connection to traditional trades. You will gain valuable trade skills and experiences used to protect and preserve national heritage and the diversity of cultures it encompasses.

Participants will find importance in their work and the pride from working hard, and as a contributing member of a team, motivating one another while accomplishing preservation projects and working at some of the most beautiful and meaningful places in the country.

Lastly, participants gain access to a network of subject matter experts, learn about future opportunities, and how to get ready for the next steps.
There is no guarantee of employment when the program is completed, but the intention of the program is to build each participant's skill set in preservation trade skills—skills that are uniquely sought after in the private and public sectors. Young adults completing the requirements of the program are eligible for Public Lands Corps (PLC) Hiring Authority due to their service on public lands.
Depending on the projects, work may be indoors or outdoors. Participants must be comfortable working outside in varying weather conditions and sometimes at heights. Participants must have a willingness to work hard and get dirty. Given the nature of the program, it is important for participants to be realistic about their capabilities and ensure they understand the expectations of the position they apply for.
TTAP is a 40 hour per week commitment for 26 weeks. It is extremely difficult to fulfill the obligations of the program and be in school or working another job.
Yes. The only automatic disqualifiers are a murder charge/conviction and registration on the National Sex Offender Registry. Participation in the program is contingent upon passing a background check as well as a name based search in the National Sex Offender Registry. Additional checks may be requested by the park, like inquiries on your driving record, if you are required to drive a government vehicle for the position. A prior criminal record could impact your selection, but it will not immediately disqualify you. If you fail to disclose any infraction (even minor ones) on your application and it shows up on your criminal background check, you can be immediately disqualified. It is better to be forthright with this information from the beginning of the application process.
For NPS employees interested in hosting a TTAP applicant, please visit our
internal Sharepoint site
. This link will not work for non-NPS employees.
Contact
Questions? Contact our team at hptc_learning@nps.gov
---
What's it like?
Hear from present and former participants in the Traditional Trades Advancement Program (formerly the Traditional Trades Apprenticeship Program).
From TTAP to NPS
A number of former TTAP participants are now full-time NPS employees! Hear from them how the program changed their lives!
Visit our keyboard shortcuts docs for details
Duration:

1 minute, 7 seconds
Heather Alexander first started working in historic preservation as a participant in the Traditional Trades Advancement Program. Since completing TTAP, Heather has joined the NPS full-time. We caught up with her to hear about the experience from her perspective.
Last updated: June 6, 2023