History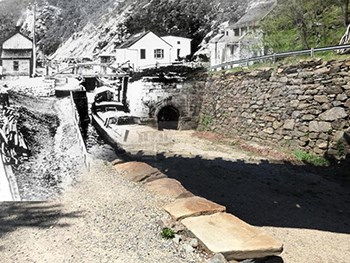 Overview
History is the study of the past through written records, oral accounts, and material objects. It allows us to constantly update and change our understandings of how we reached the present. The National Capital Region's history program documents how and why national park sites formed and how they relate to major topics in American history, such as the Civil War and Reconstruction, Civil Rights, women's history, and environmental history. Research products include administrative histories, historic resource studies, and special history studies, some of which culuminate in Narional Register nominations.
Contact
Please contact Dean Herrin, Ph.D., Regional Historian, for more information. If you need assistance from Resource Stewardship and Science (RESS), you may submit a Solution for Technical Assistance Requests (STAR) request online (NPS Only).
Projects
Historic Resource Study (HRS)
Links to the Past: A Historic Resource Study of National Park Service Golf Courses in the District of Columbia -
This HRS provides a historic overview of the National Park Service golf courses in the District of Columbia and evaluates the significance of the golf courses within their historic contexts. The report documents the connection of the golf courses to the development of urban recreation and the segregation of recreational facilities in the District of Columbia (2018).
National Register Update
Antietam National Battlefield National Register Update: Mission 66 Resources -
The National Park Service's Mission 66 program has had a lasting impact on the landscape at Antietam and the way that visitors experience the battlefield and understand its history. This National Register Update provides baseline documentation for the historic resources at Antietam National Battlefield that are associated with the Mission 66 program (2017).
Links
NCR Administrative Histories
NCR Historic Resource Studies
NCR Special History Studies
Last updated: December 18, 2020