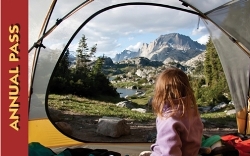 Available to everyone. Annual passes can be obtained in person at park visitor centers and entrance stations, by calling 1-888-ASK USGS (1-888-275-8747) between 8:00 am and 4:00 pm Mountain time, or from the online USGS store. This pass is non-transferable.
Annual Pass for U.S. Military - Free
This pass is available to
U.S. military members and dependents in the Army, Navy, Air Force, Marines and Coast Guard, and Reserve and National Guard members. This pass must be obtained in person at a federal recreation site by showing a Common Access Card (CAC) or Military ID (Form 1173).