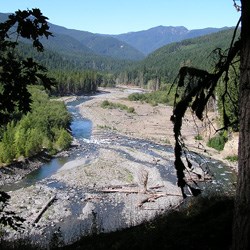 Description
Trail Conditions
Camping
Special Concerns
Safety
Park Trail Map
Humes Ranch Loop Map

Notices:
The Elwha River and its tributaries are closed to fishing.

Always check road conditions before your hike.

The Whiskey Bend may be closed

in winter or because of road damage.
Bears, cougars, and other wildlife frequent the Elwha. Practice proper food storage techniques.
Wilderness camping permits are required for overnight hikes. Permits can be obtained at the Wilderness Information Center (WIC) in Port Angeles.