Boulder Creek Trail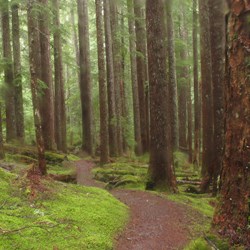 General Location: 8 miles south of Lake Sutherland.
Trailhead: Boulder Creek trailhead
Notices:
Due to significant flood damage/road washout the Elwha area is closed to vehicle access beyond the Madison Falls parking area. From that point, it is 7.9 miles to the Boulder Creek Trailhead via the temporary access trail which bypasses the road washout.

(Map)

If you are heading over Appleton Pass into the Sol Duc area, all food, garbage, and scented items must be stored in park-approved bear canisters.

The water quality of the hot springs is not monitored and may contain high levels of fecal coliform bacteria. Bathe at your own risk. Nudity is common.
Description
Ecosystem type: Montane forest
Trail tread types: Well maintained
General elevation trend: Flat
River crossings: Several small streams
Unique features: Natural hot springs.
Level of difficulty: Easy
Distance: 2.5 miles to hot springs
Elevation change: 200 feet elevation gain.
Best Season: All year. Road may be closed before trailhead in winter. Check road conditions (360) 565-3131
Camping
Permits/Reservations: For the most up to date information on obtaining a Wilderness Permit click here.
Food Storage Method: A community bear wire is available at Boulder Creek Campground.
Campsites: Boulder Creek Campground
Toilet Facilities: Pit toilets
Water Source: Boulder Creek (gather water above confluence of hot spring water and creek). Always boil, filter, or chemically treat your drinking water to prevent getting Giardia.
Stock: Allowed. See Stock Use.
Special Concerns
Leave No Trace: Practice Leave No Trace during your stay to protect the resource and vegetation. Camp in established sites.
Campfires: To protect sensitive vegetation, campfires are prohibited at Olympic Hot Springs and the Boulder Creek Campground.
Respect Wildlife: To protect raccoons, bears, and other wildlife, all food, garbage, and scented items must be secured from all wildlife 24 hours a day.
Last updated: October 21, 2022