Update on Park Roads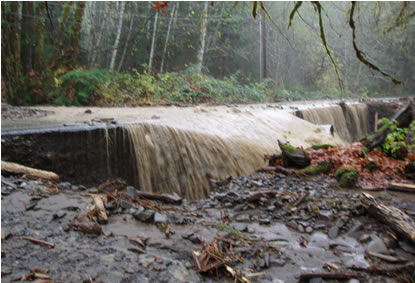 News Release Date:
November 9, 2006
Contact: Barb Maynes, 360-565-3005
Park crews continue to make progress in clearing roads and assessing damage from last weekend's heavy rains and floods. A road engineer from the Federal Highway Administration (FHWA) will work in the park this weekend to evaluate damage to park roads and explore options for making repairs and restoring vehicle access.
A summary of known damage follows:

Hoh Road – remains closed at its intersection with Highway 101, while Jefferson County and Olympic National Park continue to make damage assessments. Areas of significant damage have been found in both the county and park owned sections of road.
Significant damage occurred at Twin Creek where a 65-foot long and 25-foot deep section of road has been completely washed away. Options for restoring vehicle access will be evaluated with the FHWA engineer this weekend. Park crews are evaluating damage to the utility systems (water, electric, phone) today and will examine the remaining five-mile section of road over weekend.

Quinault North Shore Road – The east abutment of the Finley Creek Bridge was significantly damaged by floodwaters. Park crews are currently working to stabilize the compromised abutment to prevent further damage. The bridge remains closed to all traffic, as does the road east of the bridge.
Quinault South Shore Road has been cleared and is passable. Debris remains along the road shoulders and the road surface is rough; caution is advised.

North Fork Road is closed because of erosion in vicinity of the campground.
Crews are working today to remove fallen trees and gain access to the Graves Creek Road. Road damage will be assessed this weekend.
The Hurricane Ridge Road is closed today because of snow and icy conditions.
Dosewallips, Staircase and Queets Roads remain closed due to previous damage and unsafe conditions. The Deer Park Road is closed for the season.
The Elwha, Lake Crescent, Sol Duc, Mora, Ozette and Kalaloch areas are open. Visitors are urged to use caution when traveling through the park and to come prepared for a variety of weather conditions, including high winds and heavy rain which are forecast for later this week. For current road information, people should call the Olympic National Park recorded road and weather line at 360-565-3131.
Last updated: February 28, 2015