Spruce Railroad Trail Reopens in Time for Holiday Season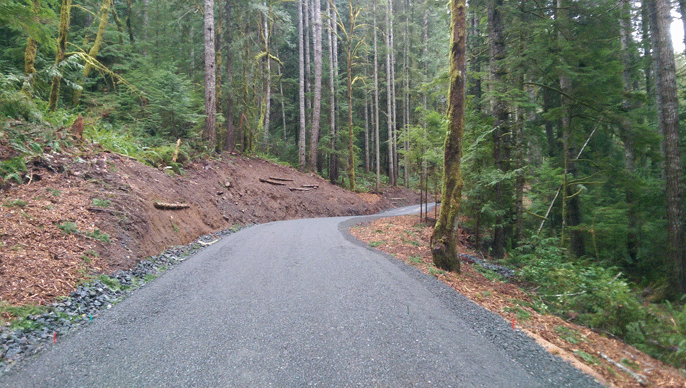 News Release Date:
December 17, 2015
Contact: Barb Maynes, 360-565-3005
The Spruce Railroad Trail (SRRT) along the north shore of Lake Crescent in Olympic National Park will reopen this weekend following a four-month closure for trail construction. The east trailhead was closed since late July to allow contractors to improve 1,800 feet of the trail for universal accessibility. The contract is now completed. Safety rails along some of the steeper slopes will be added in the coming weeks. 
The newly complete section of trail is approximately 11 feet wide with a packed gravel surface.Clallam County and Olympic National Park are jointly funding the multi-year trail improvement project. Port Angeles contractor 2 Grade LLC performed the work, while Federal Highway Administration staff provided construction management and contract oversight. 
"With completion of this year's work, nearly one half of the SRRT has been transformed into a universally accessible trail," said Olympic National Park Superintendent Sarah Creachbaum. "We are very thankful for our collaboration with Clallam County and the Federal Highway Administration, and the work of our Olympic National Park staff."
When completed, the entire 9.5 mile length of the SRRT will be a universally accessible, multipurpose trail to be shared by hikers, bicyclists, equestrians and people traveling in wheelchairs. 
The Lake Crescent, Hoh, Ozette, Mora, Kalaloch, Queets and Quinault areas are open, with short family-friendly trails available at each location. All visitors are advised to dress in layers and be prepared for rain, snow and cold temperatures when enjoying the outdoors in winter.
Weather permitting;the Hurricane Ridge Road is scheduled to be open Friday through Sundayin winter, with the exception of Christmas Day when the road will be closed. The road is scheduled to be open daily from Saturday, December 26 through January 3, 2016. All vehicles are required to carry tire chains.
Storm damage continues to prohibit access to the following park areas:
The Elwha Olympic Hot Springs Road is closed to vehicles at the park boundary due to a washout. The washout is about half a mile upriver from the boundary. The road and all areas beyond the washout are closed to all public entry because of extremely hazardous conditions along the road, river and adjacent areas.
The Graves Creek Road is closed to vehicle traffic at the intersection with the Quinault South Shore Road.
The Sol Duc Road is closed at the entrance station.
Last updated: December 17, 2015