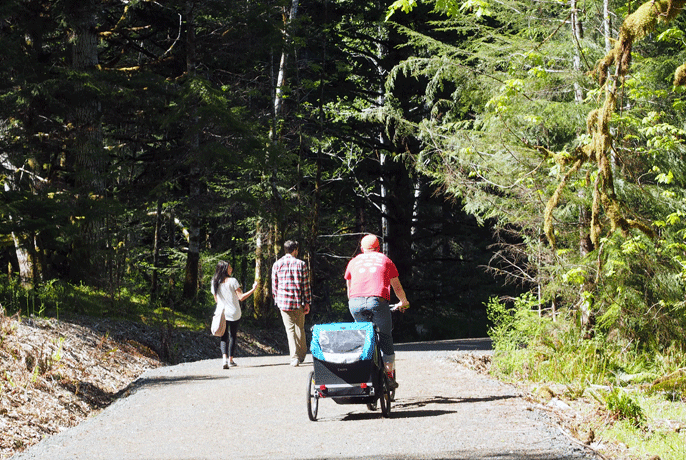 News Release Date:
July 17, 2015
Contact: Barb Maynes, 360-565-3005
Spruce Railroad Trail (SRRT) along the north shore of Lake Crescent in Olympic National Park will be closed from the Lyre River Trailhead (on the trail's east end) to approximately 0.25 miles east of Devil's Punchbowl beginning Monday, July 27. Work to improved another 1,800 feet of the trail for universal accessibility is expected to be completed by the end of October. The remainder of the trail between the Camp David Junior Road Trailhead and Devil's Punchbowl will remain open during the project.
This is the fourth phase of a multi-year collaborative project to establish the entire 9.5 mile length of the SRRT as a universally accessible, multipurpose trail to be shared by hikers, bicyclists, equestrians and people traveling in wheelchairs.
"When finished, this project will provide nearly ten miles of accessible trail along the beautiful north shore of Lake Crescent," said Olympic National Park Superintendent Sarah Creachbaum. "I deeply appreciate our collaboration with Clallam County and the Federal Highway Administration, as well as the dedicated work of our Olympic National Park staff."
This year's work will consist of improvements to 1,800 feet of trail. Work will include construction of an eight-foot wide trail with an adjacent three-foot wide gravel shoulder. Part of the trail will follow the existing trail, while another portion will be built below the existing trail in order to provide slopes and grades consistent with universal accessibility.
Clallam County and Olympic National Park are jointly funding the project and have contracted with 2 Grade LLC of Port Angeles to complete the work. Federal Highway Administration staff will provide construction management and general contract oversight. 
Construction of an accessible trail in the Lake Crescent area was addressed in both the 1998 Lake Crescent Management Plan and the 2008 Olympic National Park General Management Plan. Specific planning for current improvements to the SRRT began in 2010 when initial public input for the project was gathered by park staff. AFinding of No Significant Impact (FONSI) for the 2012 Spruce Railroad Trail Environmental Assessment was released in fall 2012.