Search in Progress for Overdue Hiker in Bailey Range of Olympic National Park
Date:
September 19, 2007
Contact:
Barb Maynes
, 360-565-3005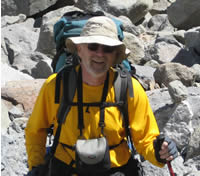 A search began yesterday in Olympic National Park for a solo hiker from Oakland, California. James Christian Strong, 60 years old, had planned a seven-day trip through the Bailey Range, a well-known off-trail route through rugged and remote terrain.
Strong is described by friends and family members as a strong and safety-conscious hiker who plans and prepares carefully for his hikes. A map and description of Strong's itinerary, which he prepared before leaving home, are providing searchers with important information about his planned route and camp sites.
Strong was last seen on Monday, September 10 when he left the Sol Duc Hot Springs Resort to begin his hike at the Sol Duc trailhead. He planned to traverse the Bailey Range and end his hike on Sunday, September 16 at the North Fork Quinault trailhead.
"We ask anyone who may have seen Mr. Strong over the past nine days to please call the park immediately at 360-565-3120," said Superintendent Bill Laitner. "Information from park visitors has proven vital in many previous searches."
Searchers today are concentrating their efforts along Strong's intended route, with four observers searching from a helicopter and approximately 15 ground searchers.
Strong was reported overdue on Sunday, September 16. Interviews with other hikers who had been in the Bailey Range last week revealed that rain and low clouds had hampered their progress, leading searchers to allow Strong another day to complete his hike before beginning a search. When he did not appear by Tuesday morning, searchers began a "hasty" search of the North Fork Quinault trail area. An expanded search effort began this morning at first light.
Photos are available below. Media outlets are encouraged to share these photos with the public, with the request that anyone who may have seen Mr. Strong since September 10, 2007 to call Olympic National Park at 360-565-3120.
Last updated: February 28, 2015