As Park Staff Prepares for Spring, Storm Damage Remains a Major Factor
Date:
March 21, 2008
Contact:
Barb Maynes
, 360-565-3005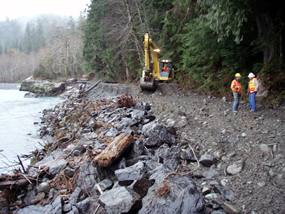 Spring has arrived and park crews continue to make progress in clearing debris and repairing damage from last fall and winter's storms.
"This was our second tough winter in a row, but I'm proud to say that our crews have done a fantastic job in getting Olympic ready for the visitor season," said Olympic National Park Acting Superintendent Sue McGill. "Thanks to our employees, volunteers and contractors, Olympic National Park will be open for spring break."
Quinault Rain Forest
The Quinault Loop Road will reopen on April 1.
Portions of the Quinault North Shore and South Shore Roads have been closed since the December 3 storm, but emergency repairs to a 750-foot long washout are nearly complete and debris is being cleared from another 150-foot long section of road.
"Restoring access to the Quinault Loop Road has been our highest priority and we're happy to be able to welcome visitors in time for spring," remarked McGill.
The Quinault Valley's North Fork Road remains closed to all public entry, including foot and bicycle access, but is scheduled to reopen on April 25. The North Fork Campground will open on May 16, after crews have finished repairs and cleanup from the storm.
The Graves Creek Road will open to foot, stock and bicycle use only on April 25. The Graves Creek campground will also open on April 25; no potable water will be available.
Floodwaters severely damaged the Graves Creek road in three locations along its six-mile length and this road will remain closed to vehicle use throughout the 2008 visitor season.
The park is developing an environmental assessment that will examine alternatives to permanently repair Graves Creek Road in order to provide more sustainable access. Options may include the design and placement of engineered log jams and bank barbs along portions of the roadway to better protect the road while protecting and improving habitat for fish.
Queets Valley
The Lower Queets Road is open seven miles to Matheny Creek, but has been closed beyond that point since 2005 due to a landslide.
An alternative access route into the Upper Queets Valley will open on April 18. This year's low elevation snows and extremely wet conditions have hampered road work and delayed this spring's opening of the upper Queets area.
The campground is scheduled to open on May 16, to allow crews time to repair damage from the December 2007 storm.
Hoh Rain Forest & Forks Information Center
The Hoh Road and campground are open. The Hoh Rain Forest Visitor Center is open according to its regular winter schedule of 10:00 a.m. – 4:00 p.m. Friday through Sunday.
The Park and Forest Information Center in Forks is also open Friday through Sunday from 10:00 a.m. – 4:00 p.m.
Coastal Destinations
Olympic's road-accessible coastal destinations (Kalaloch, Mora, Ozette) are open, including all roads, campgrounds and trailheads.
Coastal trails and wilderness travel routes have not been fully assessed, so hikers should use caution and be prepared for washouts.
Sol Duc Valley
The Sol Duc Road will open as far as the Eagle Ranger Station on Friday, March 28, 2008, but over two feet of snow are still on the ground at the campground and trailhead.
The campground will open on Friday, April 11.
Lake Crescent
All roads in the Lake Crescent area are open, as is the LaPoel Picnic Area.
The Fairholme Campground will open for the season on Friday, April 4.
Elwha Valley
All roads in the Elwha Valley are open. The Elwha Campground is open; the Altair Campground will open as scheduled on May 23, in time for the Memorial Day weekend.
Hurricane Ridge Road
Weather and road conditions permitting, the Hurricane Ridge Road is scheduled to be open Friday through Sunday through May 4. Weather permitting, the road will open daily (24 hours a day) on May 9 for the summer season.
Winter conditions can prevail even in spring however, and the road may close at any time because of heavy snow, avalanche danger or high winds. Visitors should call the park's road and weather hotline at (360) 565-3131 for current Hurricane Ridge Road conditions.
Major reconstruction will begin this spring on the Hurricane Ridge Road. The road will remain open throughout the two-year project, but visitors should expect delays of up to 20 minutes. Once construction begins, bicycles will be prohibited from using the road.
The Heart O'the Hills campground will re-open on March 28 after a four-month storm damage closure.
The Olympic National Park Visitor Center is open Thursday through Monday from 10:00 a.m. – 4:00 p.m.; the visitor center will be open daily for the summer season beginning on May 1.
Deer Park Road
The Deer Park Road is closed for the season and is scheduled to open for the summer on June 13. However, this year's snow pack at Deer Park is 166 percent of average; heavy snow and a late spring melt may lead to delayed openings for some high elevation roads, including Deer Park, Obstruction Point and the Hurricane Hill Road.
Dosewallips Road
The Dosewallips Road remains closed because of a washout outside the park boundary.
Staircase
The Staircase Road is closed for the season. It sustained major damage during the December storm, both within and outside of the park boundary. Staff from Olympic National Park continues to work closely with Olympic National Forest personnel to reopen the road in time for the summer season.
Five riverside sites in the Staircase Campground were lost to floodwaters along the North Fork Skokomish River, but the campground is expected to open for the summer season.
Park Trails & Wilderness Information Center
With over ten feet of snow at the park's higher elevations, little is known about many of the park's trail conditions. More information will be available once snow begins to melt later in the season.
Many low elevation trails are open and available and are excellent locations for finding early season wildflowers such as red-flowering current, Indian plum and yellow skunk cabbage. Hikers are urged to use caution and to be prepared for downed trees and areas of trail damage, along with changeable early spring weather conditions.
The Olympic National Park Wilderness Information Center (WIC) will be open daily from 8:00 a.m. – 4:00 p.m. beginning March 29. Visitors are urged to stop by or call the WIC at 360-565-3100 for current trail reports, spring hiking safety tips and trip planning suggestions.
Last updated: February 28, 2015