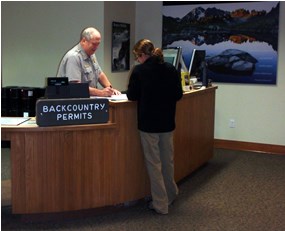 "One-Stop Shopping" at the Olympic National Park Visitor Center
Aimed at increasing efficiency and reducing costs, the Wilderness Information Center (WIC) recently moved into the Olympic National Park Visitor Center.
Thanks to the park's buildings and utilities staff, the visitor center was extensively remodeled and renovated in order to accommodate the WIC information desk and provide office space for the WIC staff.
With the WIC now housed in the visitor center, the former WIC trailer can be removed and the area revegetated. And visitors can find answers to both wilderness and "front country" questions under the same roof.