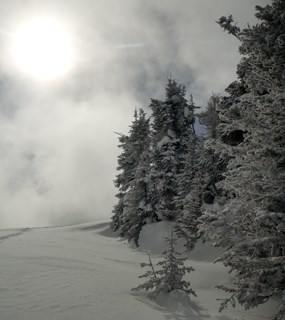 Hurricane Ridge Winter Season
From blizzard conditions to temperatures warm enough for t-shirt skiing, Hurricane Ridge weather has been a mixed bag this year.
Heavy snow, white-outs and high avalanche danger kept the road closed for eight of the 16 scheduled open days over winter break. But dryer, and sometimes warmer, weather has prevailed since then and road has been open every weekend since New Year's, giving people a chance to enjoy the warmer temperatures.
An inversion in mid-January led to Hurricane Ridge reaching temperatures as high as 57 degrees under clear skies, while Port Angeles remained cloaked in fog and over 15 degrees colder!
While a January thaw may have its good points, most winter visitors would agree that some new snow would be welcome now. Icy (and sometimes slushy) conditions have made skiing and snowshoeing more challenging in recent weeks and have led to closure of the tubing & sliding hill.
Overall, the road has been open 74% of its scheduled open days this winter. Rangers report that the safety margin created by the new tire chain requirement has allowed the road to remain open longer, even in stormy conditions. Check what's happening at Hurricane Ridge today by visiting the Hurricane Ridge current conditions page or by calling 360-565-3131.