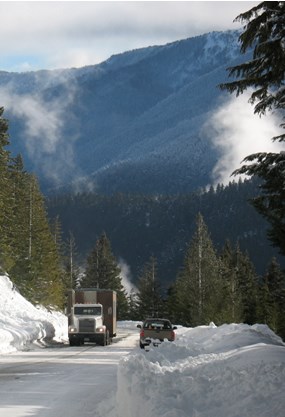 Hurricane Ridge Visitors Urged to Carpool
With limited parking at Hurricane Ridge and sunny weather predicted for at least part of this weekend, Hurricane Ridge snow-seekers are urged to carpool.
Last weekend, the Hurricane Ridge Road closed several times to uphill traffic because the parking lot was completely full. In addition to ride-sharing, drivers are asked to the best use of parking spaces by parking close to other vehicles even before the parking lot becomes crowded.
When the parking lot fills, vehicles are stopped at the Heart o'the Hills entrance station; once parking spaces become available, vehicles are once again permitted to travel to the Ridge. As these closures may sometimes last over an hour, ski school and snow shoe walk participants are urged to get an early start and carpool.
More on Hurricane Ridge in winter.