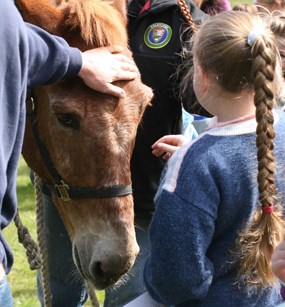 Junior Ranger Day Fun for All
Over 350 kids and adults enjoyed Junior Ranger Day this year, re-potting native plants, examining insects and plants with a microscope, playing games and taking walks with rangers and saying hello to one of the park's hard-working pack mules.
This year's Junior Ranger day was held on April 25 at the Olympic National Park Visitor Center. Over 350 children and adults took part; 130 kids received their Junior Ranger badge and certificate.
Just one week before, on April 18, 560 people volunteered to carry trash and marine debris from the park's beaches as part of the annual Washington Coast Cleanup. This event brings hundreds of community volunteers to beaches all along Washington's Pacific Coast; a total of 1,100 volunteers participated statewide this year.