Olympic Hot Springs Road in the Elwha Valley Remains Closed Due to Flood Damage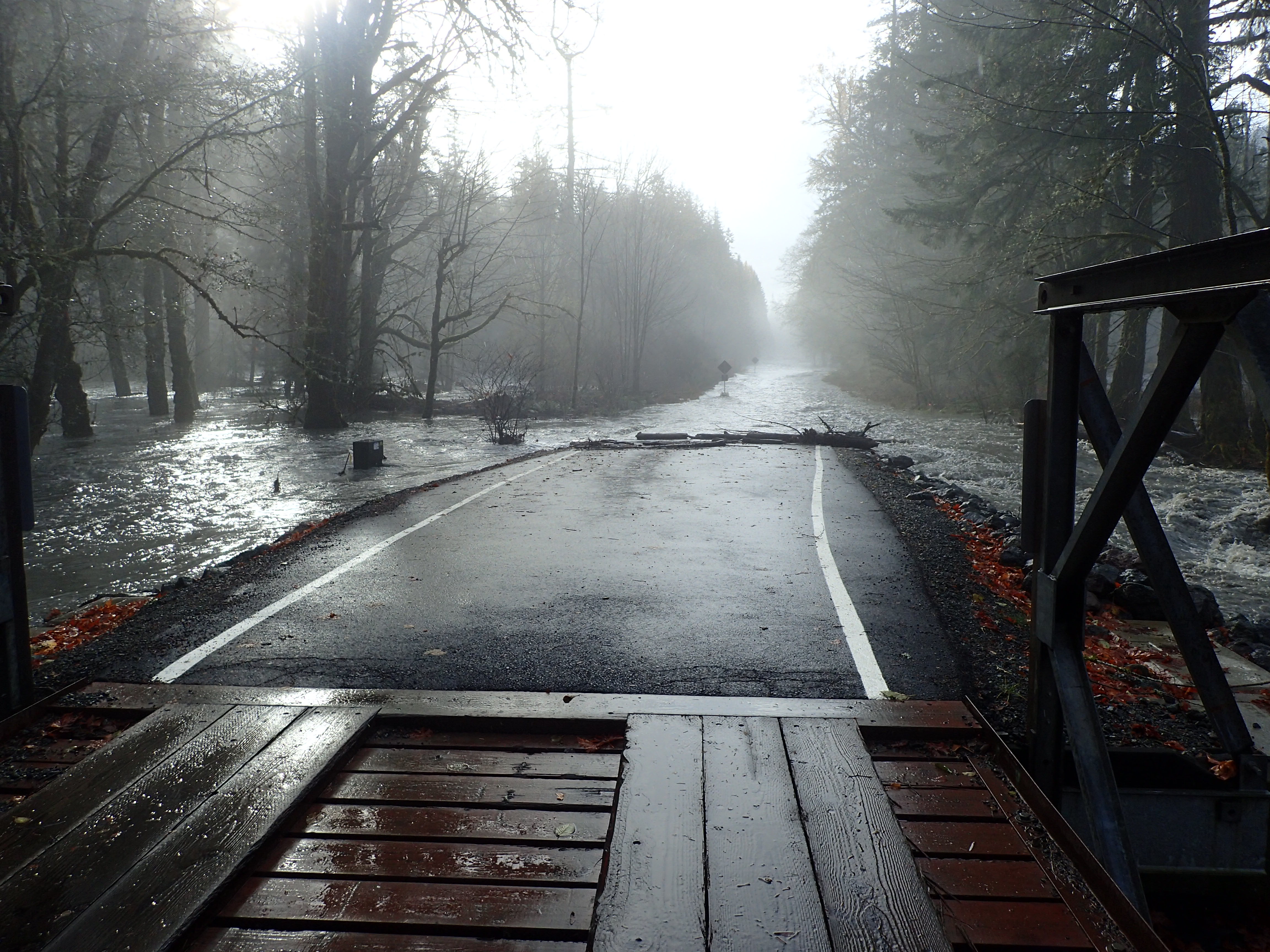 News Release Date:
November 30, 2017
Contact: Penny Wagner, 360-565-3005
Last week's storm activity, coupled with increased runoff from warm temperatures and melting snow, resulted in flooding and significant road damage that closed the Elwha Valley's Olympic Hot Springs Road. The road remains closed to vehicle traffic beyond the Madison Falls parking area.
The increasing flows, which peaked at over 18,000 cfs, caused a change in the river pattern sending substantial flow towards the road. This resulted in a breach of the road's low water crossing and additional damage to the road at the parking area near the former Elwha campground. The river continues to flow across the road. Park staff will be able to assess the full extent of the damage when the river goes down.
Over the last two years the park has worked to maintain access into the Elwha Valley through road repairs and a temporary bridge. In addition, the park started the planning process for the future of the Olympic Hot Springs Road to address long-term, sustainable access. Part of this process includes analyzing various options such as modifying the current roadway or relocating it to an area outside the floodplain. The planning process will yield alternatives, one of which will be implemented in 2020-2021.
The storm event last week also resulted in additional road closures across the park. The Upper Hoh Road was damaged by the Hoh River resulting in a washout at milepost 8 outside the park. Jefferson County public works department is currently in the process of organizing repairs. All park facilities in the Hoh Rain Forest are closed. A landslide on the Staircase Road also resulted in a closure just outside the park boundary at the Bear Gulch Picnic Area.
For current road and travel information, visitors should consult the park website at www.nps.gov/olym or call the recorded Road and Weather Hotline at 360-565-3131.
About the National Park Service.
More than 20,000 National Park Service employees care for America's 417 national parks and work with communities across the nation to help preserve local history and create close-to-home recreational opportunities. Learn more at www.nps.gov.
Last updated: December 1, 2017