Elwha Valley Pedestrian Access Route Now Available; Foot Trail Bypasses Washout on Olympic Hot Springs Road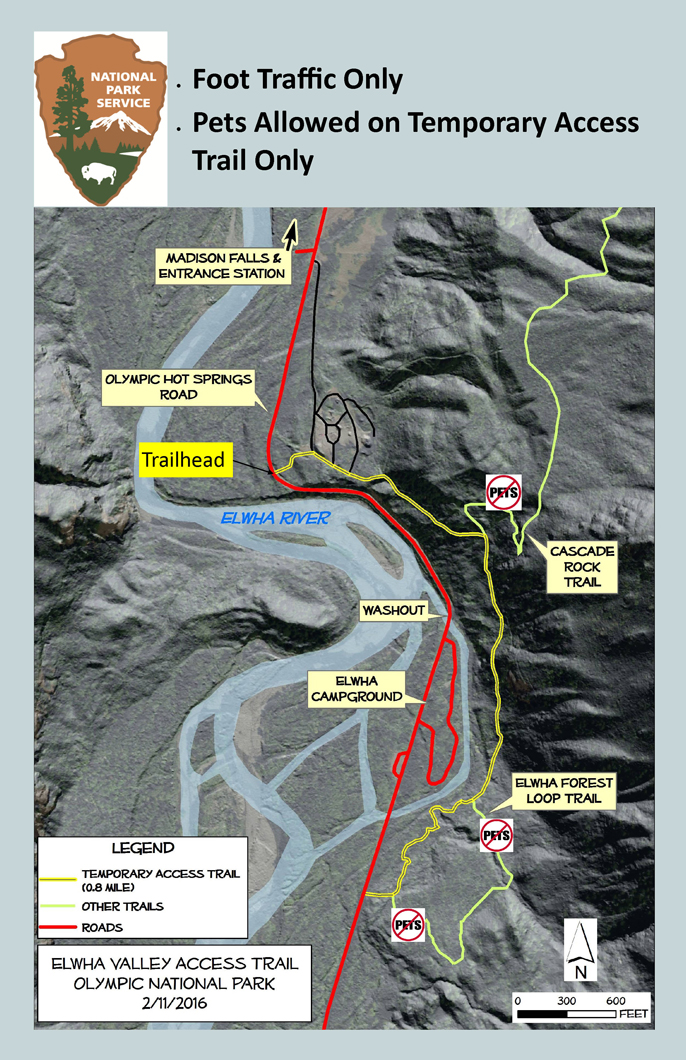 News Release Date:
February 20, 2016
Contact: Barb Maynes, 360-565-3005
Olympic National Park crews have completed a temporary foot trail into the Elwha Valley. The trail bypasses the washout on Olympic Hot Springs Road and provides an interim pedestrian access route into the valley.
Pets are permitted on the temporary Elwha Access Trail, as well as on roads and parking lots within Olympic National Park. Pets are not allowed on any other trails in the Elwha Valley, including trails that adjoin the Elwha Access Trail. Bicycles are permitted on roads within Olympic National Park and are not allowed on park trails.
"We urge people to use extra caution throughout the Elwha Valley," said Olympic National Park Superintendent Sarah Creachbaum. "Flood damage exists in a number of areas, and conditions are muddy and can be slippery in many areas, including on the temporary trail."
Design work to restore vehicle access to the Elwha Valley is ongoing;park staff hopes to have the Olympic Hot Springs Road re-open in time for the summer season.
All trails in the Elwha Valley are open, but both campgrounds are closed indefinitely. Overnight wilderness use permits are available for self-registration at the bulletin board in front of the Elwha Ranger Station. Park entrance fees may also be paid there.
For more information about visiting Olympic National Park, people should visit https://www.nps.gov/olym.
Last updated: February 20, 2016