Twenty-one Tons of Discarded Tires Removed from Hurricane Ridge, Thanks to Partnership with U.S. Coast Guard and State of Washington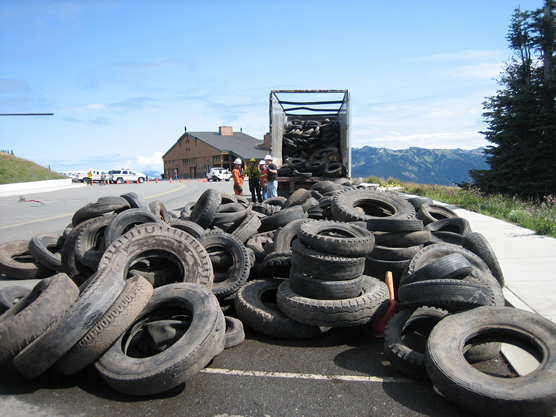 News Release Date:
September 6, 2008
Contact: Barb Maynes, 360-565-3005
Over 21 tons of old tires were removed from Hurricane Ridge earlier this week, thanks to a creative partnership between the U.S. Coast Guard, the Washington State Department of Ecology (DOE) and Olympic National Park.
The tires were placed at the lower end of the ski area Poma lift in the early 1980s to help contour the slope for skiers trying to get onto the lift. The tires are no longer needed for this purpose and were earmarked for removal last year.
During the three-day removal operation, ten crewmembers from Coast Guard Cutter Active (based in Port Angeles, but currently in dry dock) broke apart the pile and then prepared and packaged the tires so they could be airlifted to the Hurricane Ridge parking lot. Once there, the 500-plus tires were loaded into a DOE-supplied truck for transport to a recycling facility.
"We are extremely grateful to crewmembers of the Active for their hard work in getting these tires off the ridge – we simply couldn't have done it without them," said Superintendent Karen Gustin. "Our thanks also go to the Washington State Department of Ecology for their help in recycling the tires."
Tires are known to generate hazardous byproducts that can leach into surrounding soil and water. Removal of the tire pile eliminates this risk, and improves the view for summer visitors to Hurricane Ridge.
"We were more than happy to provide assistance and help improve the environment that we all share here in Port Angeles," said Coast Guard Cutter Active's Commanding Officer, Sean Burke. "For many of our crew members, Hurricane Ridge is something special that we all take time to enjoy."
In addition to the Active crewmembers, ten National Park Service employees took part in the project.
While the Active has been undergoing a major overhaul since this past spring, many crew members have assisted the Olympic National Park staff. In addition to this recent project, they have helped prepare and open park campgrounds and facilities by repairing storm damage and removing debris and trash.
The Active is a 210-foot cutter that conducts counter-drug, living marine resource, alien migrant interdiction, and homeland security missions. With a crew of 75, the ship performs its missions from the Pacific Northwest to the South Pacific Ocean, routinely underway for 185 days per year.
Last updated: February 28, 2015