Fisher Reintroduction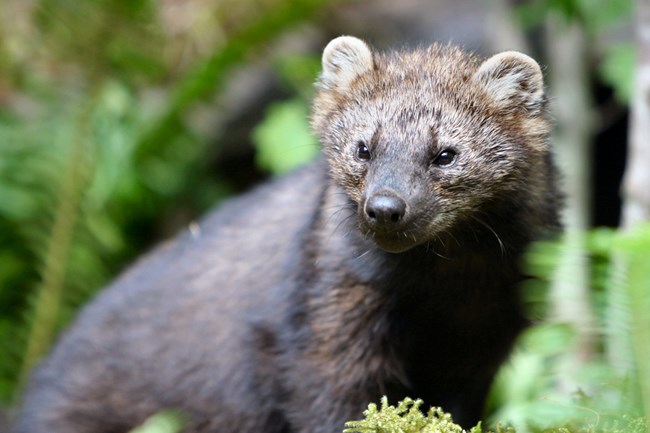 Welcome back, fishers!
On a wintry morning, January 27, 2008, twelve fishers from British Columbia bounded out of their transport boxes into remote sites within Olympic National Park. This historic event marked the first step toward restoring the small, reclusive mammals to the forests of Olympic National Park and Washington State. Over the next three years an additional 78 animals were introduced to the park.
Fishers in Washington
The fisher (Pekania
pennanti
) is a is a member of the weasel family, about the size of a large house cat. They are native to Washington, including the Olympic Peninsula. Their dark, thick fur made them attractive to trappers, and by the early 20th century, decades of over-trapping led to their decline and eventual disappearance from the state. As mesopredators--carnivores who are eaten by other predators--fishers prey on species like snowshoe hares and mountain beavers while providing a food source for other carnivores.
Fishers don't fish! Instead, they eat rabbits, rodents, and birds – and are one of the few animals that prey upon porcupines. The first European settlers called them fishers because they resembled the European polecat, known as the "fichet" in French.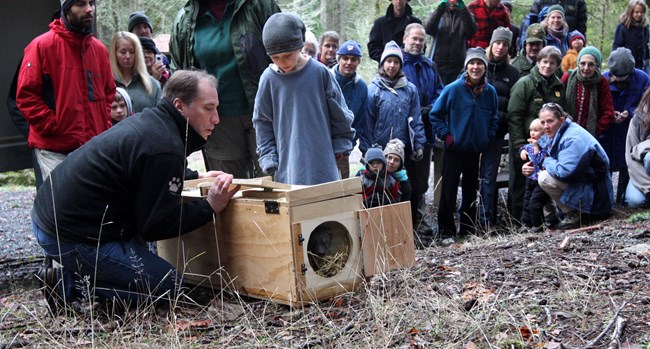 Reintroduction
A dedicated alliance of federal and state agencies, tribes and nonprofit organizations led the way to the fisher restoration project. Through years of study, biologists determined that Olympic National Park would serve as an optimal restoration site. Since their reintroduction in 2008-2010, fishers have dispersed widely throughout the Peninsula, and successfully established home ranges in both managed and wilderness forests.
Where did they come from?
The fishers introduced to the national park came from British Columbia. The National Park Service and Washington Department of Fish and Wildlife (WDFW) worked together with the British Columbia Ministry of Environment and Canadian trappers to obtain the fishers. Nineteen trappers in total were involved in the program. A veterinarian from the British Columbia Ministry of Environment assessed each trapped fisher before handing them over to the American fisher team. During trapping seasons in 2008, 2009, and 2010, trappers live-trapped fishers and transferred them to the fisher reintroduction team to drive to Port Angeles. In all, ninety fishers were trapped in British Columbia and released into Olymic National Park.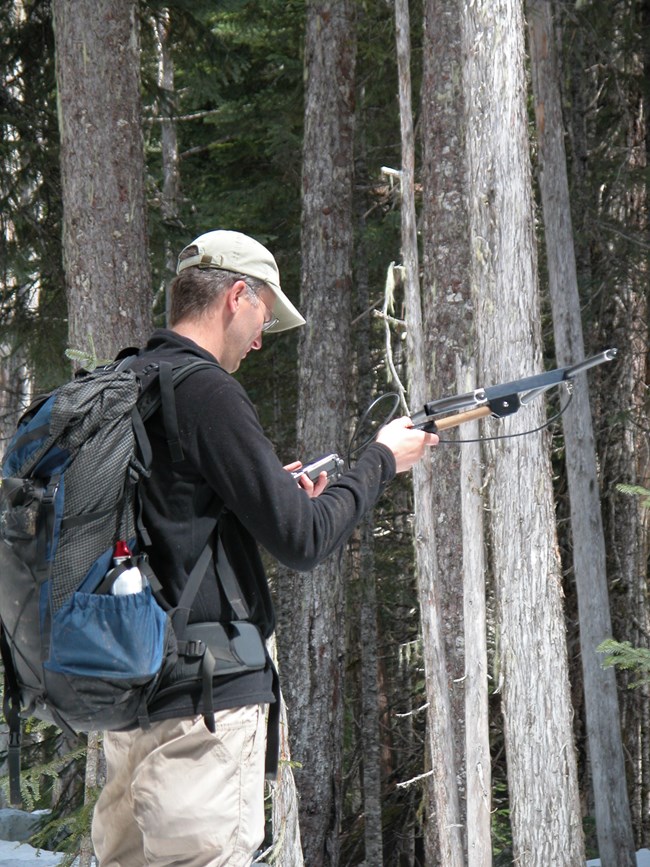 Monitoring
Scientists have been monitoring the fisher population on the Olympic Peninsula using a variety of methods, including aerial and on-the-ground telemetry, wildlife cameras, and hair snare stations. Goals of monitoring the Peninsula's fisher population are to determine which habitats and areas of the Peninsula the fishers are occupying, and to see if the fisher population is sustainable--namely, if the fishers are successfully reproducing. Scientists continue to monitor the Peninsula's fisher population.
Off the grid
Many of the fishers released between 2008 and 2010 either shed their collars, the batteries ran out of juice, or the antennae broke. By the end of 2011, only two fishers were actively being tracked and known to be alive. As a result, in order to evaluate if there were any fishers left, and if the reintroduction was a success, biologists began to use baited stationary wildlife cameras to track the fishers, instead. The use of wildlife cameras, in conjunction with hair snare stations, continues today. Studies between 2013 and 2016 found ten of the founding fishers still alive, along with several generations of their children and grandchildren!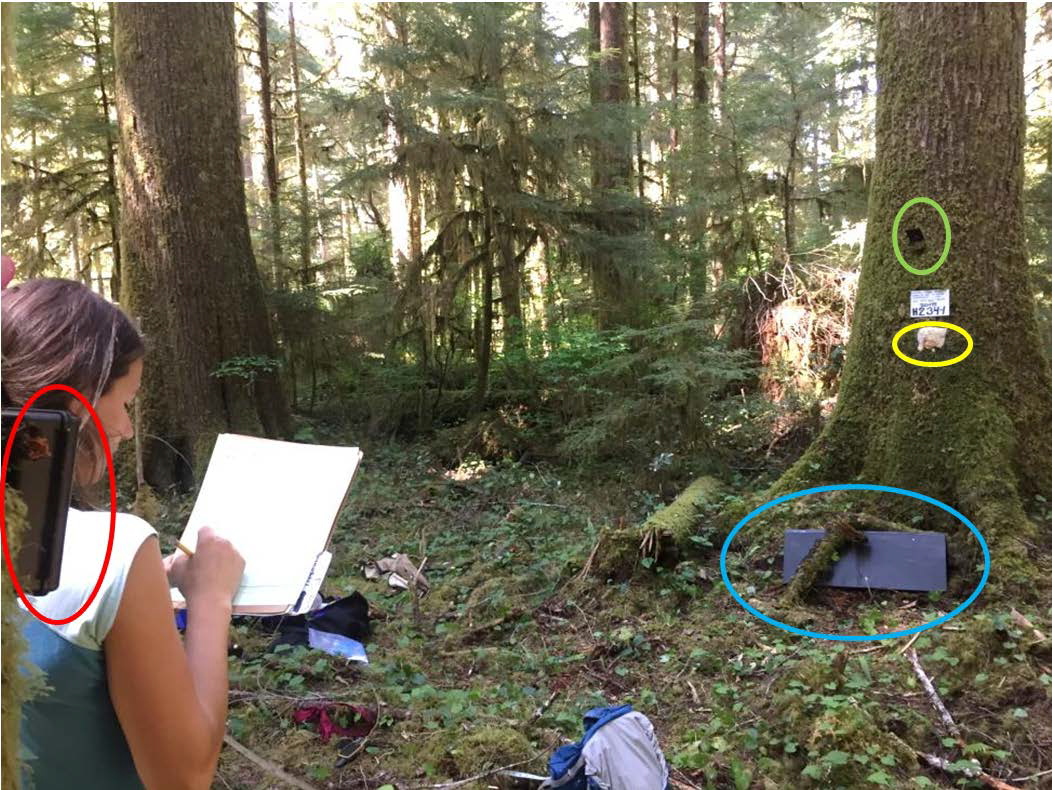 Spotted!
Each station looks like this one, with a baited motion-sensing camera and a hair snare device. The camera points at a tree that has been baited with chicken and a special scent called "Gusto" (which smells like skunk to humans, but must smell pretty yummy to the fishers!). Beside the tree, biologists place a triangular cubby box with a chicken leg hanging in the middle. As the fisher – or another curious critter – walks into the box, their fur snags on brushes that have been placed inside the cubby. This fur is later collected by the technicians and sent to a lab for DNA analysis. The fishers' DNA is like an autobiography, it identifies the individual fisher, and also provides information about its gender and lineage.
Get to know the fishers of Olympic National Park!
Fishers were not the only animals caught on camera, however. More than 40 other species of wildlife have been photographed at these stations, including the elusive cougar. Look at these other critters that were caught on candid camera.
(Gallery coming soon)
Also, check out our
interactive map
to learn more about what animals were found, and where.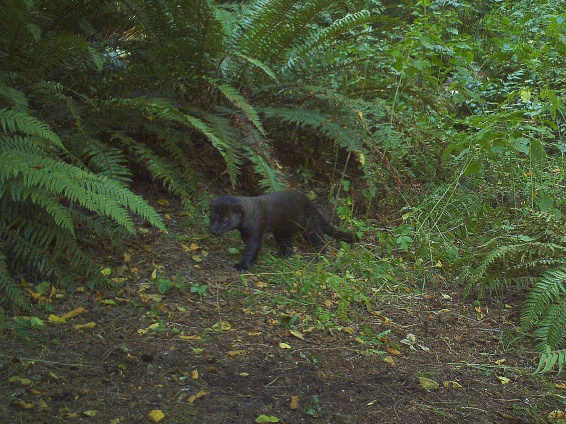 Share Your Stories
You can help with the fisher reintroduction! In September 2014, a peninsula resident sent a picture of a fisher from their personal backyard game camera to Olympic National Park's wildlife biologist. With landowner permission, the fisher team set up a station in their backyard, verified the fisher's presence, and collected hair for DNA analysis.
Have you seen fishers around the peninsula?
Share your photos and stories with us!
Fishers in Our Own Back Yard
Port Angeles residents, you have an opportunity to help the fishers and other local wildlife. If your backyard has vegetation that provides adequate habitat, you could be providing a habitat corridor along which a fisher (like 0301-M, pictured above) could travel. Habitat corridors, or uninterrupted strips of viable habitat, are essential for lots of animals. Even if there are millions of acres of land on the Olympic Peninsula, if they are not connected, animals will only have small islands of land on which to live.
Another factor to think about in providing a viable habitat is the toxins you are introducing into your environment, and what animals could be affected by them. For instance, one fisher was found dead along Highway 101. The necropsy revealed that it had elevated levels of brodifacoum, a common pesticide that is most often used for rodent control. Though targeted toward rodents, wildlife can come in contact with them in the form of baits, or even direct, malicious intent. When deciding what chemicals you use on your property, think about how wildlife may be affected, and if there are safer alternatives.
Slow Down!
Perhaps the easiest way for park visitors and local residents to assist the fisher reintroduction is to slow down, especially while driving at night. There are many reasons for a fisher to not survive in the wild, and mitigating the additional risk that comes with having a highway surrounding the national park would go a long way to helping the fisher population recover on the Olympic Peninsula. Humans were responsible for the fishers disappearing from Washington in the first place, but our generation has the unique privilege to be a part of the solution!
Friends of the Fishers
A project as ambitious as the Olympic Fisher Reintroduction Project would not be possible without lots of help. The reintroduction was jointly managed by Washington Department of Fish and Wildlife and Olympic National Park. The U.S. Geological Survey, Olympic National Park, and Washington Department of Fish and Wildlife are leading the research program, including monitoring, to evaluate the success of the reintroduction.

Many other partners and cooperators are providing financial or logistical support for management and research tasks, and are actively participating in the project in the field. We would like to thank: National Park Service Natural Resource Preservation Program (NRPP), the U.S. Fish and Wildlife Service (USFWS) Recovery Program, Olympic National Forest (ONF), Lower Elwha Klallam Tribe, Makah Tribe, Point-no-Point Treaty Council, Quileute Tribe, Skokomish Tribe, Quinault Nation, Washington Department of Natural Resources (WDNR), and Jefferson Land Trust.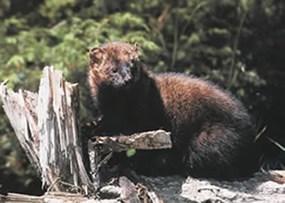 More Information about Fishers and Fisher Reintroduction

Fishers in Washington Website
Hosted by Washington Department of Fish & Wildlife, this site has photos, video and frequent updates about Washington state fisher reintroduction efforts.

Fisher Reintroduction at Mount Rainier National Park
For the latest information on the fisher reintroduction efforts in the Cascades, visit this webpage hosted on Mount Rainier's website.
Publications
Evaluation of Fisher (Pekania pennanti) Restoration in Olympic National Park and the Olympic Recovery Area: 2015 Annual Progress Report Happe, P.J., K.J. Jenkins, T.J. Kay, K. Pilgrim, M.K. Schwartz, J.C. Lewis, and K.B. Aubry. 2016. Natural Resources Report NPS/OLYM/NRDS - 2016/1274. National Park Service, Fort Collins, Colorado
Evaluation of Fisher (Pekania pennanti) Restoration in Olympic National Park and the Olympic Recovery Area: 2014 Annual Progress Report Happe, P.J., K.J. Jenkins, T.J. Kay, K. Pilgrim, M.K. Schwartz, J.C. Lewis, and K.B. Aubry. 2015. Natural Resources Data Series NPS/OLYM/NRDS - 2015/804. National Park Service, Fort Collins, Colorado
Evaluation of Fisher Restoration in Olympic National Park and the Olympic Recovery Area: 2013 Annual Progress Report. Happe, P.J., K.J. Jenkins, M.K. Schwartz, F.C. Lewis, K.B. Aubry. 2014. U.S. Geological Survey, Reston, Virginia.
Last updated: September 8, 2022