Floating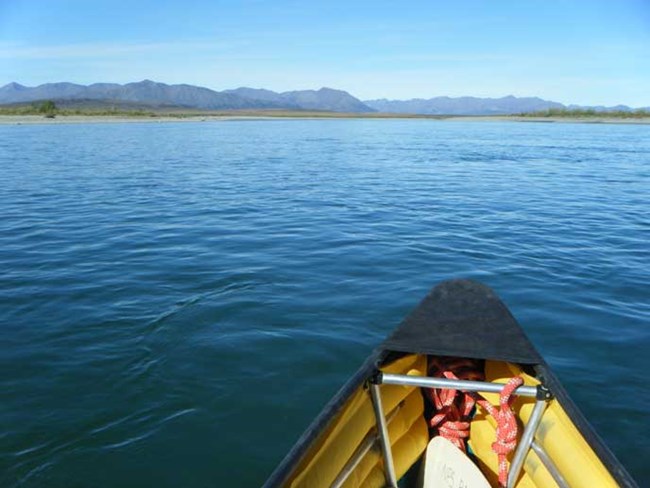 How
Planning is essential for a rewarding trip. Getting started will require several flights, starting from your home to Kotzebue or Bettles, Alaska. All flights into Gates and Noatak NP that charge a fee for service require a business permit from the National Park Service. Be sure the flight service you are using can legally operate in either park unit. A list of permitted operators is available from National Park Service offices in Kotzebue or Bettles. Once on the river, you can float for a couple of days or several weeks. Allow extra days in case of bad weather, smoke or flight delays. Extra food and warm clothing are "must haves." Put in and take out locations can be arranged with your flight service. Group size for float trips is limited to 12 people and US Coast Guard regulations require every person in a boat to have a personal flotation device. It is always good to leave an itinerary of your trip plans with someone before you leave. Check with a ranger in Kotzebue or Bettles prior to your departure for the latest weather forecast and information. Guided float trips are available. Check with the National Park Service for a list of permitted guides. The Noatak River is bear country. All food and scented items must be stored in animal resistant containers. Rangers in Bettles or Kotzebue have containers to loan. Park staff urge travelers to practice Leave No Trace skills to maintain the pristine and wild nature of this vast wilderness area. Remember: Travelers need to be totally self-sufficient. There are no means of communications out there and your safety is your responsibility.
What
The headwaters of the Noatak River are in Gates of the Arctic National Park and Preserve (Gates) and flow 400 miles to its mouth in Kotzebue Sound on the Chukchi Sea. The rugged mountain walls of the Brooks Range enclose the portion of the river that is within Gates. Once the river flows into Noatak National Preserve (Noatak NP), the landscape opens up to vast tundra plains and long vistas. Water levels can change dramatically depending on time of year, weather and specific location on the river. There are a few sections within Gates that contain whitewater approaching class II+. The rest of the river is class I to II. At the headwaters, the river is up to 30 feet wide and anywhere from ankle to waist deep. As it flows west, the river gains water from its many tributaries and becomes much deeper and wider.
Where
The Noatak River crosses lands managed by Gates, Noatak NP and Alaska State lands. The majority of float trips on the river take place in Gates from the area of Twelve Mile Creek to Lake Matcherak. Some trips extend further down stream ending in Noatak or Kotzebue, AK. The village of Noatak is the only location of permanent human habitation, approximately 350 miles downstream from the headwaters. Be aware that high winds can make crossing Kotzebue Sound hazardous. The braided channels from Noatak to Kotzebue are also difficult to navigate. Regularly scheduled air service to Noatak makes this a convenient place to take out on the lower end of the river.
When
Most people do not start floating the Noatak River before June since the river can still be frozen solid. Floating season is generally between July and September with a majority of folks floating in July and August. June and July is mosquito season. August can bring nice weather with high temperatures of 70 to 80 degrees Fahrenheit. September frequently has freezing temperatures at night. Anytime of year the wind can blow you up river. Be prepared for rain or snow -even in July!
Last updated: February 10, 2016