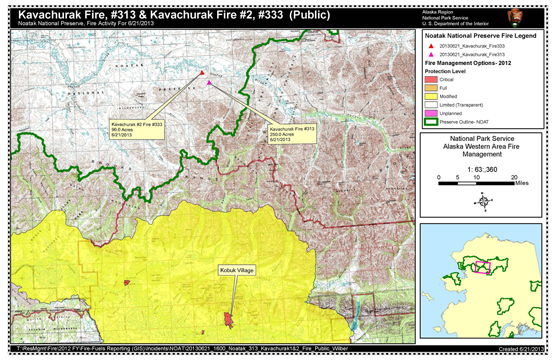 News Release Date:
June 21, 2013
Contact: Linda Jeschke, 907-442-3890
Kotzebue: Lightning ignited multiple wildfires in Noatak NP. Two fires were spotted by an Alaska Fire Service (AFS) detection flight June 20 in the evening. The Kavachurak Fire is 250 acres roughly 68 miles north of Kobuk village. The fire was 30 percent active with one foot flame lengths burning in tundra. The Kavachurak #2 Fire is a 90-acre wildfire roughly 65 miles north of Kobuk. The fire was 10 percent active smoldering, creeping and backing in the tundra. These fires do not threaten any structures, natural or cultural resources at this time.
The weather is predicted to be cooler this weekend with lighting accompanied by precipitation. Next week temperatures will likely be hot and dry for much of the state. Given the predictions, interagency fire managers anticipate more lightning-ignited wildfires.
National Park Service and AFS fire staff will allow the fires to take their natural course. AFS will monitor them by mapping them from the air and documenting fire behavior.
Fire in the far north is a natural process. After fire, cotton grass and willow re-sprout and are beneficial to small mammals and grazing animals. Animals adapted to the artic have coexisted with fire for thousands of years.
Visit www.nps.gov/noat/parkmgmt/currentfireinfo.htm for current fire information, maps and photos. Information will also be shared on the Noatak NP social media site https://twitter.com/NoatakNPS