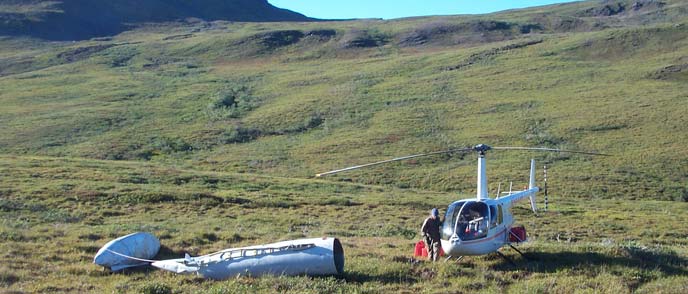 News Release Date:
October 25, 2012
Contact: Dan Stevenson, (907) 442-8306
Parkland Cleanup Nets 6 Tons of Debris

An unusual litter removal project wrapped up this summer in two National Park Service areas in Northwest Alaska.

For the past five years, park rangers have used a helicopter to haul out fuel pods jettisoned by military jets which trained over the western Brooks Range in the 1970s. Twenty-five fuel tanks, weighing a total of 12,000 pounds, have been removed from the parks.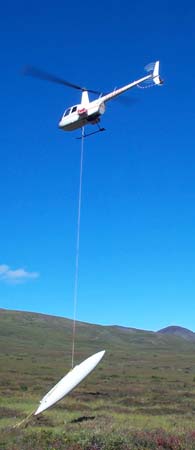 "Each summer we would work with Quicksilver Air out of Fairbanks for a couple of weeks, and they would sling out four to six fuel pods from the remote backcountry of Noatak National Preserve and Kobuk Valley National Park," said Western Arctic Parklands Chief Ranger Dan Stevenson. The pods would then be staged at a ranger station or a village until they could eventually be moved to Anchorage for recycling. "These were pretty well traveled fuel pods by the time we were done with them," he quipped.

The fuel pods, most of which are believed to have come from F4 Phantom fighter jets, were made of high grade aircraft aluminum, and measured about 15 feet long and four feet in diameter. The units weighed about 450 pounds each.

In addition to the pods, the National Park Service was able to haul out other heavy litter from the backcountry, including a dozen 55-gallon drums, six long-abandoned snowmachines and four-wheeler frames that were moldering away in wetlands, Stevenson said.

Bering Air and Lynden Air Cargo donated aircraft space to haul the fuel pods from villages to Kotzebue and on to Anchorage.

"We hope this project sets a good example about how society's respect for the land and wild places has changed over the last few decades," said Stevenson. Noatak National Preserve and Kobuk Valley National Park together encompass more than 8 million acres in Northwest Alaska. They are extensively used by local, rural residents for subsistence hunting and fishing, and offer a remote and largely pristine recreational experience for visitors. Stevenson said additional fuel pods and snowmachine hulks have been found in the parks and will be removed in the future.

More information on the park areas is available at www.nps.gov/alaska.