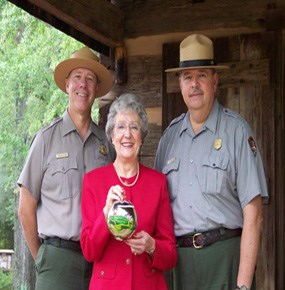 (Ninety Six, SC) – The National Parks have been keeping a secret. It was marked "Do not open until the Holidays," but now the Parks can reveal the surprise.
First Lady Laura Bush announced Thursday, November 29 that the White House Holiday theme for this year is "Holiday in the National Parks." Ninety Six National Historic Site is represented on an ornament that is decorating the official White House Christmas tree in the Blue Room. The ornament is among 347 hand created ornaments that represent the National Parks. National Park Service Director Mary A. Bomar wrote "Having our parks featured on the White House ornaments is a special holiday gift to the NPS team, our partners and all those who love our parks. While the White House will glisten this year with images of our national parks, our nation can boast of these special places 365 days a year. This season the White House helps remind all Americans that we are fortunate to have these places, and encourages us to visit and support our national parks."
Local artist Nancy Hofsommer created the ornament and attended a special White House reception last week. The Arts Council of Greenwood worked with the Park on this special project. In recognition of this unique holiday opportunity, Ninety Six National Historic Site will be having a reception for the artist on Wednesday, December 12 from 2:00 to 4:00 pm at the Black Swan Tavern. Light refreshments will be provided. Come and meet the artist and learn how she created this special ornament, which features the 1781 Star Fort, rifle tower, Patriot & Loyalist soldiers, and natural aspects of the Park.
The event is free and visitors are invited to spend an hour or spend the day. Ninety Six National Historic Site is part of the National Park Service and one of only seven National Park units within the state. The Park is open daily 8:00 am to 5:00 pm (closed only New Years' Day, Thanksgiving Day, and Christmas Day). The Park is located two miles south of Ninety Six on SC Highway 248. Contact the park for details at (864) 543-4068 or visit the park's website at www.nps.gov/nisi.
For more information, visit:
"Holiday in the National Parks" Celebrated at the White House
Updated: December 4, 2007