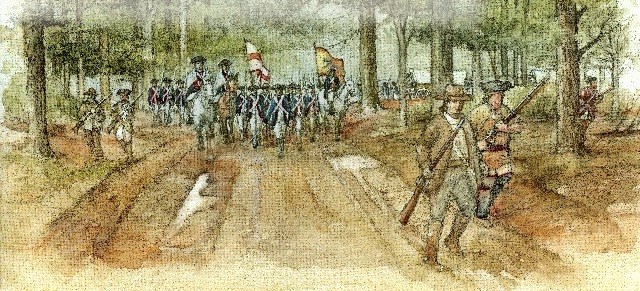 General Nathanael Greene and his force entered South Carolina in hopes of securing British outposts and forts like Ninety Six. Early Morning on May 22, 1781, approximately 1,000 Continental Army troops from Maryland, Delaware and Virginia, and North Carolina Militia reached Ninety Six. The ultimate goal was to sever Loyalist access to water, food, reinforcements and assume control of the area.
While establishing the American camp nearby, Greene trusted the guidance of his Chief Engineer, Colonel Thaddeus Kosciuszko who suggested concentrating on winning the Star Fort by laying siege to it. It was the heart of the British defense at Ninety Six; once the Americans weakened the defenses of the Star, the other fortifications would crumble.
The longest field siege of the American Revolution began. American soldiers and slaves immediately began work entrenching only 70 yards away from the Star Fort. It was much too close for comfort and Greene decided the first parallel would be set farther back. On May 28th, the American troops began digging the present first parallel. In five days the first parallel was complete. Soldiers then dug zigzag-zap approach trenches.
Approach trenches, called saps, connected one parallel to the next. These angled ditches allowed troops to move toward the fort without taking direct fire from the enemy. Sappers, or laborers who dug the trenches, broke through the hard red soil sometimes with only candlelight to guide them. Dangerous musket volleys often cost them their lives.