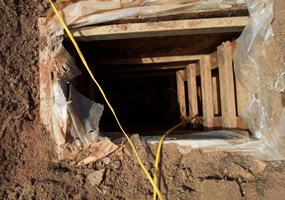 Date: April 20, 2004
The Revolutionary War mine at Ninety Six National Historic Site is one of a kind. It was built in June of 1781 during the Patriot siege of the Loyalist held Star Fort. Thaddeus Kosciuszko, the Patriot Chief Engineer, laid out the plans for the mine. The plan was for the Patriots to dig a mine underneath the Star Fort, pack it with gunpowder, and blow it up, thus opening a way for the Patriots to attack the Star Fort. The siege ended before the mine was ever used. The mine still exists, but is closed to better preserve it.
The mine was recently opened when David Ek, Chief of Science and Resource Management of the Chattahoochee River National Recreational Area, used Global Positioning Systems (GPS) to determine depth, height, and the contours of the mine. It is hoped that with better understanding of the mine and its features the National Park Service will be able to better preserve the mine and allow visitors to somehow view the mine.