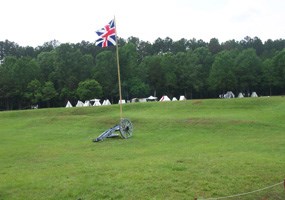 Date: June 19, 2006
June 17 & 18, 2006 will mark the end of Ninety Six National Historic Site's 225th Anniversary Celebration. The events coincide with the end of the 28 day siege which lasted from May 22 until the Battle for Star Fort on June 18, 1781. For 28 days Patriot soldiers under General Nathaniel Greene dug trenches and fought their way closer to the Loyalist held Star Fort. Colonel "Light Horse" Harry Lee and General Andrew Pickens did the same to try and take the Loyalist held Stockade Fort.
On June 18, 1781, the siege came to end with two simultaneous battles. The battle at the Stockade Fort ended with its capture, but the battle at Star Fort cost the Patriots 30 killed and 10 wounded out of the 50 men who attacked, and ended without success. The Star Fort remained in Loyalists' hands, and the Patriots left Ninety Six on June 19, 1781. The Loyalists were forced to leave Ninety Six soon after because they lost their local support.
Ninety Six National Historic Site will remember the soldiers who fought at Ninety Six with special talks and tours on June 17 and June 18. Battlefield tours will be held at 10:00am and 12:00pm on Saturday, June 17, and Interpretive talks on the leaders and battles will be take place in the Visitor Center at 2:00pm and 3:00pm. On Sunday, June 18, a Militia talk will take place behind the Black Swan Tavern at 12:00pm, with a special Battlefield tour at 1:00pm, and musket
firing at the Star Fort battle site at 2:30pm. At 3:00 park Historian Eric Williams will present a special talk in the Visitor Center auditorium about the end of the siege. Dr. Ted Morton of the Cambridge Chapter Sons of the American Revolution will then conclude the weekend program with a brief talk about the importance of the 1781 siege to today's generation. A special Jr. Ranger program will be available for kids both days.
The Park also features many historic roads, nature trails, and small picnic area. Pets are welcome if leashed. Bring the whole family and stay for the day. Come walk the battlegrounds and experience History on this special anniversary date! The Park especially welcomes Greenwood Festival of Flowers visitors. The American Revolution is here at Ninety Six National Historic Site.
The park is located two miles south of the town of Ninety Six on SC highway 248. Estimated driving times from nearby cities are: Greenwood - 20 minutes; Greenville and Columbia – 1 ½ hours; Anderson – 1 hour. For more information, contact Ninety Six National Historic Site at (864) 543-4068 or visit our website, www.nps.gov/nisi.