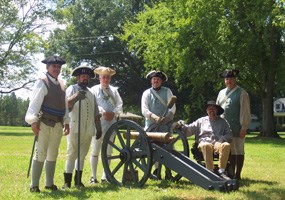 Date: May 2, 2006
If you've ever visited Ninety Six NHS, you've seen them. Reenactors and volunteers are everywhere. They are the heart of the park. But just what is a reenactor? How can you become one? What can you do for the park to help preserve History for yourself and your family?
A reenactor recreates the past. They volunteer their time to visit parks, historic areas, and schools to share their knowledge. Reenactors portray about every time period in History, but at Ninety Six NHS they portray the Colonial American period and Revolutionary War. Some even present 1st person roles in which they research and dedicate their reenacting to portraying an historic person. Many reenactors will be presenting 1st person roles at the 225th Anniversary celebration May 20-21.
Reenactors spend their own money to buy the needed supplies. Some even buy historically correct fabric to make their own clothes. The needed supplies can be bought from sutlers. Sutlers are people who sell historic reproductions and even have complete outfits for sale. Several Sutlers will be at the 225th Anniversary celebration. There are many resources on the internet and books available about becoming a reenactor (visit the park's book store), but the best way to learn is to visit reenactments and Living History events and talk to people that have been reenacting for years.
Many people reenact as a family. The Alvarez family has been reenacting for a few years and have been dedicated Park volunteers. The family of four started reenacting because of their love of sharing history. Mrs. Sharon Alvarez explains it as "Having children with a true interest for history and a mother who always liked to play "dress up" brought us to a mutual desire to reenact as a family. They learn by doing and spending time with other reenactors. They've acquired knowledge that you just can't obtain in a standard classroom setting. The time spent volunteering always does more for the giver than the receiver."
You don't have to be a reenactor to volunteer at the Park. Many people volunteer their time and experience in numerous ways. Several National Parks have Friends groups and Ninety Six NHS's friends' group is called "Volunteers 96." The groups' mission is "to interpret, to protect, and to preserve the Park for this and future generations." Volunteers 96 is always looking for new recruits. The group helps with special events, fund raising, Adopt-a-Highway program, trail maintenance and much more. For more information: write to: Volunteers 96, PO Box 465, Ninety Six, SC 29666 or visit the park during the 225th Anniversary celebration and talk with reenactors and park Volunteers. You can also visit our volunteers page.
Volunteers 96 and the many reenactors that devote their time and efforts to Ninety Six NHS throughout the year are truly the heart of the park. Without them the park would not be able to present quality Living History programs and special events to visitors.