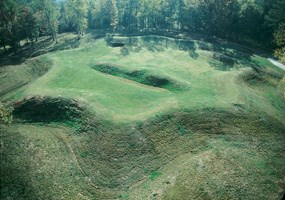 The Star Fort
When you walk out to the Historic battlefield, you're walking on hallowed ground. The siege trenches are partially reconstructed, but the Star Fort is original.
Construction of the Star Fort started in December 1780 and finished in early 1781. It was built by Loyalist soldiers (loyal to the King of England) & slaves from nearby farms and plantations. It wasn't a very popular design because it was hard to build, and couldn't hold many troops, but Loyalist engineer Lt. Henry Haldane decided that an eight-point star fort would be better for the site than a tradition square fort. The star shape allowed musket and cannon fire in all directions.
The Star Fort had a gun battery which was located near the bottom center point in the picture. The long mound of dirt in the center of the picture is called a Traverse and was built during the Patriot siege of Star Fort (May 22- June 18, 1781). It was to be used as a second line of defense in case the Patriots breeched the Star Fort walls.
The Star Fort was an earthen fort. As you see it today is how it looked in 1781. The Star Fort walls were originally about 14 feet high with sand bags around the top giving it a height of about 17 feet during the battle. The walls are a little weatherworn in places, but are original. No major reconstruction has been done to the fort.
The site of the Patriot attack or Battle for Star Fort is near the bottom 2 left points on the the picture. Read below for more on the Battle for Star Fort.
Please keep off the Star Fort walls. We hope that Star Fort will be around for your children, grandchildren, and future generations to enjoy!