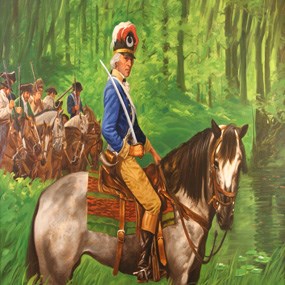 Partisan & Militia Leader
Born: 1732 Berkley Co., SC
Died: Feb. 27, 1795 Pond Bluff, SC
Buried: Belle Isle, SC
Nickname: British cavalryman Banastre Tarleton chased Marion for 26 miles & 7 hours & could not catch him. Hesupposedly said, "Come, my boys! Let us go back and we will find the Gamecock. As for this d___d old fox, the devil himself could not catch him!" Thus the nickname "Swamp Fox" because Marion hid in the swamps in the Low Country of South Carolina to avoid British capture.
Ninety Six Related:
● 49 years old in 1781
● Not at Ninety Six during either battle.
● 1781: Fought British troops around Charleston, SC with Thomas Sumter ("The Gamecock"). This delayed the British from coming to Cruger's aid at Ninety Six.
Partisan (or guerilla): an unofficial armed group of Patriot rebels who harassed the enemy.
The crescent moon appears on Marion's cap engraved with the word "LIBERTY. It's a symbol of the South Carolina militia.